October 19, 2010
Here's what Google needs to invent: Scratch and Sniff.
Here's why: my Aunt Kathy makes the most incredible soap and you need to smell it (and feel the moisturizing action) to understand.
Or you could just trust me.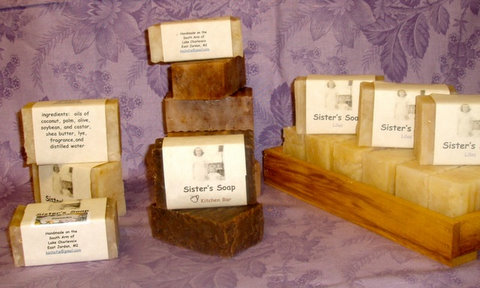 Because that is magic she's creating in that crockpot of hers.
Yes, really.  In her crockpot!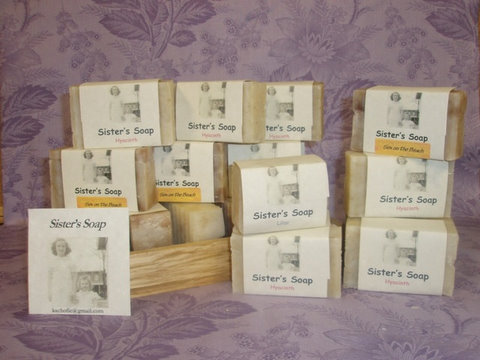 You have to see my Kathy's rendition of the little old ladies who giggle when they pick up her "Sex on the Beach" soap and then in all seriousness deadpan, "I'll take 3 bars".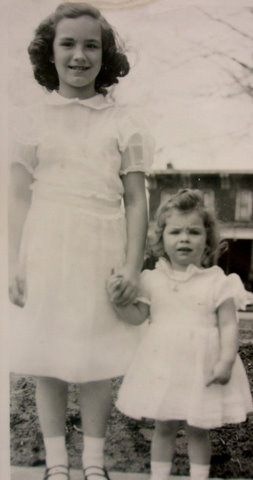 And here are the sisters!  This is my dear Aunt Sid and my dear Aunt Kathy.  My dad would be right there in the middle.  He always teased that he was the rose between 2 thorns, but I think this photo proves him wrong.  Maybe even super wrong.
So here's the nitty-gritty:
No preservatives (It smells so delicious but don't save it in your underwear drawer!).
All natural ingredients.
Contains oatmeal so use the whole bar acts like a loofa to exfoliate skin.
Makes a great shaving bar and shampoo.
This is a lye soap containing shea butter, palm, coconut, soybean, and olive oils.  Lye is very caustic but once mixed with oils, it makes soap…just like magic!!!  Sister's Soap contains more oil than lye.  The lye combines with oils during saponification and the excess oils moisturize and soften.  The excess oil makes a softer soap and will last longer if you keep it from sitting in water between uses.
Scents vary but these favorites are usually available:
Sex on the Beach
(coconut- like)
The price is $5/bar (6 bar minimum) with free shipping!  It's so worth it, friends.  They are nice-sized bars.
Contact Kathy at Crocked Sister's Soap kschofie@gmail.com
I'm totally biased on this one, but she's really nice, so don't hesitate if you have any questions to ask.
Have a great day!

Share this post
You might like...
Category: Brilliant
Tags: Homemade soap, Sisters Soap |
5 Comments »
on October 19, 2010 12:08 pm

Very fun! Looks amazing and I love the packaging!

---

on October 19, 2010 12:46 pm

I'm putting in my order. What great little Christmas gifts for my friends. I love getting special soaps!

---

sarah schofield swainson

on October 19, 2010 6:15 pm

This soap is amazing! I am not usually a bar soap kind of girl, but these little bars of goodness have made me change my evil ways! It has changed my skin and the smell alone starts my day off right!

---

Reva Cheri

on October 20, 2010 11:22 am

would like to try some of your soap…always love getting the GOOD stuff.

---

Jules Greenaway

on October 21, 2010 4:21 pm

I can testify that this soap is super amazing!!!! It smells great & it feels awesome on my skin!! I LOVE, LOVE, LOVE it!!!!

---
Leave Us Some Comment-Love