January 12, 2011
…Activities to keep your adorables entertained when they are stuck inside all day.
It seems coast to coast is socked in with snow and many schools are closed.  So how do you entertain your adorables for the day?
Here are some ideas!!
Warning: this is a long one today!  So feel free to skim, but bookmark this page for when you need it.  And please add your ideas to the comments area so that we can all help each other!
First, I asked my friend Melissa who runs Imagination Soup for her ideas.  Imagination Soup provides TONS of resources for interspersing fun, educational activities into your adorables' playtime.  Here are just a few that would be perfect for a snow day, or any day (I've just boiled these down; click over to Imagination Soup to see the full article on each):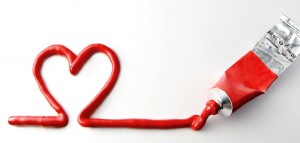 Heart Mapping: a technique for children to generate ideas for writing.  Draw a large heart around the border of the paper. Within that heart, you will create a map.  Ask questions: 1. What makes you happy? 2. What do you love? 3. What is the most fun you have ever had? 4. What memory is your favorite? 5. What things or objects are important to you? (*optional 6.  What things in your heart are sad?  Make you cry?)  Draw, design, write, and share. Once you have your heart map, use it to write.  Pick anything from your map to write.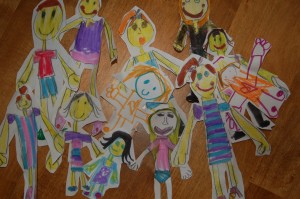 Homemade Paper Dolls: This really is as simple as it sounds!  Have your adorables draw a girl or boy and cut them out.  Decorate them.  Extra Credit: have your adorables make a Paper Doll City or house for them to live.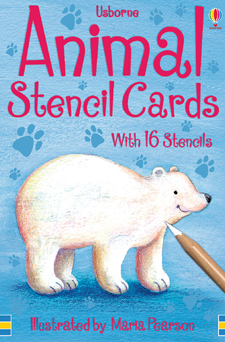 Write a Stencil Story: Give your adorables a story prompt and use Animal Stencil Cards
to illustrate the story.  Melissa's idea is that when the illustrations come together faster, the adorables can concentrate more on the writing.  Brilliant, I say!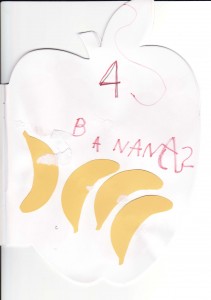 Write a Counting Book: 1) Staple some paper to make your book lickety-split; you cut it into a shape for extra credit.  2) Have your adorables write one number per page and add the same number of stickers. 3) Write the word that matches your stickers.  4) Share the book with friends.
(I told you she was good, didn't I??!?  Remember to check out Imagination Soup for more inspired ideas.)
And here are some that I've been collecting.  No rocket science here folks!  But I always forget them when the adorables are climbing the walls.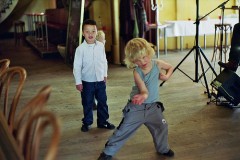 1.  Dance Party: Break out the tunes and push the furniture to the walls.  Rock on!
2. Tea Party: My adorables will eat anything when it involves their tea set.  The towel allows me to leave the room.
3. Reading fort: Break out all the pillows from the sofas and throw blankets over them and pile in their books.  Cozy and quiet.
4. Baking time: I can't think of a single snow day as a kid when I didn't rope my mom into making chocolate chip cookies.  It's a no-brainer.
5. A big art project: Painting with the real paints, a special project, BIG paper, something different that seems special.
6. Time to rotate and organize the toys and determine which ones to donate or sell: as long as you have them around…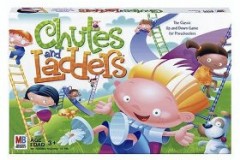 7. Boardgame tournament: Pick out all the board games that you haven't played in a while and play for small candy or prizes.
8. Pick a new room in the house and set up toys there: again, just something different and special.
9.  When all else fails, break out a new toy from the toy reserve: I have a box stored on a high shelf where I dump all their party giftbag loot and some of their Christmas and birthday presents just for these emergency situations.  Nothing buys you 30-60 minutes like a new toy.  Open it slowly and savor the moment.
Okay, I know you have tons of great ideas!  Share your goods people!!
Happy day to you…

Share this post
You might like...
Category: Activities
Tags: Imagination Soup, Snow Day activities |
11 Comments »
Jen

on February 9, 2010 8:39 am

We always make snow day playdough- there are so many rec. online and add a little glitter snow for fun.

Also- my child HATES the snow so I usually bring it inside in a bucket and put it in the tub for her to play with- that one usually buys me a good hour or more!

---

Heidi Farmer

on February 9, 2010 8:43 am

Love the idea of bringing the snow inside! Thanks!

---

Lisa A. Ross

on February 9, 2010 9:58 am

The paper dolls could be used as Flat Stanleys at some point, even around the house on an inside day.
http://www.flatstanleybooks.com/

---

on February 9, 2010 11:56 am

Heidi,

I'm so honored to be on your blog. I love The Good Stuff Guide – you are such an amazing talent with the best ideas!

Thanks!

Melissa

---

Heidi Farmer

on February 9, 2010 12:09 pm

Oh, thanks Melissa! I get the best ideas from Imagination Soup too. You are a wicked impressive teacher my dear.

---

on February 9, 2010 12:33 pm

Such great ideas! I love Imagination Soup as well. She always has the most creative ideas to keep adorables expanding their imaginations!

---

on February 9, 2010 2:13 pm

These are some great snow day ideas, thank you!

We have some on our blog post entitled Snow Day? Turn Off the TV and Get Creative with Your Kids!

---

Heidi Farmer

on February 9, 2010 8:28 pm

Thanks for the resources!

---

on February 10, 2010 8:35 am

Great ideas. Remember those days well. Used to love to do jigsaw puzzles with kids.

---

Julie

on January 12, 2011 12:26 pm

Heidi – you inspired me and first thing this morning I made some yummy chocolate chips cookies. They were great for us, and wonderful to take to the neighbors out shoveling as a cookie break from their snow activity.

---

on January 12, 2011 7:00 pm

These are some great snow day ideas, thank you! We have some on our blog post entitled Snow Day? Turn Off the TV and Get Creative with Your Kids!

---
Leave Us Some Comment-Love