April 19, 2010
Happy Monday to you!
To celebrate Earth Day this Thursday and because you loved it so much the first time around, the sweet folks at SodaStream are letting us do another giveaway of their terrific home soda system.
So please take a seat and get comfy so you can fully appreciate its awesomeness.  It is AWESOME.
__________________________________
Meet the SodaStream: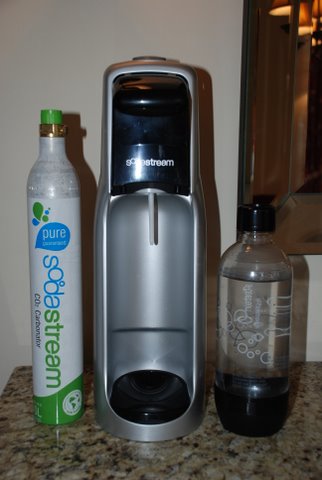 It's a home soda maker that will save you so much money, lugging, and trash.  And best part: no aspartame and no high fructose corn syrup!
You twist the CO2 Carbonator into the rear of the unit.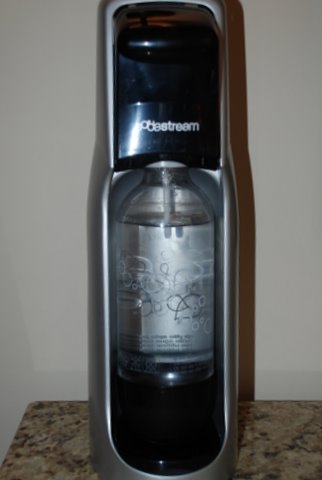 Then twist the plastic bottle you've filled with cold water into the front of the unit.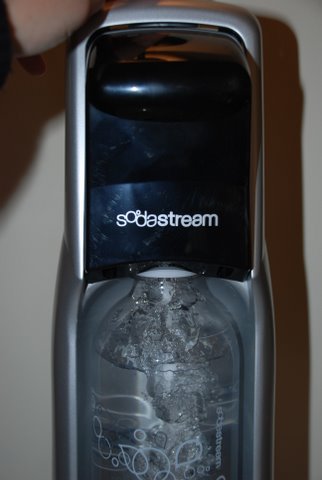 Then press the button on top of the machine and the CO2 shoots into the water bottle.  Sorry I cut off the button, it was tricky to take photos while I was pushing it, (and I was talking on the phone with my mom so I had to cradle the phone with my shoulder – multitasking).  You push the button 3 times.  I usually unscrew it and give it a quick taste to make sure it has enough "juice".  If you were over and we were going to share, I would refrain from doing this, scout's honor.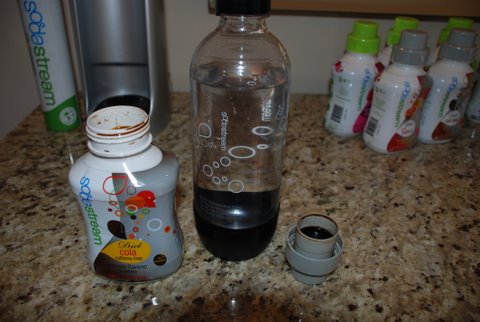 Then you pick your flavor, caffeine-free Diet Cola for me, and pour 1 cap full into the carbonated bottle.  One of these little bottles ($4.99) makes the equivalent of 33 cans of soda.  In addition to the expense, I've just saved several trips to the recycling center.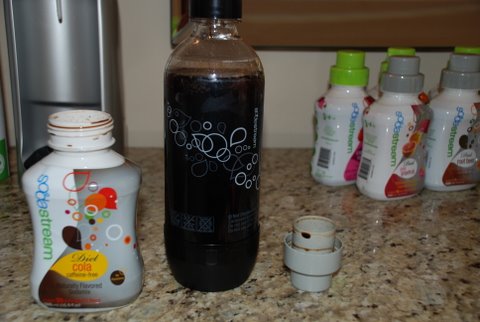 Voila!  A little drink treat for me!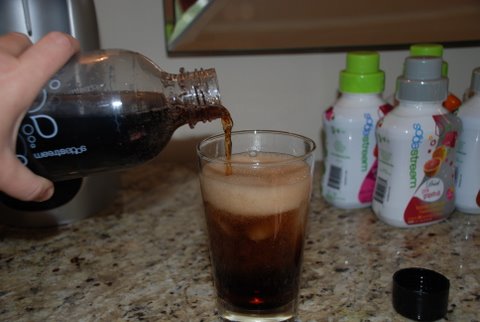 Lots of fizz, just like a soda fountain should be.  I'm telling you dee-lish! – I can't tell the difference.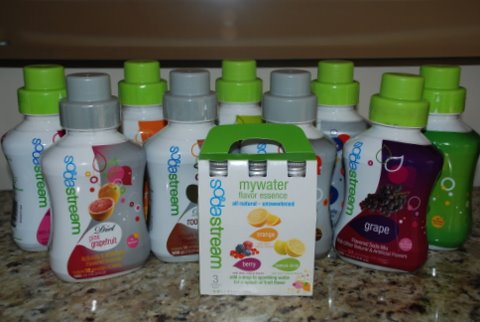 These are just some of the many flavors offered.  You can see the full list here.
In the 2 months I've had the SodaStream, I haven't bought a single bottle or can of soda for our home.  I think this is perfect, especially when you entertain and everyone can pick their own flavor.
Giveaway
You can win one SodaStream machine, one CO2 Canister, 2 soda bottles and 2 flavors just by leaving a comment by Friday, April 23rd and I'll choose the winner using Random.org on Saturday, the 24th.  Because of the complexities of shipping the included CO2 Canister, this giveaway is only open to residents of the 48 continental states.
You can get an extra entry by emailing 5 of your friends about The Good Stuff Guide (or tweeting or leaving something about TGSG as your status update on Facebook).  As always, I trust ya!
Good luck!
You can also find more info (and to buy it) at www.SodaStreamUSA.com.
****UPDATE**** #31 Jennifer won the SodaStream.  Congrats!

Share this post
You might like...
Category: Brilliant, Kitchen Gadgets
Tags: Monday giveaway, SodaStream |
44 Comments »
on April 19, 2010 9:13 am

Sounds great. It will help us since recycling for us is a chore – no collection facilities in our condo – and this in "green" Colorado!

---

on April 19, 2010 10:23 am

I would be all over that grapefruit flavored soda!

---

on April 19, 2010 11:06 am

That is so cool. I've love to check it out!

---

on April 19, 2010 12:18 pm

I don't know if I could give up real Coke, but my getting my husband hooked on the diet soda with the soda stream would be a huge savings!!

---

on April 19, 2010 3:45 pm

This could help us save some cash on our diet Coke addiction. It looks healthier too. I like the idea of cutting down on packaging use.

---

Lisa

on April 19, 2010 5:18 pm

Neat!

---

jocelyn tingley

on April 19, 2010 7:33 pm

Looks awesome would love to win it.

---

Jenny Hout

on April 19, 2010 7:35 pm

I still want one of these! I would LOVE IT!

---

on April 19, 2010 10:18 pm

Hoping I have better luck the second time around.

---

on April 19, 2010 10:58 pm

That is INSANELY COOL! Insane I tell ya. I must have it Thanks for doing such awesome giveaways.

---

on April 20, 2010 7:06 am

I have wanted one of these for soooo long! Thanks for the chance to win!
bleatham(at)gmail.com

---

on April 20, 2010 7:08 am

posted on facebook! http://www.facebook.com/#!/sleatham1?v=wall&story_fbid=110813568956041
thanks
bleatham(at)gmail.com

---

on April 20, 2010 7:11 am

We want one!

---

Julie

on April 20, 2010 7:48 am

me, me, me please =) Thanks for offering again.

---

gillette

on April 20, 2010 8:40 am

I have wanted one since I saw this at my son's house!

---

Jen

on April 20, 2010 12:17 pm

what a great way to spend some fun summer time . . . . out side with a homemade soda!!!

---

Amy

on April 20, 2010 1:04 pm

I need one of these guys so bad!

---

on April 20, 2010 1:33 pm

Love the soda streams! Most of my family has one!

---

Doug

on April 20, 2010 3:47 pm

I've heard great things about these… Really want one!!!

---

Jennifer

on April 20, 2010 4:24 pm

This looks and sounds AWESOME… Fingers crossed…

---

Madelyn

on April 20, 2010 5:52 pm

My kids would have SOOOOOOOOOOO much fun with this.

---

Donna

on April 20, 2010 10:29 pm

My grandchildren would have so much fun with this. I can see them mixing flavors and having a blast with it.

---

on April 20, 2010 10:35 pm

I WANT this. I NEED this. I am going to make a huge mess I am sure but as long as I can get it to taste like coca cola I am IN! thx

---

Kerrie Mayans

on April 21, 2010 7:00 am

I tweeted http://twitter.com/kmayans

---

Kerrie Mayans

on April 21, 2010 7:00 am

i would love this! We drink alot of soda at this house and it is very complicated for us to recycle without attracting ant or other pests so I would love this since it seems more earth friendly.

---

Laura

on April 21, 2010 10:52 am

This would be a huge hit in our house! Also, I became a fan on FB:)

---

on April 21, 2010 11:11 am

I don't spend a lot on soda now, but I like the idea of keeping more out of the trash/recycling.

---

Sandi

on April 21, 2010 4:48 pm

Would love this for the fam.

---

Sandi

on April 21, 2010 4:49 pm

Would love it!

---

Jennifer

on April 21, 2010 9:37 pm

I told my husband about this, and he is really excited.

---

Jenn

on April 21, 2010 9:41 pm

Just tweeted… @TNBabyPlanner

---

on April 22, 2010 9:42 am

Everyone in my family has this and I've been drooling over them, trying to convince my husband that we need one!!!

http://chanisbaby.blogspot.com

---

Beverly

on April 22, 2010 5:00 pm

This looks really cool. We are sodaholics, so if we aren't going to be healthy, at least we can be green!

---

Terry B

on April 22, 2010 5:11 pm

I didn't even know something like this existed!

---

Christie H

on April 23, 2010 12:30 am

Awesome! This would be so fun to make refreshments for summertime parties! I would love to win the SodaStream.

---

Madelyn

on April 23, 2010 9:40 am

Just sent an e-mail to 10 of my friends…

---

Jennifer

on April 23, 2010 9:42 am

So cool!!! Am dying to try this out!

---

Jennifer

on April 23, 2010 11:25 am

5 friends got an e-mail from me telling them about GSG..:)

---

Doug

on April 23, 2010 11:52 am

e-mailed a bunch of people about this.

---

Donna

on April 23, 2010 11:59 am

My friends think this is great. I sent it to everyone!

---

Patti

on April 23, 2010 12:21 pm

And, I also sent a bunch of people the link to GSG.

---

Patti

on April 23, 2010 12:21 pm

Got an e-mail from Donna about this… My twin grandchildren would think I was the coolest grandmother ever if I had this the next time I see them.

---

Maria

on April 23, 2010 1:58 pm

This is so cool! I did not know that you could make soda at home. My kids and I would be thrilled to try this product out.

---

on April 24, 2010 4:31 pm

My friends think this is great. I sent it to everyone!

---
Leave Us Some Comment-Love