March 8, 2010
Happy Monday to you!
Today's Giveaway is a really, really good one!  So please take a seat and get comfy so you can fully appreciate its awesomeness.
Meet the SodaStream: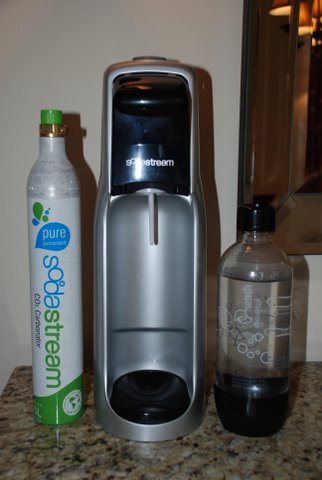 It's a home soda maker that will save you so much money, lugging, and trash.  And best part: no aspartame and no high fructose corn syrup!
You twist the CO2 Carbonator into the rear of the unit.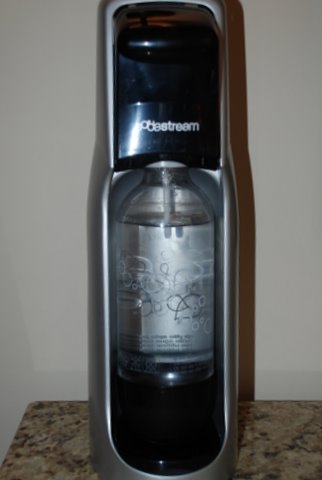 Then twist the plastic bottle you've filled with cold water into the front of the unit.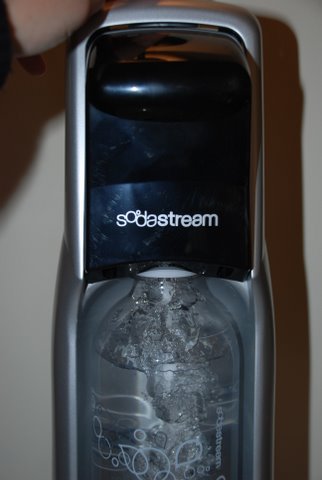 Then press the button on top of the machine and the CO2 shoots into the water bottle.  Sorry I cut off the button, it was tricky to take photos while I was pushing it, (and I was talking on the phone with my mom so I had to cradle the phone with my shoulder – multitasking).  You push the button 3 times.  I usually unscrew it and give it a quick taste to make sure it has enough "juice".  If you were over and we were going to share, I would refrain from doing this, scout's honor.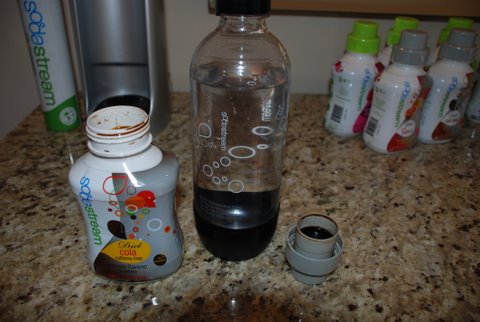 Then you pick your flavor, caffeine-free Diet Cola for me, and pour 1 cap full into the carbonated bottle.  One of these little bottles ($4.99) makes the equivalent of 33 cans of soda.  In addition to the expense, I've just saved several trips to the recycling center.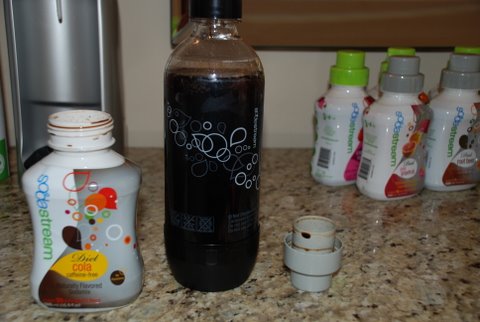 Voila!  A little drink treat for me!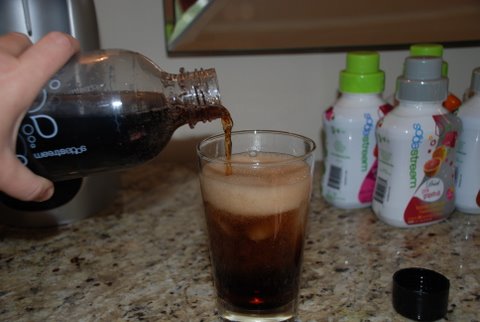 Lots of fizz, just like a soda fountain should be.  I'm telling you dee-lish! – I can't tell the difference.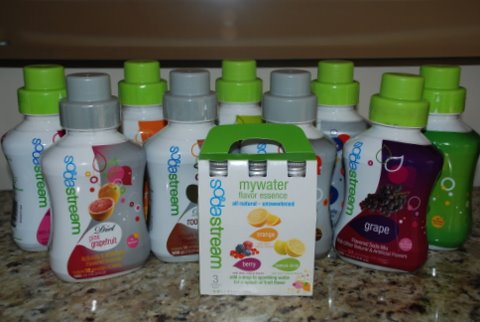 These are just some of the many flavors offered.  You can see the full list here.
Giveaway
You can win one SodaStream machine, one CO2 Canister, 2 soda bottles and a sampling of flavors just by leaving a comment by Friday, March 12th and I'll choose the winner using Random.org on Saturday, the 13th.  Because of the complexities of shipping the included CO2 Canister, this giveaway is only open to residents of the 48 continental states.
You can get an extra entry by emailing 5 of your friends about The Good Stuff Guide (or tweeting or leaving something about TGSG as your status update on Facebook).  As always, I trust ya!
Good luck!
***UPDATE*** #15: Kim won the SodaStream!  Congrats!
Also, SodaStream has offered you great readers $10 off a new machine purchased at SodaStreamUSA.com.  Use coupon code "GOODSTUFF".
This isn't me, but here's a video where you can see the whole thing performed for you.
Share this post
You might like...
Category: Brilliant, Kitchen Gadgets
Tags: Monday giveaway, SodaStream |
34 Comments »
on March 8, 2010 6:23 am

I'd love to try it. I wrote a book on Mocktails and am sure I could put the soda stream to good use with my recipes!

---

on March 8, 2010 8:55 am

My dad and brother each have this…we love it and REALLY want one!!!!!!!!!!

---

Lisa

on March 8, 2010 9:03 am

Wow you were right with last week's teaser…. This IS a good one! Count me in!! Hope you're having a great time in Quebec!!

---

on March 8, 2010 10:13 am

This sounds yummy. What is in the diet cola if not aspartame?

---

on March 8, 2010 11:05 am

This looks AWESOME! I want one.

---

nancy

on March 8, 2010 2:31 pm

Very cool! I'm going to go look at the list of flavors now!

---

Casandra

on March 8, 2010 6:18 pm

So cool!!! This would be great for us, As we typically make punch adding a little carbonated drink for fizz. Love the idea of no aspartame or hfcs. Posting a comment on Facebook also. :>)

---

on March 8, 2010 6:28 pm

I am unfortunately addicted to diet soda…love the idea of this being aspartame free.

---

on March 8, 2010 6:35 pm

looks great! Had no idea something like this existed.

---

Jen

on March 8, 2010 6:35 pm

That looks like a ton of fun- I wonder if I can make a Tab flavored one:)

---

Katie Fisher

on March 8, 2010 7:14 pm

looks like fun. i want one too!

---

Jocelyn

on March 8, 2010 7:42 pm

This looks awesome Tons of fun.

---

anthy

on March 8, 2010 8:03 pm

I'd really love to win this – it looks so fun! Please enter me in the contest.
anthy_stl [ATT] yahoo [DOTT] com

---

on March 8, 2010 8:20 pm

Looks great. Would love to try the soda. How fun.

---

Kim

on March 8, 2010 8:44 pm

Love, love the idea of this. Definitely would love to try it! Thanks for sharing.

---

on March 8, 2010 9:02 pm

since today is my birthday….I'm feeling lucky~ Count me in!

---

Ben

on March 8, 2010 9:55 pm

WOW cheap soda at home … I'm more interested on how I wont have to lug heavy soda water bottles home from the store !!!!

---

on March 8, 2010 11:16 pm

I would love the soda stream. It looks amazing!!

---

on March 8, 2010 11:49 pm

I know someone living in Sweden right now and she wrote about this on her blog, too- I guess it is the norm there for people to have these in their homes. She loves it too!

I have to know does it taste more like Pepsi or Coke?

---

anthy

on March 9, 2010 7:15 am

tweeting for an extra entry! http://twitter.com/my_twitraccount/status/10217921668
anthy_stl [ATT] yahoo [DOTT] com

---

Bob Schofield

on March 9, 2010 7:41 am

We used to have a similar machine and loved it. The problem with it was getting refills for the CO2. A great way to sparkle plain water.

---

Julie

on March 9, 2010 7:47 am

please enter me in the contest. thank you.

---

Jenny Hout

on March 9, 2010 9:47 am

My hubby goes through a case a week of soda. This would save sooo much!! Thank you!!

---

Sandi

on March 9, 2010 3:12 pm

I would love to win this!

---

Lisa A. Ross

on March 10, 2010 12:08 pm

Our family just went to a local, "old fashioned" soda fountain last Saturday. I had a lime-coke, my husband had a cherry-coke, and our boys chose grape and strawberry sodas. It would be so much fun to do this at home–and somewhat healthier than store-bought, too!

---

Colleen

on March 10, 2010 1:40 pm

I'd love this! We got through lots of bottled flavored water in my house, and this would be such a money-saver.

Thanks for the opportunity!

---

on March 11, 2010 7:32 am

I would totally love to win this! I would love to try their Dr. Pepper-type flavor

---

on March 11, 2010 7:32 am

I retweeted your Giveaway Tweet @PinchingAbe is my Twitter name.

---

on March 11, 2010 8:12 am

My Dad and brother each have machines like this….theirs look different, but work the same way. We looked at them, but at the time, they were a budget-buster. I'd love to win this one! Thanks for holding the giveaway!

---

on March 11, 2010 7:44 pm

I would love to try out a machine like this! Looks like a lot of fun to make your own soda. Im all over the orange flavor! Thanks for the chance!

---

on March 11, 2010 7:47 pm

I tweeted!

http://twitter.com/dee_greatest/status/10347551332

---

SUZANNA P

on March 11, 2010 7:48 pm

i would love to try it i have read good reviews about and saving money is a must these days and it would save money

---

on March 12, 2010 12:56 am

I'd love to try this. I don't spend much on soda, but it would be fun to make our own w/o any sugar for the kids.

---

Martha S.

on August 16, 2010 4:00 am

I have this soda maker at home and I love using it because it is easy to clean and it saves money that would otherwise be spent on carbonated soft drinks.

---
Leave Us Some Comment-Love