February 6, 2012
Written by Contributing Writer, Sarah Farthing.
This salad is a quick, delicious side dish that works as well for family pizza night as it does for lunch with girlfriends or alongside a perfectly seared steak for two.  Keep in mind for Valentine's Day if you're planning a meal!
Spinach and Strawberry Salad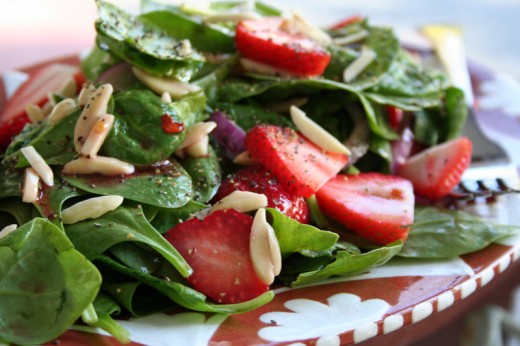 Ingredients
2 bunches spinach, rinsed
4 cups sliced strawberries
½ cup vegetable oil
¼ cup white wine vinegar
½ cup white sugar
¼ teaspoon paprika
2 tablespoons sesame seeds
1 tablespoon poppy seeds
*I love to add pecans or almonds to this recipe and mandarin oranges are a fun addition as well.  Red onion, feta cheese… make any little changes your heart desires!
Directions
In a large bowl, toss together the spinach and strawberries.
In a medium bowl, whisk together the oil, vinegar, sugar, paprika, sesame seeds, and poppy seeds.  Pour over the spinach and strawberries and toss to coat.
Share this post
You might like...
Category: Cookin'
No Comments »
No comments yet.
Leave Us Some Comment-Love