August 2, 2011
I was reading through one of my favorite blogs, and I found this amazing idea for celebrating summer.  I thought this such an ingenious idea and though I'm a little late, and I'll try to remind you for next summer, perhaps you could double up, or just tuck this away for next year.
Dear Reader Cathy shares the following from her blog Moments on the Journey:
Last summer we did our first A to Z Summer fun! This year we are keeping some of the same days, and adding in some different days. And with the first half of our summer so busy, I did have to double up a few days this year in order to get them all squeezed in! When making our list I try and think of everything I want to do at least once with the girls during the summer…and put it on here so that we make sure the fun happens before summer slips away! Last summer I was great about getting pictures of each day…this year…well, not so well. But here are a couple. Perhaps it's the heat getting to me?!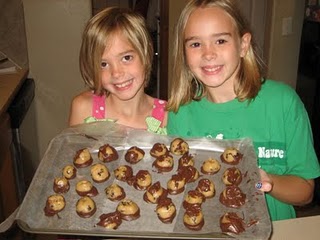 "B" Day: Baking Day!
This is their own creation, cookie dough dipped in melted chocolate chips. Umm, yay, they were yummy!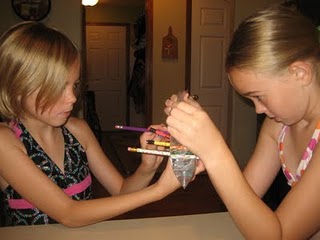 "E" Day: Experiment Day
Polymers let you poke a pencil thru a bag full of water without spilling any of it! Look at that concentration!
So here's the full list:
July 7th A Arts & Crafts – Village Pottery
July 8th B Baking Day
July 11th C Camera scavenger Hunt
July 12th D Donuts delivered to Dad
July 13th E Experiment Day
July 14th F Friendship Day
July 15th G Game Day – Make up some games
July 18th H Hershey Day
July 19th I Ice Cream Day
July 20th J Jump in the Pool!
July 21st K Kindness Day
July 22nd L Laugh, Laugh,Laugh
July 25th M Mystery Monday
July 26th N-O Neighbors over for Outside Fun!
July 27th P Pizza at the Park with Pop
July 28th Q Quiet Day
July 29th R Republic Aquatic Center
Aug 1st S Scrapbooking
Aug 2nd T-U Take a Trip to an Ultimate Surprise
Aug 3rd V Video Game Day
Aug 4th W Wilson's Creek Jr. Ranger Badge
Aug 5th X-Y Xtra Fun at the Y-Center
Aug 12th Z Zippity-do-dah Day!
Do you do anything like this with your adorables? What would be on your list?
I can't wait for next summer to get my list going!
Thanks Cathy for letting me share!
Share this post
You might like...
Category: Activities, Brilliant
2 Comments »
Nicola

on August 2, 2011 12:55 pm

I love the idea. I will have to rememember it for next year. This summer was not a normal summer. I spend 6.5 weeks in the hospital on bedrest. My water broke at 29 weeks with our third child. So all of my plans for summer went out the window. And sadly the kids go back to school on the 17th. This summer has flown by.

---

on August 3, 2011 10:47 am

Great post with good ideas!

---
Leave Us Some Comment-Love