January 7, 2015
written by Cathy Baker, who wishes she had more time and more money to travel more often! 
In the depth of winter, how fun it is to think back to this past summer and the memories that were made.
This past summer we drove 3800 miles in 17 days and during one of those 17 days, I finally got to meet the beautiful, classy, down to earth, super hospitable MaryKate and her full-of-awesomeness children!
While we've written side by side for a couple of years now in the spaces of the Good Stuff Guide, how warming it was to finally give real-life hugs!  She opened up her home, prepared a wonderful dinner, and let us relax alongside her family one evening.
If you're like me, you've been inspired, encouraged and laughed out loud when reading MaryKate's articles here on the Good Stuff Guide. Let me tell you, you might get a glimpse of her beauty here in her words, but that beauty is magnified in real life.  She brightened our journey then, and the memory of that evening still warms me now.
I love how the internet has made our world 'smaller' and 'larger' all at the same time. How it's given me opportunities to connect (and reconnect) with people I never would of had the chance to otherwise!
So what about you? Is there someone on the internet you'd LOVE to meet in real life? What's stopping you? Why don't you make 2015 the year you finally get to look into their eyes, to see the sparkle as they smile back at you and embrace you in a hug?! Maybe next winter, you too can look back and smile at the memory of that moment!
My only regret… we totally forgot to the get a photo! So here's a photo from visiting her beloved Philly that day… Independence Hall, the Liberty Bell and our first taste of Philly Cheesesteak Sandwiches were enjoyed!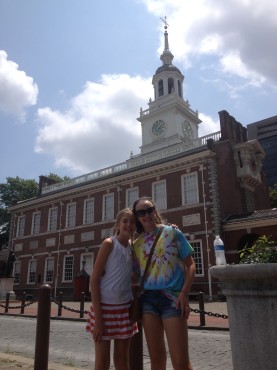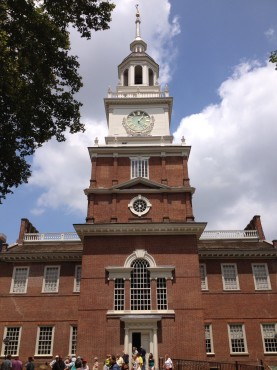 p.s. And I still hope that one of these days, Heidi and I will get to meet up again after all these years since our high school days! We missed our paths crossing by just one day this past summer.
Share this post
You might like...
Category: Random and Fun
Tags: memories, vacation |
3 Comments »
Marykate

on January 7, 2015 7:13 am

Cathy!! This warmed me on a chilly morning in Philadelphia!! I LOVED meeting all of you and words can't express the feeling of meeting in person. You are such a kindred spirit and kind loving soul. And I love the theme of this post. I haven't been great about keeping in touch with friends and decided this is the year to refocus those energies – with real life visits vs virtual. Love you sweet kind friend. PS – After you left I thought the same – we didn't get pictures! Next time – when I visit you!! XXOO

---

Joanne

on January 7, 2015 7:48 am

I loved reading this because it is all true! I know Marykate (she is my daughter- in -law's sister) She is so sweet and kind …and an eloquent writer!! Don't worry about having no photos. It means you were ALL truly in the moment!!

---

Anne Schenendorf

on January 8, 2015 10:04 am

On a blustery morning where the the car thermometer made me laugh and yell at the same time, this was a heart warming post to come home to read. Cathy this made tears come to my eyes, to hear MaryKate described in the way I think of her- exquisite. Oh days of summer gone, that description made me smile too! 😀 If I am ever out your way, I promise to come visit. Your words Cathy always make me smile(as does those spectacular Instagram shares of your feisty beagles). My other internet writer I love I am blessed to be a quick 2 1/2 hour car ride away. On this chilly day, thank you for reminding me how lucky and snuggled we all really are! Xxxooo

---
Leave Us Some Comment-Love