October 6, 2010
Another super-cute playroom today!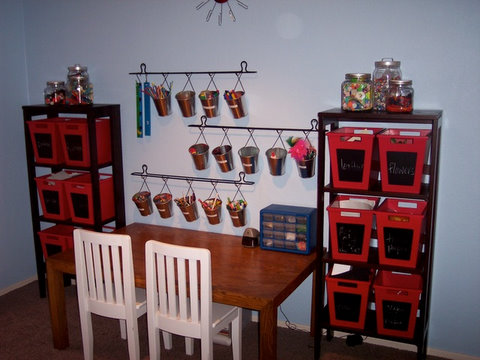 Isn't this arts and crafts area adorable?  The colors, the little hanging cups, all the storage…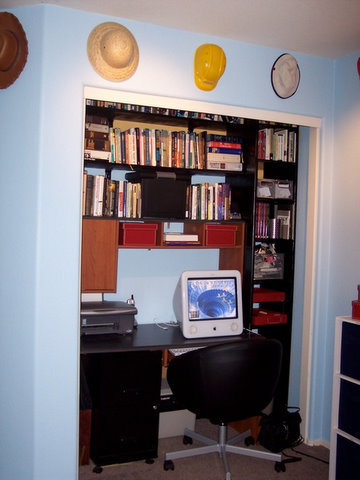 And here's a brilliant idea: a special spot for mom in the SAME room.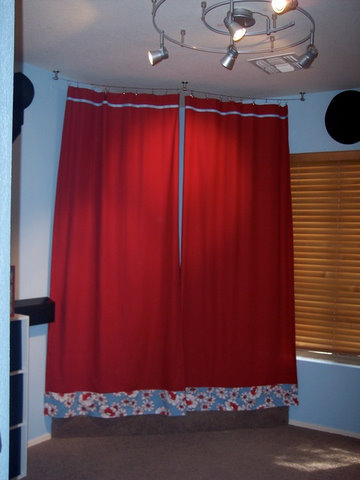 How about a built-in stage for your little preformers?  LOVE the lighting fixture!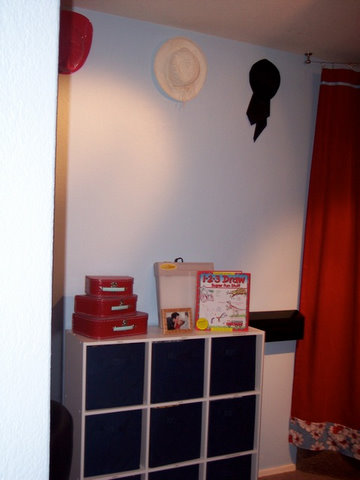 An area for toy storage…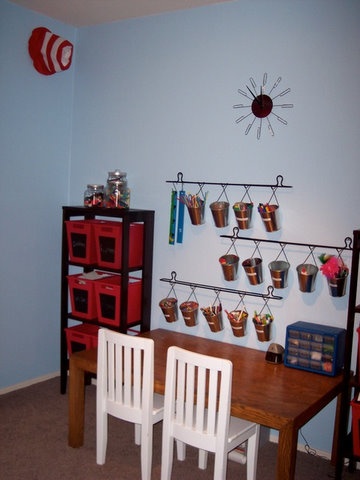 And one last look at the gorgeousness.
Share this post
You might like...
Category: Organizing, Playrooms
Tags: Perfectly Placed, Playrooms, Susan Stewart |
8 Comments »
Michelle

on October 6, 2010 11:40 am

Ikea has hanging rods with colored cups. I grabbed some on my last trip but have yet to install them, as my little guy decided the markers were best used on the wall. This project may have to wait a year or two, but I love the idea! I have thought about using it for my scrapbooking table.

---

Heidi Farmer

on October 6, 2010 2:13 pm

Oh I've had that trouble with markers too! It's so cute to display them, but mine are stored up above little hand's reach. I bet it's different with girls!

---

on October 6, 2010 4:22 pm

I love that crafty spot! I agree with Michelle – it would be a great place for scrapbooking. I might get caught up!!!

---

Celeste

on October 6, 2010 4:23 pm

Very inspiring-especially the link to the website w/ the before/ after pictures. Oh, to find the time… I'm sure there are people to hire in my area; any suggestions?

---

on October 7, 2010 11:05 am

That is super cool. I especially like the mom area in there. Brilliant!

---

on October 7, 2010 6:28 pm

Celeste, Just wanted to let you know that I do virtual organizing which is organizing coaching over the phone. Feel free to contact me if you'd like to know more.

Sincerely,

Susan Stewart
Perfectly Placed
Now offering virtual organizing to make ourselves available anywhere.
http://www.perfectlyplaced.org
(623) 202-9199

---

Erin

on October 7, 2010 6:59 pm

What are the hanging metal cups and rods called by IKEA? I'd love to order them but need to know what they are called. I cannot find them online! Thanks so much!

---

on October 7, 2010 10:24 pm

They are meant to be for kitchen storage. I used Kroken but Grundtal or Asker would also work. http://www.ikea.com/us/en/catalog/categories/departments/kitchen/10474/

Sincerely,

Susan Stewart
Perfectly Placed
Now offering virtual organizing to make ourselves available anywhere.
http://www.perfectlyplaced.org
(623) 202-9199

---
Leave Us Some Comment-Love