December 5, 2011
Written by Contributing Writer, Sarah Farthing
A friend of mine brought over these delicious meatballs right after I came home from the hospital when I had my boys.  She served them with green beans and au gratin potatoes.  The meal was warm and filling and I will always think of these meatballs as something sweet to share or enjoy with a friend!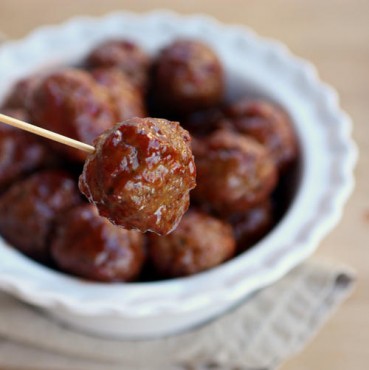 Sweet Meatballs
Ingredients
Meatballs:
1 1/2 lbs ground beef
1/2 onion diced
1 8 oz can evaporated milk
1 egg
1 tsp garlic powder
1 tsp chili powder
1 Cup oatmeal
Sauce:
2 Cups Ketchup
1 1/2 Cups brown sugar
1 tablespoon liquid smoke
1/2 tsp garlic powder
Directions
Mix meatball ingredients together well in a bowl.  Add more oatmeal if you need it until the meat will form into a ball.  I use a melon baller to form small meatballs but you can use an ice cream scoop and just add more baking time to allow for larger meatballs.  Nestle meatballs together in a baking dish.  Mix sauce ingredients together well and pour over meatballs.
Bake at 350 degrees for approximately 1 hour.  Baking time will vary with size of meatballs- just check the center and bake until desired doneness.  Serve hot and be ready to watch them disappear in a flash!
Do you have a sure-fire recipe to share with us?! E-mail sarah@thegoodstuffguide.com

Share this post
You might like...
Category: Cookin'
3 Comments »
Jenny H

on December 5, 2011 12:37 pm

totally making these tonight. I needed something different, easy, and if I give the kiddo toothpicks to eat with she will try them!

---

Danielle

on December 5, 2011 2:52 pm

Love sweet meatballs! To make things even easier, we've used already prepared meatballs (or turkey meatballs). We used to use Turkey Meatballs from Costco, but now we buy Jennie-O turkey meatballs. Because of my son's allergies, we need the meatballs to be dairy and egg free so if someone has food allergies in the family, there are prepared meatballs out there and then all you need to do is just prepare the sauce. Doesn't get much easier.

---

on December 6, 2011 10:31 am

Great tip, Danielle! Jenny, I hope you had a chance to make them and loved them!

---
Leave Us Some Comment-Love