August 7, 2012
written by Cathy Baker, mom of two amazing girls, from Missouri
Since pool noodles came along several years ago, they have added a lot of fun to the swimming experience. We keep them on our boat, take them to the lake, float with them at the pool. Such a simple thing, really.  Lately I've seen some awesome ideas for using pool noodles in alternate ways. Check these out!
A marble run from HomeSpun Threads
A Race Track from Ramblings from Utopia blog
Put under a fitted sheet to keep a toddler from rolling out.
Keep germs away on your shopping cart from Baby Center blog.
Add a few balloons – and look at all these giggles you can have! From Parents.com
\
I saw this in the Family Fun May 2012 issue. To make these, you simply put 2 chopsticks in the ground, then slide the noodles overtop. Then you can jump over them, crawl through them, use them as goals to kick a ball through.
Can you say, FUN?!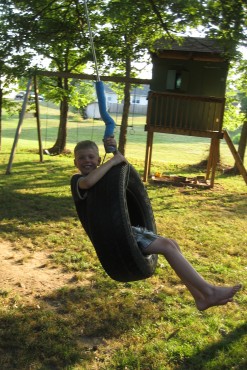 And lastly, my husband's brillant idea – slide a pool noodle on our tire swing to protect the hands from rope burn!
I would suggest if you see one (or more) of these ideas you LOVE – quickly get to your store before they are gone for the summer! Or if you're like me, you probably have a few noodles sitting around that you can already use! Do you have any creative ideas of your own?
Share this post
You might like...
Category: Activities, For Kids
Tags: pool noodles |
5 Comments »
Marykate Wurster

on August 8, 2012 7:28 am

Love these ideas!! Thanks for sharing them!

---

jeff

on August 8, 2012 12:29 pm

very clever, thanks

---

Virginia

on August 8, 2012 1:28 pm

If you have lots of fishing rods, you can cut a noodle in half, mount it on the wall at about 4′ off the floor (kind of at mid body height) and cut slits in the noddle every 5-8 inches to hold the rods upright (rod handle on the ground, and tips in the air and the top part of the rod slid into place by the noodle).

when using noodles for swimming, do check them with every season as they will start to splinter and little fiberglass cuts can be caused by using an old noodle!

---

on August 8, 2012 4:40 pm

Virgina – Another great idea! Thanks for sharing!

---

Heidi Farmer

on August 9, 2012 11:28 am

Love these! Especially the soccer goals/hurdles for my boys. Thanks!

---
Leave Us Some Comment-Love