May 2, 2011
I'm wondering if many of you were just as shocked as The Running Man that this Sunday is Mother's Day.  I'm not knowledgeable on how the calendar people pick this date, but it seems awfully early this year (as in – can I still plant my annuals this early without them freezing???).  And the worried look on The Running Man's face when I mentioned it let me know that it had not crossed his radar yet either.
So if you need one last GREAT idea for the moms, mimis, nanas, grandmas in your life, this is IT.
Take Flight Boutique has gorgeous, reasonably-priced, fun things for you to choose from – so let's take a stroll…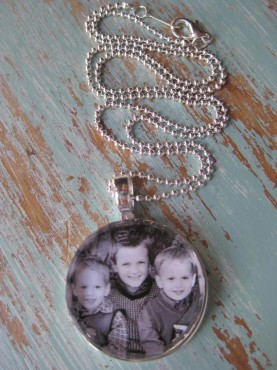 I know you've heard me talk about this Custom Photo Necklace ($65) before, but it's just because I love mine so very much that I need to mention it again.  P.S. You can make a Custom Artwork Necklace too.
I bought this Keep Calm and Eat a Cupcake ($26) tote immediately upon seeing it.  It makes me smile, probably because it is so true.
There are tons of other gorgeous totes to choose from too.  I use them for everything, friends.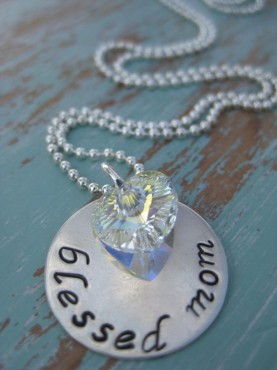 This Blessed Mom Silver Disc Necklace ($42) can also be personalized with Mimi, Nana, etc.
Just like the totes, there are many other Silver Disc Necklaces to choose from.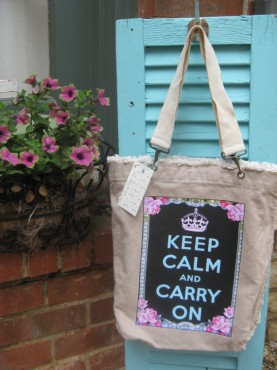 The history nut in me loves this old WWII Keep Calm and Carry On Purse ($38).  Needless to say, it's a good reminder to always keep things in perspective.
And you can win my 2 favorite words: **Shopping. Spree.**
(Are they not yours???)
Giveaway
One lucky, lucky winner can win a $50 shopping spree at Take Flight Boutique simply by leaving a comment by Friday, May 6th. I'll choose the winner using Random.org and announce it on Saturday.
Because I just LOVE comments, here's how to gain extra entries (please leave them as separate entries):
1. Do you subscribe by email or RSS to The Good Stuff Guide? I love my subscribers, so you get an extra entry. Wahoo!
2. Email 5 of your friends about The Good Stuff Guide and tell them what a rockin' website this is. We'd love to have them join us!
3. "Like" The Good Stuff Guide on Facebook and receive the latest news and your chance at additional giveaways. (I LIKE you too!)
4. "Share" any recent post from The Good Stuff Guide on your Facebook wall by clicking 'Share' under our Facebook posts with links to The Good Stuff Guide site.  This makes a visit to our site just a click away for all your Facebook friends – the more the merrier…
(Feel free to do them all – that's a total of 5 entries!)
Good luck!
Now just to choose…  Which one is your favorite?
Share this post
You might like...
Category: Girl Time, Holidays
Tags: Mother's Day, Mother's Day Gift ideas, Take Flight Boutique |
123 Comments »
Valerie S

on May 3, 2011 6:32 pm

like you on fb

---

Jacquie

on May 3, 2011 9:58 pm

I love love love those necklaces. They are so unique and different.

---

Jacquie

on May 3, 2011 10:15 pm

I hope I am the lucky winner. I am a suscriber and I love your website.

---

on May 4, 2011 8:15 am

Love their stuff.

---

on May 4, 2011 8:15 am

I like the GoodStuff Guide on FB.

---

Ty Hodges

on May 4, 2011 8:16 am

Love all the tote bags!

---

Ty Hodges

on May 4, 2011 8:17 am

Just subscribed to the RSS feed. Just found your blog today.

---

Ty Hodges

on May 4, 2011 8:21 am

Just subscribed via email.

---

on May 4, 2011 8:57 am

I love the custom photo necklace!
bleatham*at*gmail.com

---

on May 4, 2011 9:00 am

email subscriber
bleatham*at*gmail.com

---

on May 4, 2011 9:01 am

I like you on FB(Shelly Leatham)
bleatham(at)gmail.com

---

on May 4, 2011 9:01 am

shared on FB too!!
bleatham*at*gmail.com

---

nan

on May 4, 2011 9:41 am

thanks fo rthe chance
nannypanpan at gmail.com

---

nan

on May 4, 2011 9:41 am

e-mail
nannypanpan at gmail.com

---

Marykate

on May 4, 2011 11:53 am

love all things take flight!

---

Guillermo L.

on May 5, 2011 9:06 pm

Great ideas for mother's day

---

Guillermo L.

on May 5, 2011 9:06 pm

Email subscriber

---

Guillermo L.

on May 5, 2011 9:09 pm

Liked on fb

---

on May 5, 2011 9:51 pm

I would love to win! Love the Keep Calm and Carry on eco-tote!

---

on May 5, 2011 9:51 pm

like you on facebook – Tara Huff

---

Pauline Milner

on May 7, 2011 9:37 am

Thanks for introducing me to the Take Flight Boutique and for offering such a great giveaway. Goodness knows I love to shop!

They have a lot of unique items to choose from, which is great when you have to buy a birthday or Christmas present.

~Pauline

---

Pauline Milner

on May 7, 2011 9:37 am

I am subscribed to receive your emails using dod@rogers.com.

---

Pauline Milner

on May 7, 2011 9:38 am

I am a fan of yours on Facebook.

Facebook ID: Pauline Milner Pike

---
Leave Us Some Comment-Love