May 1, 2013
Traveling with Team Farmer is not for the feint of heart.
We conquered 5 theme parks + the USS Midway in 5 1/2 days.  Make that 5, 10-12 hour days.
(We can relax at home, why waste time doing this on vacation???)
Immediately after landing I commandeered the rental car and drove us straight to In-N-Out Burger.
Then I was ready for hugs and kisses and to say hello.
We were there visiting The Running Man's brother, known to the boys as Romer, and his mom Mimi.
After sustenance and hellos, we drove to the USS Midway for a tour.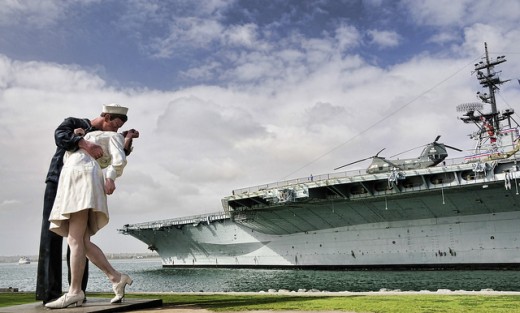 I loved touring the Midway.  I thought it was so fascinating.  The boys loved running on the deck and seeing how huge it was.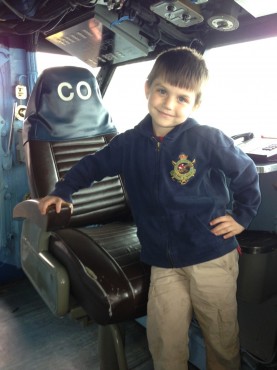 Boden got to be the CO.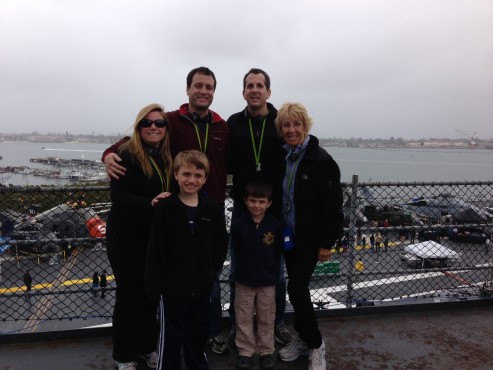 Day 1 of Theme Park Extravaganza: Legoland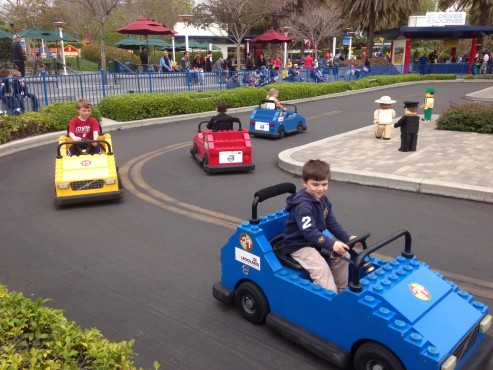 The boys loved these cars they could drive in the pretend city.
They wanted to do this ride for reasons only known to them.
Day 2: The San Diego Zoo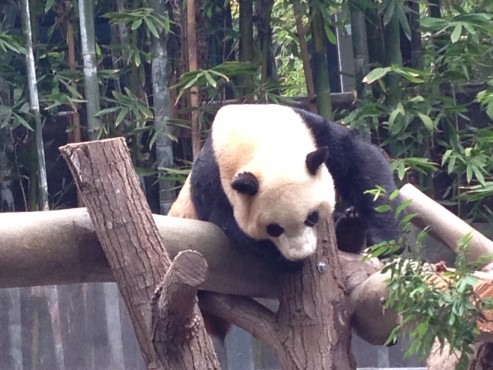 The zoo (and this panda) is huge.  Overwhelming.  Awesome.
Day 3: Sea World
Loved it.
It's good to have a Romer: he's willing to do the soaker rides with the boys in 50 degree weather right before dinner.
Day 4: Disney's California Adventure, Anaheim
My favorite, favorite park (Still second to my beloved Epcot, but probably only for sentimental reasons).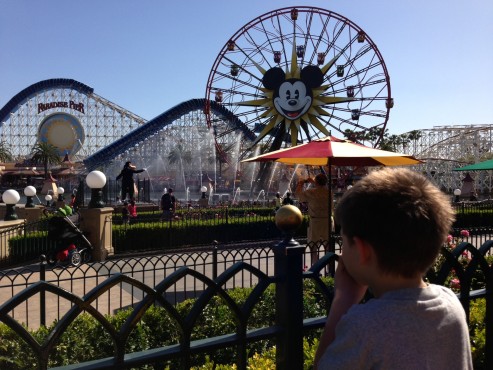 The Radiator Springs Racers Cars ride moved to replace Thunder Mountain as my ALL-TIME FAVORITE RIDE.  I don't take these titles lightly.  I was screaming like a little girl and loving every minute of it.
Here's a video I found so you can experience it:
Get your Fast Pass ASAP as you enter the park – the wait averaged over 3 hours the entire day.
Day 5: Disneyland
Thanks to a fabulously kind family at California Adventure who gave us 4 adult Park Hopper Tickets, we were able to forgo our planned relaxation time in exchange for more rides.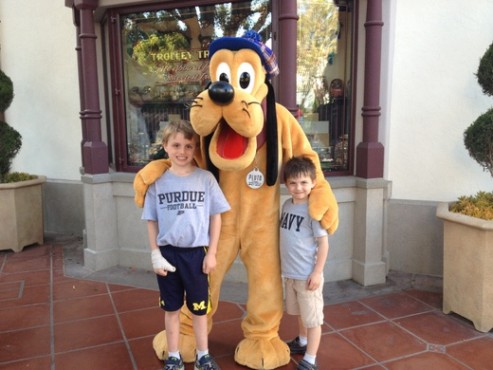 We were bummed to find that Space Mountain AND Thunder Mountain were both closed long-term for repairs, but otherwise had a marvelous day in the original land of Mickey.
Then at 6:30 am the following morning we boarded our plane home after 5 fabulous days.
Whew!  But ready to do it all again…

Share this post
You might like...
Category: Family Trippin'
3 Comments »
on May 1, 2013 10:23 am

Wow, and yes, you were lucky to have Romer there!

---

Marykate

on May 1, 2013 10:09 pm

Sounds awesome! I love the Midway statue – my favorite photograph! Love the pictures!

---

Julie R.

on May 2, 2013 6:45 am

sounds like my vacation. hope you were able to have some down time at home to recover from your vacation. Love the Midway statue too, funny that it has any controversy at all around it.

---
Leave Us Some Comment-Love