April 24, 2010
Here's what separates me from the other Greenwich ladies who lunch…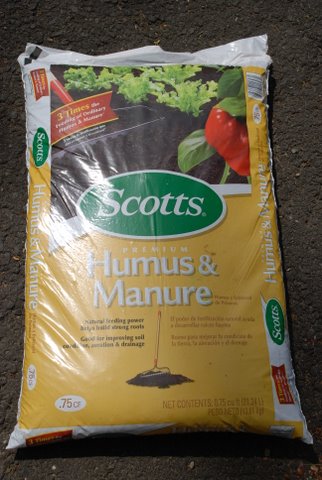 My love and deep respect for manure.
I swear by it.
A rich black hot mess of nutrients.
Your plants will sink down into this stuff, spread their roots and shoot up, out, everywhere.
I should mention that this bagged manure is dried so it does not have the strong odor that the fresh stuff has.  I just put a huge garbage bag down in the van when I cart it home from the garden store.
I recruited a member of my staff for some help…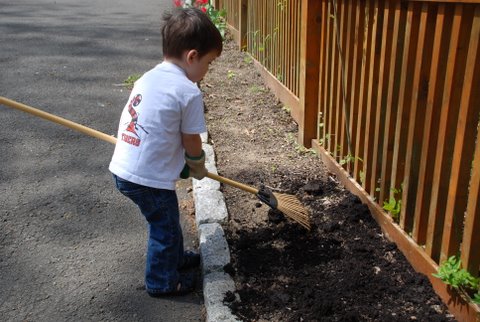 Fortunately, he works cheap.
Graham crackers work the same on him as cash.
I then moved in behind him with my favorite garden tool – the do-it-yourself rototiller: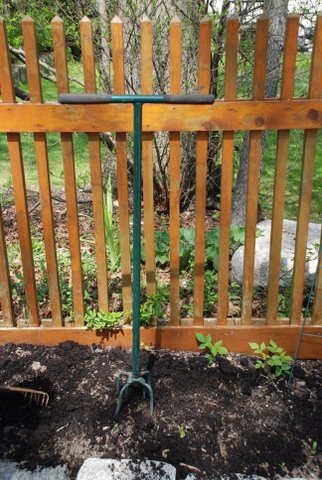 Now strong arm it girls – it's good for your abs!
The result is loosened, mixed wonder-soil.
Look at all that good wormy dirt just waiting to be planted.
This bed will "rest" for 2 weeks until we're past my area's frost date – May 8th.
Then Tomatoes. Sunflowers.  Lettuce.  Sugar Snap Peas. Basil. Marigolds.
I can barely stand the wait.
And before we know it, the little patch will look like this: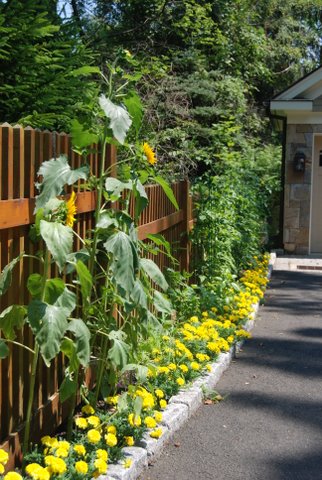 And most importantly, we'll be munching on these: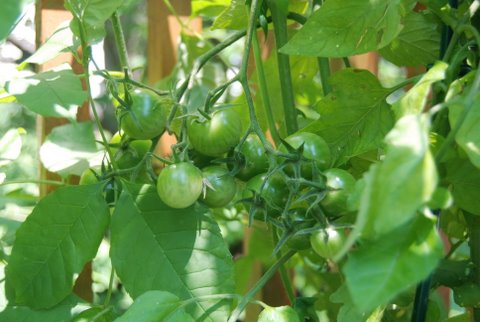 Ahh summer!  I am looking so forward to you.
What do you have going on in your garden?  Trying anything new this year?  Planting yet?

Share this post
You might like...
Category: Garden
Tags: Manure, prepping a garden, tomatoes |
9 Comments »
on April 24, 2010 7:55 am

What a fun thing to wake up to this morning!!! Child labor is great when they actually work, and what fun for him to have a part in the gardening!

---

on April 24, 2010 10:16 am

Too bad we didin't live close to each other…. you could have all the cattle and horse manure you wanted for FREE! But you're right, it is good for the soil. We put it in our gardens too.

---

on April 24, 2010 12:04 pm

I'm so jealous of your garden! I am focusing on herbs this year and hopefully some tomatoes again. Just can't let those pesky cousins visit or they will eat them all!

---

Heidi Farmer

on April 24, 2010 5:01 pm

Christy – oh man I would use it too!

---

Celeste Won

on April 25, 2010 5:32 am

Heidi,
We're cut of the same cloth on this one. You've got to come over to see my Riverside postage stamp of a garden and we'll swap stories!

---

on April 25, 2010 7:33 am

My herbs are flourishing already! My Dad recommends growing tomatoes in pots to prevent tomato wilt disease – that's next weekend's project. 'Better Boys' are my faves.

---

on April 25, 2010 2:05 pm

Heidi — it's not just the manure that separates you. It's also the fact that you're doing your gardening yourself. 😉

---

Heidi Farmer

on April 25, 2010 2:40 pm

Isn't that the truth! Well besides Celeste.

---

on April 25, 2010 10:44 pm

My hubs made some new frames for our square foot gardens. Now to fill them with the "good stuff" – including 1/3 manure. Amazing how the plants thrive in that stuff! We'll have cukes and zukes, lots of tomatoes, herbs, and will be trying jalapenos this year. Can't wait to get it all planted!

---
Leave Us Some Comment-Love