November 25, 2013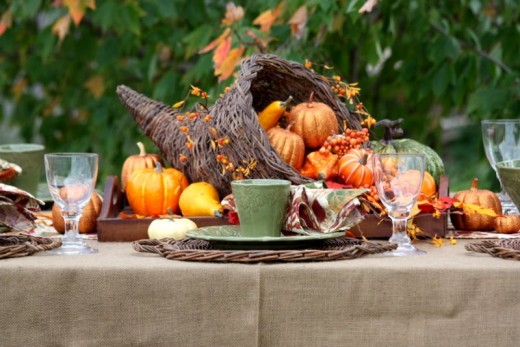 This year, my dad and The Running Man's brother will be joining us for Thanksgiving and I'm the cook.  Even though we only will have a total of 6 at the table, the meal will invariably be enough to feed 20.  So if you are in the area, STOP BY!
Here's our menu:
1) 18-pound Champagne or Sparkling Apple Cider Turkey – click link for recipe (It's a WINNER)
2) Stuffing
3) Oyster Stuffing – this is for The Running Man and his bro.  It is rather disgusting, and a sign of true love that I make it for him.  I don rubber gloves and have an airing-out plan for the kitchen.  Wish me luck.
4) Simple Green Beans
5) Mashed Potatoes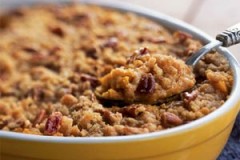 6) Sweet Potato Casserole – click link for recipe and MAKE IT!  You'll be glad you did.
7) Gravy
8) Cranberries with zest of orange, boiled whole in Apple Cider with a few cinnamon sticks.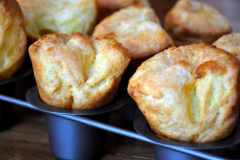 9) Popovers with Raspberry Butter – click link for recipe.  Such a festive treat.
Desserts:
10) Chocolate Raspberry Pie – I'll post this recipe after I make it.
11) Apple Pie (X2)
12) Oatmeal Chocolate Chip Cookies/Sugar cookies that we decorate/brownies (haven't decided on this yet)
What's on your menu?  Share, share!
Share this post
You might like...
Category: Cookin', Holidays
Tags: thanksgiving cooking how-to, Thanksgiving dinner |
2 Comments »
Marykate

on November 25, 2013 7:01 pm

We do traditional – I did a pre Thanksgiving birthday dinner for my uncle last night and had 20 for dinner – with all the standard Thanksgiving fare. My Aunt is having 30 on Thursday and I am bringing the pumpkin pies = and turkey cookies (recipe tomorrow!)

---

on November 27, 2013 6:49 am

We are dining out in Chicago this year! Happy thanksgiving!

---
Leave Us Some Comment-Love