June 18, 2014
Written by Marykate O'Malley, mother of three wonderful children, Gladwyne PA 
One of my favorite books is Stephen Covey's "The 7 Habits of Highly Effective People". I went to training on these concepts early in my career and still apply them every day in all areas of my life. Be proactive! Think win win! Begin with the end in mind! If put to use they mold a more effective, and compassionate individual.
Recently I discovered "The 7 Habits of Happy Kids" and have been having a blast working through the principles with my children. Here is how it works: there is a chapter, and story, to illustrate each principle with discussion questions and teaching concepts to follow.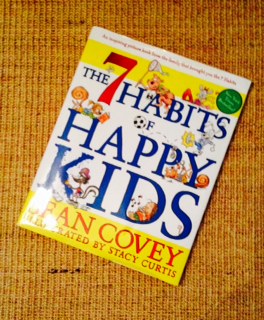 Here is what we do: every night we read a chapter of the book which illustrates the concept. The following evening at dinner we discuss the story, the habit, and how to apply it in their life. We repeat this pattern with each habit.
Last night as we finished the sixth habit my youngest said, "ohhhhh, we only have one more habit left"! Can you say win – win?!! The format is easy to follow and we have had so much fun going through this process.
Find the 7 Habits of Happy Kids on amazon! Happy reading!
Share this post
You might like...
Category: Activities, Board Books, Books, Brilliant, Brilliant Authors, Family Trippin', For Kids, For Moms, Mission Control, Momzone, Nonfiction, Picture Books, Random and Fun, Toys and Gift Ideas, Wondermom Resources
No Comments »
No comments yet.
Leave Us Some Comment-Love