April 5, 2012
Before we even get started, I need to let you know that we are HUGE LeapFrog fans around here.  We've been playing with our Leapster 2's for several years, have the Tag system and use it often, and are hooked on the Learning Path DVD's.
I just love that these products use cool technology to teach reading and math.  And any extra little place we cram it in is a help, right?
So last Christmas when the LeapPad emerged, I had serious envy: here is a product that wraps up the beloved Leapster, the Tag, and a camera all into one.  AND leaves our grown-up devices in our own hands (this being possibly the greatest pro).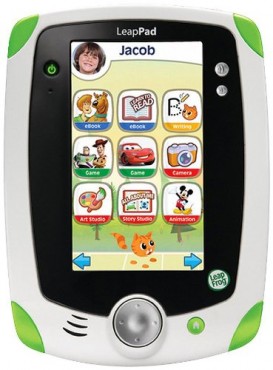 But I waited, since we were so heavily invested in 2 Leapster 2's and the all the games that went with it.
A few weeks ago, I was invited to test the new LeapPad and their 2 Ultra eBooks: Cinderella and Cars 2.  Yes, lucky me!
It arrived on Friday evening, and I absent-mindedly grabbed it for my younger adorable during my elder's 7am Saturday morning hockey practice (don't even get me started on the injustice of this) that required an alarm, wake-up tickles and loud music to get out the door for.  When we arrived and I sent my eldest on the ice, I opened the box and handed it to my four-year-old.  Didn't turn it on, didn't read a single direction, didn't have to install batteries – just unwrap and GO!
He spent the next hour (and every single other second since that we let him have screen time, or when it is not confiscated by his brother) enraptured.  The LeapPad comes pre-loaded with a bevy of great educational (and FUN!) games.  He experimented with the camera, he read the eBook (naturally he chose Cars first), he's tried every one of the pre-loaded games and he declared it was a HIT!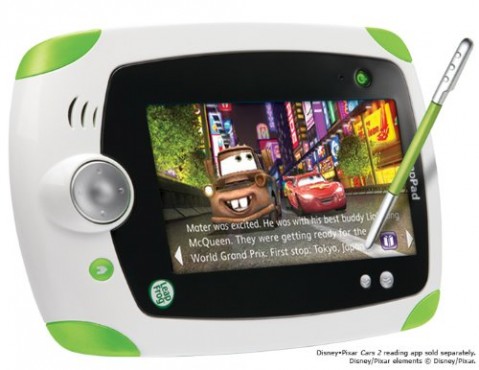 One thing I really appreciate – and it's even better than the Tag – is that the words light up as they are being read.  A cool feature when you're trying to increase your adorable's sight word library.
So here are my PROS:
1) crazy, crazy easy to use
2) durable (can certainly handle a few drops, but I wouldn't recommend immersion in water)
3) Plenty of apps pre-loaded!  If you're like me and are hesitant to pay more for future games (especially if you already have a gaming system and have paid for these games), you can use it as is, or with just 1 or 2.
4) Educational, educational, educational.  No Angry Birds here, friends. Educational and age-appropriate.
5) Reclaim your own device! (Running Man reads this as Angry Birds for him).
6) At $100, cheaper than other adult devices, with the benefit of limited educational-only apps. And a camera.
My only CON:
1) sometimes I have trouble getting the cartridge into the slot and removing it.  Is it just me??  Adorables haven't been able to do this themselves.
But that's it.  And it is minor.
You can find more info here: LeapFrog LeapPad Explorer Learning Tablet
Like the Leapster, the LeapPad is available in green and pink.
You will be WOWED!
Share this post
You might like...
Category: Toys and Gift Ideas
No Comments »
No comments yet.
Leave Us Some Comment-Love