May 28, 2013
Written by Marykate O'Malley, mother of three wonderful children, Gladwyne, PA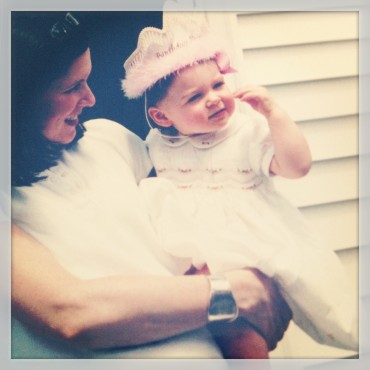 Carrying 2 babies, one in my arms, one in my tummy. My oldest on her first birthday.
Mothers are artists and skilled professionals when it comes to the art of holding. Just now I carried up the stairs under my left arm a load of laundry with fresh sheets, a phone in the crook of my neck while chatting with my closest friend and in my right hand I balanced a cup of freshly brewed chai tea. I clicked off the phone and here I sit thinking about all the things I have been carrying over the years.
Newborn babies home from the hospital, fragile, tiny and perfect, carried like the finest china in awe of every eyelash twitch and sacred noise. I carry baby dolls and baseball mitts, school bags home from the school bus, trophies and Popsicle wrappers. "Here Mom" and I am handed sea shells, and empty lunch bags, coats and sweaters. "Mom can you hold this?" and I am tossed dolls and soccer balls, coveted stuffed animals and empty water bottles.
I stand at class plays with flowers, and the cookies we made for the after party, my camera dangling around my neck and in my other hand my daughter's props. "Here Mom", they know we have been carrying them and their supplies long before they came into this world. They know that the diaper bags and bottles made way for toys, sticks and rocks, books and most importantly, for hands.
We carry babies in our wombs, nourish them, feed them and then once born, we feed them and carry them in arms, on hips and baby carriers. They fall at 5 and scrape their knees, we carry them home to patch them up with band aids and Mommy kisses to make it better. We carry their hopes, their fears, every birthday wish made when the candles are blown out, every smile, every tear, with us. I once read our children's cells from pregnancy remain in our bodies sometimes for decades. It's amazing and miraculous to consider. We never stop carrying our children, the umbilical cord remains.
We are mothers. We carry all.
**********
With deepest love for my oldest daughter, who nine years ago today came into this world. I am so proud to be the mother of such a beautiful child in every sense of the word. She inspires me every day with her kindness and grace. I love you sweet sweet girl!

Share this post
You might like...
Category: Activities, Art, Board Books, Books, For Kids, Gear, Momzone, Random and Fun, Wondermom Resources
8 Comments »
on May 28, 2013 11:37 am

Love these thoughts! Happy birthday to your oldest! I couldn't help but think that motherhood is also the art of letting go…to first day of school, to first sleepover, to first date, to college…how can it be both at the same time…the holding and the letting go? And yet, it is.

---

Marykate

on May 28, 2013 12:17 pm

Cathy – yes! In my children are like kites think I said the same thing! Bittersweet! Xoxoxo

---

on May 28, 2013 6:17 pm

I use bittersweet to define motherhood all the time!

---

Heidi Farmer

on May 28, 2013 7:10 pm

Just beautiful MK! Can't believe your eldest is 9 today. Such a sweet, beautiful girl.

---

Joanne Schenendorf

on May 29, 2013 4:42 pm

MaryKate- this is so beautiful! Anne and I were just talking about how quickly her little guys are growing up. Next week is the last day of Nursery for 2's and I have been so fortunate that she invited me to attend every week to help with the twins.We are both so sad that this phase of their new lives is ending. Your sentiments capture exactly how I feel, especially when I say, " Hold Grandma's hand" and they latch on without question! Or even better,when one of the boys grabs my hand to pull me somewhere and I ask "Where are we going?" and he says " I don't know".and it doesn't matter…. As long as we are holding hands!!! Happy Birthday to Maggie!!

---

Anne Schenendorf

on May 30, 2013 4:14 pm

Oh MaryKate, I was crying by sentence three and that continued long past paragraph one. I never knew that about the cells of our babies but it makes utter sense and explains that feeli g in your chest that never goes away. This was so eloquently said. I saw this gorgeous picture and the title and was saving this to read in a quiet moment. I knew it would be special but instead it's spectacular. I am so grateful for the holdings of the babies and love you guys soooo much…

---

Marykate

on May 30, 2013 6:06 pm

Joanne – holding hands is the best. I savor it even more now as I feel like my guys get self conscious now in public. Nothing better! I love " I don't know" so sweet! It's like they are saying, it doesn't matter – we are holding hands!
Anne – thank you. I am sure the "holding" keeps evolving too. It's like we are their keepers – it's not just their stuff, they are entrusting it to us and that "here mom" says so much. The cells is so crazy read years ago and it always stayed with me. And it make sense – we all feel it!
Cathy – as my grandmother would say – we are kindred spirits!
Thanks Heidi!!

---

Anne Schenendorf

on June 5, 2013 9:01 pm

I was handed lollipop sticks, eaten of course yesterday and I thought of this article and it melted me. Holding. Well said maryKate. We are the holders of dreams, hopes and hearts. I am beyond grateful. Thank you…

---
Leave Us Some Comment-Love