November 2, 2010
Today is Dia de Los Muertos, or Day of the Dead, a holiday celebrated by some Mexicans and many Mexican-Americans.  On this day, families and friends gather to pray and remember loved ones who have passed away.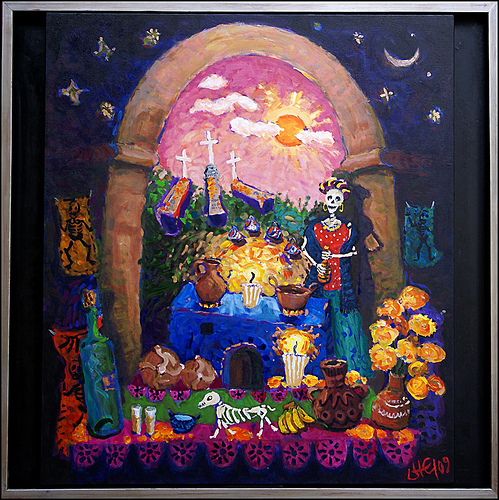 Painting by Ute Hagen (http://utehagen.squarespace.com/)
I'm a wee bit embarrassed to admit I've only just really come to understand what this holiday is all about.
I asked Sue Kirchner of  www.ChocolateCakeMoments.com to share how she celebrates Dia de Los Muertos with her family:
"I lived in Mexico for a few years growing up and fell in love with the concept of celebrating the lives of loved ones who have died. Even though we are not hispanic, my husband and I celebrate every year with the kids. Every year we build a shrine to Grandpa and our pets who have passed away setting out photos, favorite foods, and mementos that remind us of them. We also visit the National Museum of Mexican Art in Chicago to see their amazing Dia de Los Muertos exhibit. We read kids books about Day of the Dead with our favorite being JJust a Minute!: A Trickster Tale by Yuyi Morales
. Finally, we cook a special meal that Grandpa liked and at dinner we share our special memories of him and our pets that we miss. It's a wonderful way to spend time communicating as a family and keeping family stories alive. It's not sad or morose, we concentrate on the positivies and how much they meant to us."
Sue has written a few articles on Day of the Dead:
Why I Love Day of the Dead – http://www.chocolatecakemoments.com/?p=15
How to Teach your Kids about Day of the Dead – http://www.chocolatecakemoments.com/?p=16
I just love the idea of setting aside a day to celebrate the lives of grandparents, great-grandparents and others who were very special to us.  Telling my adorables about who they were and their funny stories, all while eating the foods they loved.  What a great idea!
Have you ever, or will you celebrate Dia de Los Muertos?  How does your family celebrate?  Any special traditions?
REMEMBER to VOTE today!!
Share this post
You might like...
Category: Activities, Holidays
Tags: Day of the Dead, Dia de Los Muertos, Holidays |
No Comments »
No comments yet.
Leave Us Some Comment-Love