July 18, 2009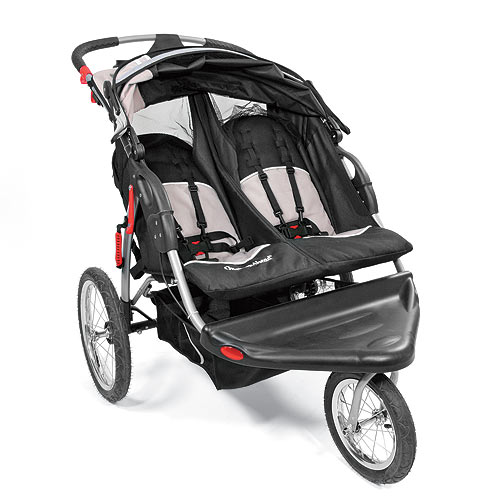 Check this puppy out: 2 kids, front swiveling wheel (lock it down when you're running), and it rides so well. You can't even see the great parent tray for your keys, water bottle and kids milk and cell phone. The seats individually recline and have a 5-point harness. Comes with a rain shield. Folds in half (you can see it in here behind the bike wheel).
It's $219.95, which is an investment, but you can always re-sell when you're done on The MotherList. It's also priced at or below many other double joggers. The BOB Revolution Duallie is, um, $569. Yeah. Stomach that.
Now here's my caveat: to avoid a wicked shimmy, I need 2 adorables inside to unlock the front wheel. But with only 1 adorable, it's much lighter to turn, so it's not such a big deal after all.
It's a hit. I couldn't get any exercise without it. Period.
Share this post
You might like...
Category: Gear
Tags: double jogger, double running stroller, double stroller |
1 Comment »
on July 20, 2009 12:54 am

Very nice stroller! My daughter had one that was either same or very similar, with a 3rd seat that hooked in front – Great for her older son, and her twin babies!!! Definitely easy to push. Not as easy to fold and store (at least not for this grandma ), but under the circumstances, WELL WORTH IT!

---
Leave Us Some Comment-Love