August 20, 2013
Written by Marykate O'Malley, mother of three wonderful children, Gladwyne, PA
I have my birthday party gig down to a science. The past couple of years my girls have been all about the Sleep Unders. Here is how it usually goes:
evite (wear your pjs and bring a stuffed animal theme)
crafts upon arrival (ala Michael's – think 2 with another as back up)
games or activity number 1 to go with theme (sleep "under" = decorate a pillow case, decorate door knocker)
game or activity number 2 (insert babysitter for face paint or painting nails)
filler may be needed (freeze dance or dance partay)
pizza
decorate your own cupcake
goody bags (homemade chocolate chip cookies and milk for milk and cookies before bed, or diary and frilly pen)
Clean up
Clean up
Scrape glitter glue off the table
Clean up
Go to bed tired (but happy)
And then a friend had a game truck party. My son was there, in gaming heaven. On my way to another birthday party drop off I drove by her house and the adults were lounging outside, laughing and jovial and the children… where were the children? In the tracker trailer size Game Truck blowing their little minds with every video game imaginable.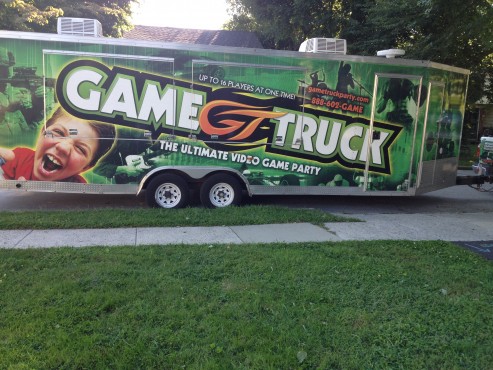 Full disclosure – I wrestle with video games. There is something about them that bothers me. I don't "get" them. I feel as if my son gets lost in an electronic fantasy world when he should be playing and reading and running. And that said, he loves them. Okay, he is obsessed. So I limit them, offer them as a reward, take them away to "help him remember something the next time". To ban completely would feed the obsession (been there), so we have a balanced approach.
With three summer birthday's I was ready to tackle another party. I was thinking a bouncy castle or sports theme. Maybe a Mario's world party sans video games – decorate your own Mario hat! Create your own Mario themed collage! Rescue Princess Peach scavenger hunt! I was ready ladies. But I was thinking about the truck, and the smiling happy parents. So I went for it, and on the day of the party here is what I did:
Set out 2 picnic blankets on the front lawn waiting for the truck to arrive
Pizza time
Selected video games (all E of course, no violence and all that important stuff)
Sat on the lawn with friends, and we laughed, and caught up
Popped a tomato and zucchini casserole in the oven (it was delicious)
Checked out the kids playing games
Laughed with friends – the neighbors were over and a dear old friend in town from New York (lucky me)
Ate pizza
Directed 2 children who emerged from the truck to the bathroom
Ate more pizza
Watched the kids play games
Took pictures
Laughed with friends
Had another slice of pizza
2 hours later the video game portion was over. The truck drove away. I passed out cupcakes. We sang Happy Birthday. I handed out goodie bags. The children went home. I threw the picnic blankets in the wash and spent a lovely evening with my dear friend Michelle and her beautiful children. I even hosted sleepovers for everyone. The EASIEST birthday party I ever had.
And the icing on the cake – I overheard at least 5 children (including most importantly the birthday boy) exclaim "this is the best birthday party EVER!" And I thought in my smiling, happy, no mess heart – yes, it was.
******************************
On Game Truck – think stretch limo or Hummer – kid style. Deep leather seats, four large screen tvs that can accommodate up to 16 players, kids tunes cranking and an unending selection of every game imaginable. For more information, click here.

Share this post
You might like...
Category: Activities, Brilliant, For Kids, For Moms, Girl Time, Momzone, Outdoor Space, Playrooms, Random and Fun, Toys and Gift Ideas, Wondermom Resources
1 Comment »
Heidi farmer

on August 25, 2013 4:07 pm

Hmm… Now you have thinking. This looks awesome and SO easy!!!

---
Leave Us Some Comment-Love