November 21, 2012
Written by Marykate OMalley, mother of three wonderful children, Gladwyne Pa
In Connecticut, some friends and I had a rotating dinner group (see Mom's Night In). At one of those dinners, as soon as I walked through the front door, I immediately stopped and had to know what the buttery, mouth watering smell was that filled the entire house. It was baked brie. And it was divine. It was so divine I could hardly eat my dinner I indulged in so much. It was so divine I had to get the recipe. It was so divine I now serve this at almost every gathering.
When my friend emailed me the recipe the subject line read, "literally the EASIEST thing you will ever make". And because some things are perfect just the way they are, I have lifted the recipe directly from her email. Here it is:
Literally the EASIEST thing you'll ever make…
Buy:
-Brie (medium size)
-Pillsbury crescent roll dough (just the original kind)
-red raspberry preserves
To make:
-spread out dough in glass pie dish
-spread some preserves on dough
-put Brie circle in middle of dough
-spread some preserves on and around Brie
-wrap Brie up in dough pressing seams together
-bake in 375 oven for 30-45 minutes or until golden brown
I usually prepare in advance and put covered in fridge, that way you can just pop in oven before you need!  I like to serve with baguette.
*********
Perfection. I also serve it with a baguette. And I love brie (and almost any cheese) with Carr's whole wheat crackers. They are almost like a cookie they are so good. I found the brie shown above on Pinterest at tastykitchen.com. I love the idea of serving it with fruit. I am sure it is amazing. I also found these mini ones on Pinterest at  Joy the Baker. How cute are they? They are like brie popsicles or lollipops. My children would love them.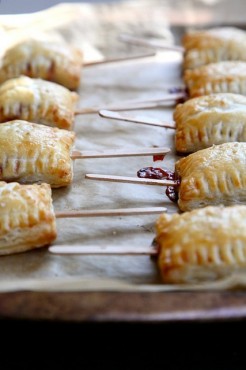 Wishing all of you a Thanksgiving filled with love, family, friends and laughter! Happy cooking, happy baking, happy eating!!

Share this post
You might like...
Category: Activities, Brilliant, Cookin', For Kids, For Moms, For The Home, Girl Time, Holidays, Kitchen, Kitchen Gadgets, Kitchen Pantry, Momzone, Random and Fun
1 Comment »
Anne Schenendorf

on December 2, 2012 7:37 am

So yummy MaryKate!!!! Thanks!!!

---
Leave Us Some Comment-Love