March 16, 2011
I have 3 criteria for a good stroller:
1) a good parent console – holders for cups, keys and a mobile phone (and yes, that really is my #1)
2) a good basket underneath
3) the ability to recline the seat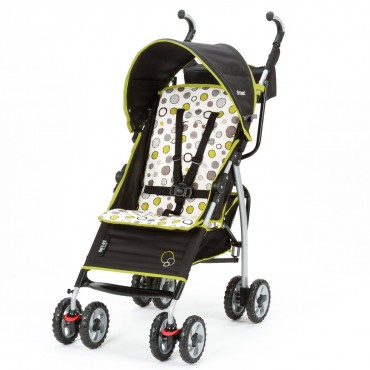 The new The First Years Ignite Stroller
($59.99) meets all of these criteria AND has a lightweight frame and superb maneuverability to boot.
Younger adorable exclaimed, "It's awesome!"
I think for the price this is an excellent stroller.
At only 14 pounds, it's a perfect stroller for traveling, or quick errands where you don't want a big frame to schlep in-and-out of the car.  The seat also supports your adorables up to 50 pounds.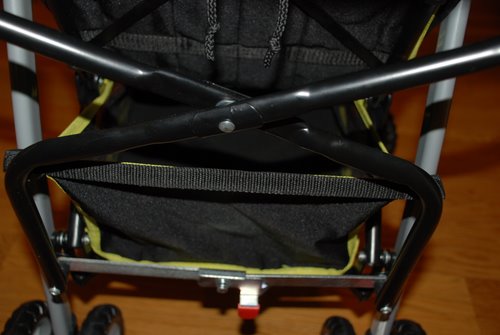 Access to the basket
With a lightweight stoller, you do forego a few perks of the full-size models: the basket is smaller than those in big strollers, and the outer frame blocks some of the access.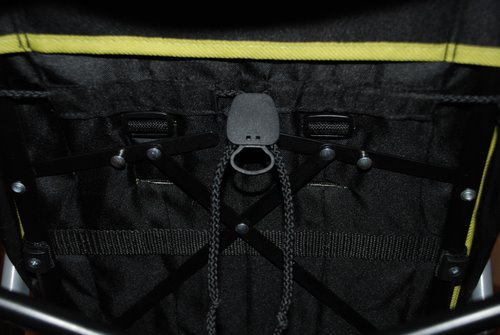 Also, the recline is controlled by a toggle cord instead of a lever.
But for $60, the benefits of one-hand closing (actually, with my foot I could do it with no hands!), the teeny-tiny space this requires in your trunk when folded, the five-point harness to keep the adorables in there, and a really good parent command center for umbrella-type strollers, I think you'd be hard pressed to find a better stroller.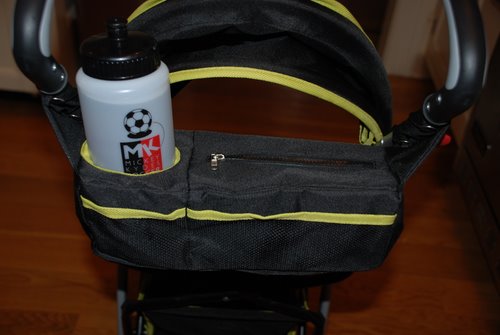 The Parent Command Center
You can find this stroller for $59.99 in 6 available colors at Amazon: The First Years Ignite Stroller
** I was sent a stroller to review by The First Years/Learning Curve – thanks!

Share this post
You might like...
Category: Gear
Tags: Ignite stroller, Learning Curve strollers, lightweight stroller |
9 Comments »
Mama Nolte

on March 16, 2011 6:46 am

I may just have to purchase this stroller for the Grands.
It sounds lightweight enough for a Grandparent to wrangle and still be sturdy and safe enough for walks in the park.

---

Danielle

on March 16, 2011 8:45 am

This review has come at a perfect time. The lightweight umbrella stroller we've been using for our son is not going to last through #2's arrival so we've been on a quest to find the next best lightweight stroller to keep in the trunk of the car. We currently have a big MacLaren for walks to the park and outdoor activities, but it's way too heavy for quick errands, so we purchased a Chicco stroller which has been great (only 11 pounds), but after 2 years, it's seen better days. I'm definitely going to look into this First Years Stroller. I like that it's even less expensive than the Chicco stroller.

---

Mama Nolte

on March 16, 2011 9:20 am

On Amazon, they are selling a bag to slip this stroller into at airport gate check with the stroller for $73.

Is that a good deal?
What color stroller do you and Sarah recommend?

---

monkygm

on March 16, 2011 9:51 am

I got this stroller last year for use when traveling and going out and about shopping etc… with my then 2 year old. It is sooo great! I love that it has the shoulder straps and holds a child up to 50 pounds! I still use it all the time for my now 3 year old. Love this stroller and would highly recommend it!

---

Heidi Farmer

on March 16, 2011 9:53 am

@monkygm Thanks so much for the after-2-year report. It's so hard to know when an item is right out of the box and all shiny and new how it will hold up with wear and tear. I'm so glad to hear this one is a keeper!

---

Heidi Farmer

on March 16, 2011 10:01 am

@Mama Nolte, Having a great bag is so handy for traveling on airlines… Since all strollers are different sizes, it's really great to know that this bag will fit this stroller. For an extra $13, I think this is a very good deal. On color, I received the black and green, which is retro and cute. I like the navy (but I like all things navy, so take that with a grain of salt!), and plain black is always great.

---

Mama Nolte

on March 16, 2011 10:17 am

I just ordered this stroller and bag for gate check-in at the airport.
*Bonus: Free Shipping! So easy to go through your link to Amazon!

---

Laurie

on March 16, 2011 11:43 am

Nice…I have the Chicco version of this as my lightweight, travel stroller (have had it for prob 3 years) but it doesn't have a basket and that kills me. I might just have to check this one out even though I was really hoping we could get by without buying any more strollers! Looks great for the price to me. Thanks for the review!

---

Heidi Farmer

on March 16, 2011 12:55 pm

@Laurie- you could try to sell your Chicco on Craigslist and put the proceeds towards this one. I'm such a fan of Craigslist – I have the best luck selling stuff there!
@Mama Nolte- thanks! I too love the free shipping!

---
Leave Us Some Comment-Love