August 27, 2014
Written by Marykate O'Malley, mother of three wonderful children, Gladwyne PA
When I was a child my grandfather, "Da", loved to ask me what I would be when I grew up. Because my answer was along the lines of, "Mommy, Nun, artist, teacher". Naturally he would ask me how I would do all of this. Naturally I had a answer. And the funny thing about life is that it looks different than I envisioned at 7 but all the ingredients are there: I am a Mommy. My spiritual life is my center and core. You could say I am an artist as a writer. I have worked as a corporate trainer. Check, check, check, and check.
I have found that life is never a straight path. There are off ramps and on ramps, sometimes detours. Sometimes you are sitting at a traffic light, waiting. Waiting for a break, for the wave to come in, for your life to start, except this is your life. Today. Not when you  finish writing the novel, when you have the baby, get married, get the promotion, whatever it may be. And if you are like me as soon as you finish the novel, have the baby, get the promotion you are on to the next thing anyway. So be here now. Tomorrow will have it's turn.
Yesterday I came across my old high school yearbook buried in a bin in the basement under yellowed essays and class pictures. There is a picture of me sitting Little Mermaid style looking off into the distance. I quote Eleanor Roosevelt, "the future belongs to those who believe in the beauty of their dreams". My dreams at 17 were college, a career as an English teacher and a fulfilling and rewarding life. I loved Thoreau and the Transcendentalist movement and knew that no matter what I did it my life probably wouldn't look like everyone else's. I didn't want it to look like everyone else's. I later decided to drop the teacher route and found my way on a whim in corporate America. Not the home I would have envisioned for myself at 17 and yet one that has been absolutely fulfilling and rewarding.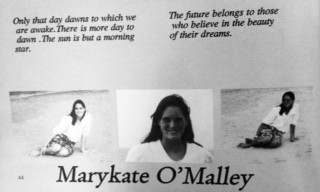 Life is a series of choices. And can sometimes feel like a Choose Your Own Adventure book. Choice A sends you down one path, B another. But there is an invisible hand guiding it all, getting us where we need to be. You chart your course, inhale deeply and set off into the great unknown, and with a lot of grace, find your way.
My oldest sleeps in a fort she designed for herself. Bottom bunk, blanket draped across the opening and pillows lengthwise around the interior blocking out noise and light. She sleeps like Juliet entombed in her bed, her dark hair spread out about the pillow like a halo. "Arise O sweet Juliet. It is the east and Juliet is the sun". Children are destinations. Children are destinies. My mother always says, "they arrive with so much". My oldest has always been alert and aware of every nuance and subtlety. At 10 years and at 10 days – the same bright eyes, the same knowing. She was simply born old.
My son arrived in this world in record time, with a burly chest, full dimpled legs and a shock of black curly hair so long that it curled in a mass on the top of his head like a small crown. He arrived quickly and has been on the move since. He walked for a few days at 11 months and immediately went to running. At 11 months. Me? Naturally terrified. At 12 months while navigating a draw bridge in Woods Hole, Cape Cod, water on one side, cars on the other, my son "strong as an ox" as my old pediatrician used to say was trying relentlessly to dive out of my arms. He then turned to me, and said his first sentence with determination and authority, "I walk Mommy". I placed him down, took his hand, and navigated the rickety bridge. Who am I to judge the universe. Who am I to stand in his way.
My youngest's first sentence was fittingly "I love you" and said with the full awareness and power of her words. Her name means "worthy of love" and my gift is to bestow love on her as only a mother can, love that can transform. When I ask her what she wants to be when she grows up she says she wants to be a Mommy, an artist, a gymnast, and a singer. Naturally I ask her how she will do this. Naturally she has an answer. "The future belongs to those who believe in the beauty of their dreams".  Dream on sweet girl, dream on.
Share this post
You might like...
Category: Activities, Art, Books, Brilliant, For Kids, For Moms, Girl Time, Holidays, Momzone, Outdoor, Photography, Random and Fun, Wondermom Resources
4 Comments »
Anne Schenendorf

on August 28, 2014 1:48 pm

I just read this MaryKate and I am coated in goosebumps head to foot and crying. These tears are ones of joy(again) and at the wonders of your words that speak to my soul. Your vivid description of these guys is pin point accurate- and beautiful. I started to cry at her name means worthy of love- I never knew that. And wow, as her Godmother I can say, she is the most worthy of love ever- as are you- my spectacular, beautiful wise look in your eyes, that miror your eldest. Honored to be part if your journey. Beautiful… (still tears.) 😉 xxxxxxxxooooo and a million more…

---

Heidi farmer

on August 30, 2014 9:16 pm

Love, love, love this Marykate! So honest, so true. And I loved thinking of your sweet children while I was reading.

---

on April 2, 2015 9:03 am

---

on April 2, 2015 9:04 am

Good job!!

---
Leave Us Some Comment-Love