April 17, 2014
Written by Marykate O'Malley, mother of three wonderful children, Gladwyne PA
I recently had a life altering experience, and it involved hair color. Here's why:
I am what some call Black Irish and like a lot of my family, at 17 started to find strands of silver and by my early 20's the salt and pepper was enough that I started to cover it. With a wash at first, I then graduated to semi permanent, and finally permanent. In the big scheme of things this is what I would tell my children is a small problem (there are big problems and small problems). And in theory problems are only problems if you define them as such; otherwise they are opportunities, the chance to grow, go deeper. And you could say it isn't even a problem except for the vast amount of time and money I have spent on this. And all that stuff I am putting on my hair can't be good for me.
Here is the deal – my hair grows bizarrely fast. I am not complaining. This is an observation. And so because my hair is dark I start seeing roots at 2 weeks and by 3 need another treatment. Not only is it expensive to color, it is a good 1.5 – 2 hours in a salon every 3 – 4 weeks. I have tried the home products and love the idea of them – color your hair while you are home! And doing things you want to do! And it only takes 20 minutes! But the products damage my hair and I find don't work very well. At the salon, even if they have the latest copy of Vogue and Traditional Home, it's a time drain and ladies time is a precious commodity. And above all, it is the chemicals that concern me. After years of sitting with sulphur smelling tar on my head for hours, some of which is absorbed, it's a little scary to consider.
So I was lamenting about all of this to my darling stylist Nico. Isn't that what you are supposed to do, lament to your stylist? They should have couches instead of chairs. He jots something down and hands me a slip of paper and on it is written Herbaceuticals Naturcolor. I forgot about it and then at 2 weeks when I start to see roots and remember his advice. I did my search and found it on a site called Super Supplements. They also sell it on amazon but it directs you back to Super Supplements. And while at home, and doing things I need to do, without harsh chemicals, in 20 minutes – voila! Grays are colored for the cost of tipping a stylist and hair washer! Economical, time efficient, natural ingredients. Ladies, introducing the game changer Naturcolor! Check out the comments for hair coloring tips!!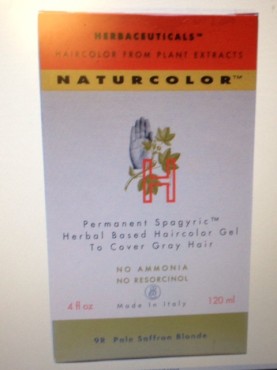 Share this post
You might like...
Category: Brilliant, For Moms, Girl Time, Mission Control, Momzone, Random and Fun
4 Comments »
on April 18, 2014 9:05 am

Sounds awesome!! So silly question, how in the world do I know which hair color to pick?! Any tips with that?

---

Marykate Wurster

on April 19, 2014 7:56 am

Not a silly question – a very good one. And I think the hardest. There is an 800 number and you can call – Pacific time. And then it is getting to know your hair – getting to know you, getting to know all about you! Mine loves red for example and so I avoid anything with red undertones and use ash bases. If you go to a colorist they should tell you too. All my colorists know my hair grows fast and I touch up in between – I just ask them – what number should I use. They will tell you. They should! When I moved from ct my colorist wrote down her formula for me. What would I do without all of these sweet people to help me with my hair! Otherwise I think color is the hardest part. Nature is always best and hard to get it just like your own color if that is what you are going for – I try but it's kind of impossible. My sister has jet black hair – that is easy – black! Otherwise I think it is getting a color that looks natural and feels right. Some colorists say you should go lighter as you get older even with darker hair – something about skin pigmentation. But my granny was jet black till 80 and looked fab! And Nana silver and gorgeous – at some point I may just go au natural just not at 40! I can deal with wrinkles – we are supposed to get old! But all this gray at 40 – no thanks! My dissertation on hair color – it's been years of research!

---

Marykate Wurster

on April 19, 2014 8:03 am

Cathy – you can also do highlights too if only a little! The pictures that show before an after on the boxes you want to match to before and remember – it is almost always darker than the pic – at least in my case. Color builds on color. Also if just the roots you can just get that inch or so to treat vs your entire head if matching the color. That is what I do – just the roots!

---

Marykate Wurster

on April 19, 2014 8:29 am

Just remembered another tip – there is a product called cover your gray –
Think mascara for your hair – a good hold over for roots! It comes in all shades.

---
Leave Us Some Comment-Love