December 30, 2011
This was a post I ran waaay back in August, but in case you were traveling or busy, here it is again.  New Home Tour next week!
A different sort of house tour today…
One of my favorite songs is Miranda Lambert's The House That Built Me.  First time I heard it, I had chills.  On my 1,013,541st listening, I still adore it.
What if you could walk through the home where you grew up??
I recently discovered that the home my parents built in 1978 and we lived in until 1997 is for sale and I "borrowed" the photos for our home tour today.
Travel with me to Richland, Michigan just outside of Kalamazoo to see the house that built me.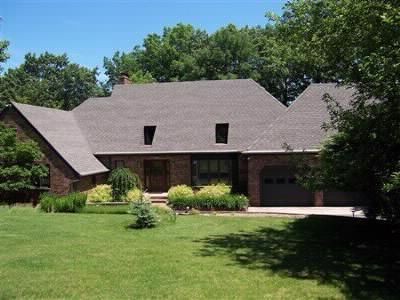 Here she is… My bedroom window was the one on the right.
My grandfather built us this home, laying the brick and doing all of the carpentry.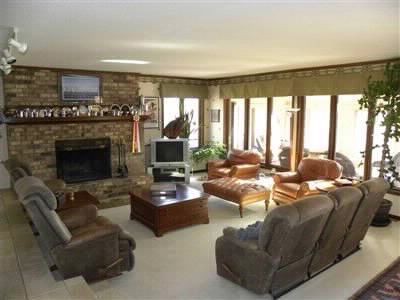 A single gentleman bought the home from my parents, and I know my mom is squirming somewhere wishing she could get in and decorate!
While we were building the house, my newborn sister was habitually in her carrier in the fireplace – the safest place anyone could think of during all that heavy construction.  I have vivid memories – at 3 and 1/2 of varnishing (did they just give me scrap wood??) and drinking tons of Fresca.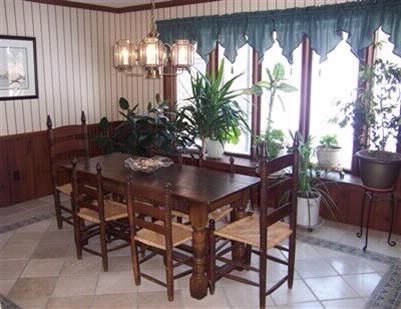 It's funny how rooms seem so much larger in your memory and the decorating now is much different.  My mom used to set up our Christmas Village every year on the bay window, and I would play, play, play.  This room is also where all my high school study groups met.  For Physics (ech!) and Calculus, my friends would teach me everything I was supposed to have learned during the year.  For History and English, I would teach them what they had slept through.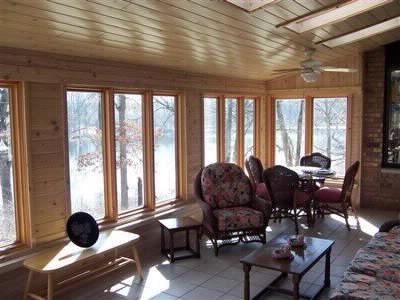 This was actually a screened porch during our tenure.  It has gorgeous views of the pond and golf course.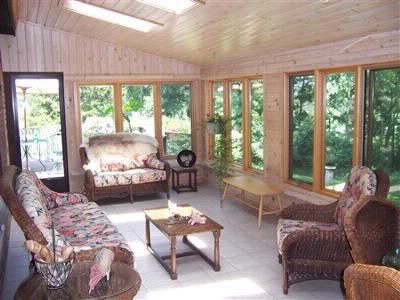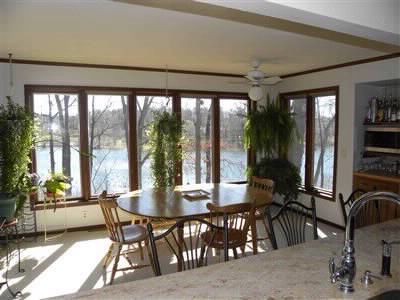 Here's the kitchen that opens up to the sunroom.  One of our TVs was in the cabinet there where the books are now, and every afternoon at 4, Oprah would come on followed by Donahue while my mom cooked dinner.  We'd sit in these barstools here and do homework and talk about our day.  My sister would stack 12 Oreos on a plate (it was always 12) and get her tongs and a big glass of milk and get dunking.  Somehow this never interfered with dinner.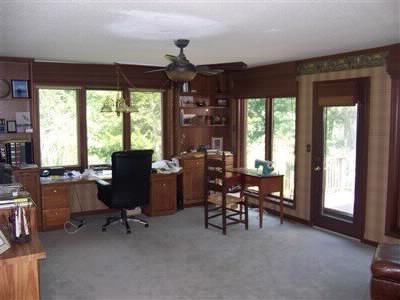 This is the study where my dad worked.  I used to take it over when I had big papers to write – it has a fabulous view to the golf course and my mom's gardens.  We used to have another table and chairs in here which was Study Group site #2.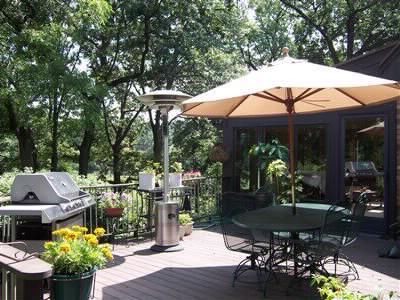 This was the sundeck where I mixed baby oil and my fair skin, which just wasn't a good idea.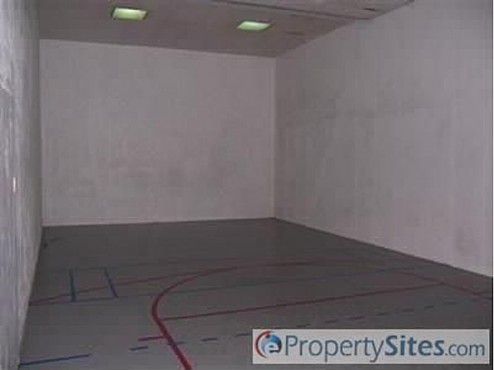 This was the racquetball my dad included when he saw in the plans that we would be filling a big hole with concrete.  My best friend Ingmar and I would play 2 games of racquetball and 3 games of basketball (hoop is at the other end) after school every day.  We also hosted 4 high school rock bands here for a big event.  The sound bouncing off all that concrete was, well, not so pretty.  My dad was up and down the driveway with a flashlight looking for anyone doing anything illegal.  I think mom and dad were super glad when that was over.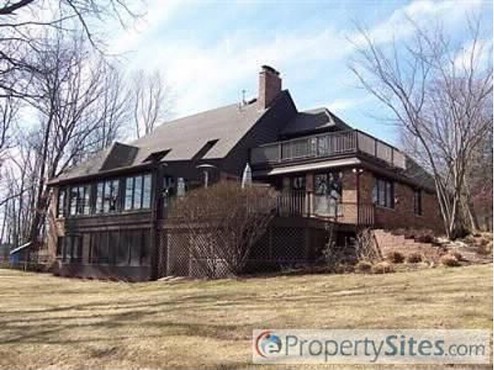 My sister used to scale up to her bedroom on the 3rd floor when she'd forget a Nintendo game.  Luckily, my mom didn't know that until later…
If you're in the market for real estate in Richland, MI, you can find more photos and info at Boris Realtors.
A happy birthday tomorrow to that same Racquetball buddy Ingmar! I sure was lucky when you moved in next door.

Share this post
You might like...
Category: Home Tours
18 Comments »
on August 19, 2011 8:25 am

Wow ! What a fantastic home you grew up in … it made me a little sad that I don't have a similar story to share. I moved so many times that I don't have a single friend from my childhood … only as I write this I realize that I've actually just moved back to where I grew up … maybe it's time to look up past friends. I think I just discovered a good use for Facebook … I'm slow to catch on :))

This was such a fantastic post … I really enjoyed it !!

---

on August 19, 2011 9:28 am

I count two homes very special. One in Grand Rapids suburb, Wyoming. I lived there until I was entering sixth grade. Just a few weeks ago, I was there for my son to tour a college and went slightly out of my way to show both boys "my roots". It was amazing how much has changed on that block, let alone that street. Everything did look smaller than it was in my head, too.

My other home, in Parchment (between Kalamazoo and your home in Richland) for the remainder of my youth was part of our family from March of 1970 until my mom sold it about 5 years ago (dad passed away in 1989).

One of our friends, the guy that introduced me to my husband, recently moved into a new home and his lady had posted pics of their new place they bought. Imagine my surprise to see my old home! It was so exciting! There were a few small changes, but it was overall wonderful. Best of all, I have been told to come visit anytime. How great is that?!

---

Ingmar

on August 19, 2011 9:28 am

And to think we get to see each other later today! Great post Heidi!

---

on August 19, 2011 9:31 am

So fun to see this! I remember lots of play dates here! I loved going to your house!

---

jeff

on August 19, 2011 9:33 am

Dad really enjoyed this. Can it really have been 33 years?!

---

Mama Nolte

on August 19, 2011 9:43 am

Wonderful post. Great home with warm childhood memories.

---

on August 19, 2011 9:59 am

My mom still lives in the house I grew up in – and my in-laws still live in the house where my husband spent most of his growing-up years. I think that might be a bit unusual these days.
What a fantastic house you grew up in!

---

on August 19, 2011 10:10 am

I love this post too! My parents are still in the house I grew up in from 3rd grade on and my husband's parents still live in the house they brought him home from the hospital to when he was born!

I love that song when I hear it on the radio because we built the house we're in now and I hope our boys will have great feelings about this house.

---

on August 19, 2011 10:21 am

Okay —so this made me cry! What great memories of all your and Whitney's great friends feeling free to come over to the house.

---

on August 19, 2011 11:48 am

Wow! I am just speechless. What memories this brings to the surface again. Can I admit that it's hard to see all the updates to the house? In some ways I just wish it could have stayed exactly the same!

---

Alison

on August 19, 2011 11:51 am

Sooo many great memories in that house. Thanks for sharing.

---

joyce

on August 19, 2011 12:38 pm

Fun!! I love the name of the street/trail….Whim Trail.

---

on August 19, 2011 12:40 pm

This is just so lovely. Amazing. Well done. Brought back a lot of memories in my own mind, about the home my Mom and Dad built…. thanks for this. What a beautiful home. I can see Whitney scaling the walls… and the Oreos too!

---

Sarah

on August 19, 2011 3:15 pm

Love this post! I have great memories of your house:) I wish they had a picture of your parents bathroom, it was larger than life to me with the steps up to the jacuzzi tub and as I recall it was carpeted which still seems very luxurious to me!!

---

Erika

on August 19, 2011 11:28 pm

This was the sweetest post! Loved looking at it. I remember the huge chair in the kitchen/den area? It was in the corner. Super cozy and great location.
I also remember being in the den in the summer and looking outside at 10 pm and it was still light! The frogs at night, as well, loud suckers.

---

Holly

on August 21, 2011 7:39 pm

Heidi:
What a bittersweet treat to be able to go back and see your house. The one I grew up in (and literally help build a second story on it between 8th-9th grade) recently was up for sale. I saw pictures online, and some was the same and some wasn't. This was a wonderful post….

---

Sarah schofield swainson

on August 21, 2011 9:48 pm

Amazing memories, amazing house. Love to you all and all the family magic that happened within those walls.

---

Jenny Hout

on August 22, 2011 9:06 pm

Amazing Heidi! Loved this post!

---
Leave Us Some Comment-Love