March 1, 2010
Happy Monday!
To honor Read Across America Day tomorrow, we're hosting a LeapFrog Tag Reading System giveaway for your adorable today!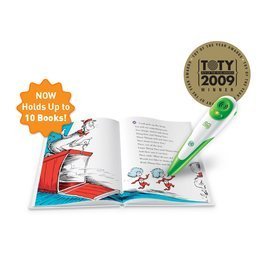 This is quite impressive little reading equipment!
Here's how it works:
The pen does all the work…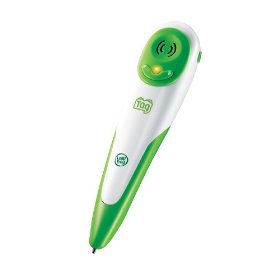 You hook this baby up to your computer and tell it which of the special LeapFrog Tag books you own, and you're all set – it's super easy.  This 32 MB pen now holds 10 books!
When you open the book and place the pen atop a word or symbol, a tiny camera reads the word or provides sound bytes for the story.  You can set the pen to read a story from beginning to end all the way through, read a page at a time, or your adorable can read themselves and use the Tag reader only for the tricky words.  Methinks this might encourage your adorable to try out harder books, since they have a helper when they get stuck.  Brilliant, eh?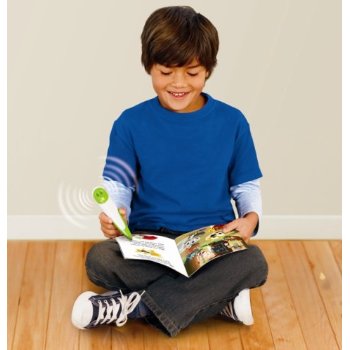 Giveaway
You can win one LeapFrog Tag Reading System and a couple of books for your adorable just by leaving a comment by Friday, March 5th (how is it March already??) and I'll choose the winner using Random.org on Saturday, the 6th.
You can get an extra entry by emailing 5 of your friends about The Good Stuff Guide (or tweeting or leaving something about TGSG as your status update on Facebook).  As always, I trust ya!
Good luck!
You can always find the Tag at Amazon too: LeapFrog Tag Reading System (32 MB)
A happy Monday to you!

Share this post
You might like...
Category: Activities, Books, Toys and Gift Ideas
Tags: LeapFrog Tag Reading System, Monday giveaway |
25 Comments »
on March 1, 2010 9:13 am

I think these are pure genius!

---

Lisa A. Ross

on March 1, 2010 9:49 am

I see this as a great tool for homeschooling, especially as our fourth (and last) child prepares for "initiation". It can get busy juggling their various levels–I would call this my "teacher's aide"!

---

Noreen

on March 1, 2010 10:09 am

Excellent product! Especially for the more "technology" inclined child! (Just redid my recipes binders per your article a few weeks back – they look sooooo good!!! Thanks for the inspiration!)

---

Lauren

on March 1, 2010 10:41 am

Great reading toy!! We have an airplane ride coming up (with a layover!), so this would be great!!

---

on March 1, 2010 12:03 pm

Awesome! Our Friends of the Library group provides books to homeschoolers, teachers, families in need – this would be a great product to consider donating to those in need.

Thanks for sharing.

---

Emily

on March 1, 2010 12:30 pm

We love the leapster & would love to graduate to the Tag.

---

Julianne Mott

on March 1, 2010 5:46 pm

I would love to win this for my daughter. She is autistic and nonverbal. It would be great for her to be able to point to a word and hear it as well as see it spelled out. It has been a recommended item.

---

Caryn

on March 1, 2010 6:56 pm

I would love to try this with Stella, but if I was to win, I would give it to Julianne.

---

on March 1, 2010 7:12 pm

WOW! this is awesome! i've heard good things about the TAG

---

Tandria

on March 2, 2010 12:24 am

I would absolutely love to be able to share this gift with my daughter. She already loves having stories read to her and is ready to start the learning process. This system is just what she needs!

---

on March 2, 2010 2:22 am

Leap Frog is absolutely perfect for kids.

---

nancy

on March 2, 2010 9:20 am

love all of the Leap Frog products!

---

on March 2, 2010 9:28 am

Oh, please, please, please!!!

---

gillette

on March 2, 2010 10:16 am

What a wonderful "invention"!

---

on March 2, 2010 11:23 am

We too would love to graduate to the Tag!! Thank you for such awesome giveaways!

---

susie

on March 2, 2010 11:45 am

i would love to have this for my oldest!

---

RPMom

on March 2, 2010 1:06 pm

I too love all of Leap Frog products!!

---

on March 2, 2010 3:09 pm

If I win please pass it on to Julianne Mott for her daughter!

---

on March 2, 2010 5:17 pm

Wow! Count me in! My kindergarten-teacher friend is a big fan of these!

---

Jacinda

on March 2, 2010 9:34 pm

This is such a great product that I'm sure my kids would love to use!!!

---

on March 3, 2010 10:56 am

I'm in for Julianne!

---

Julianne Mott

on March 4, 2010 1:37 pm

I am overwhelmed by the kindness of Marla, Carolyn and Gillian! I cannot tell you how much this means to me. Thank you so much!

---

Julianne Mott

on March 4, 2010 1:39 pm

I apologize, I meant Caryn.

---

Julianne Mott

on March 4, 2010 1:41 pm

And Christina D. I have tears in my eyes and am not reading so well!!!

---

Michael

on March 4, 2010 8:19 pm

Great product!

---
Leave Us Some Comment-Love