January 6, 2012
Okay, first things first.
Are you undertaking any projects around your home with the ringing of the New Year?  I'm tempted to paint, paint, paint, and I'll let you know if The Running Man lets me have at it.
My friend Wendy suggested a gorgeous blue for my kitchen and I've been obsessed with the idea ever since.  My question is: when I paint one room, shouldn't I really paint the others as well?
My other current obsession is with those spaces that require expert organization and storage options for maximizing every last spec of space.
Instead of our Home Tours this month, we'll pick a room each week and focus our attention there.  Today: the MUDROOM!
I picked this room first as I'm ultimately jealous of the rooms that I'm about to show you.  Mine is 4.5 feet long, 3 feet wide, has an exterior door at one end and a window on the other.  I currently have 2 rows of hooks for all the coats that a family of 4 amasses living in the nether regions of c-o-l-d.  And that's all I can fit.  No shoe storage, no sports storage (um, 2 hockey bags sit in my living room – we're fancy like that), and no storage for all the milieu of things we accumulate.
So help me drool over some swanky mudrooms just for fun.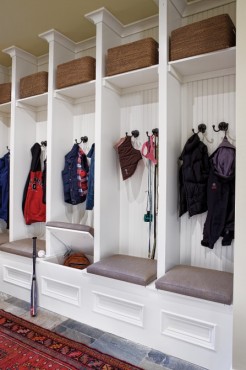 Love the lift-up storage.  Think I'd add some additional shelves as those baskets are beyond reach of the adorables.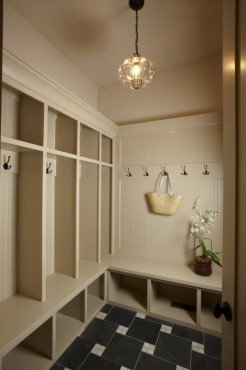 Love the open cubbies below for storing shoes (read: kick off shoes into a single spot).  Also love the open hooks for bags, etc.  Might take advantage of the open space above for items that aren't used often.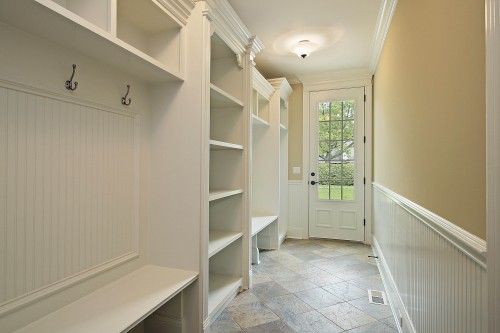 Take a gander at all this space!  While I love the individual locker concept, this is also very appealing.  More hooks though!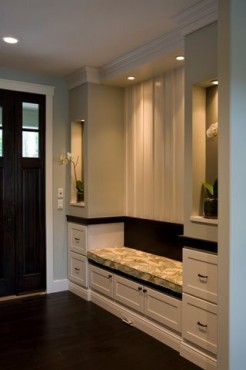 I saw this photo and thought, "Wait!  This looks familiar!"  I swear it was from a Good Stuff Guide Home Tour of Old and I was right!  Check out Wow Of A Home to see the rest of the house!
I do think this is a great solution for a formal front door storage.  That bottom molding pulls out for shoes.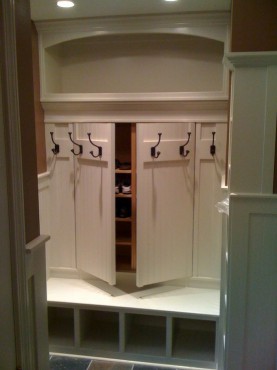 I thought this concept was also brilliant: hooks that open to shoe cubbies.  Every speck of space folks!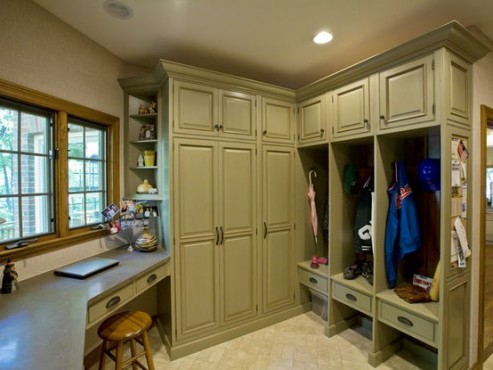 Love, love, love this mudroom paired with a project room especially with the bulletin board on the side.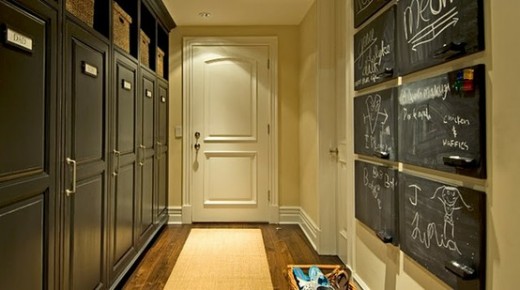 Now we're getting into the major ones: love these closed lockers with the chalkboard space to doodle.
Reminds me of something I've been meaning to share or create: on a recent charity hometour, one house had these personalized individual plaques with funny quotes and quips about each family member hanging on their locker door.  They were awesome and I think there's certainly a business there if someone had the interest.  I'd be your first customer!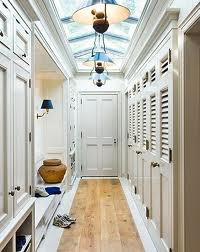 Is this a beach cabana?  Just stunning.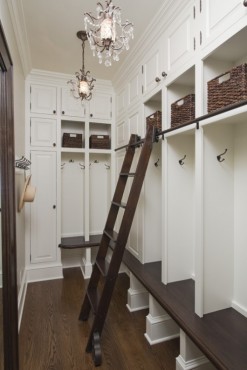 This is IT for me: high moldings, a ladder to reach high places for vertically challenged me, under storage for shoes/boots, baskets for hats/gloves, closed storage for extra stuff.  I'd use the blank wall for a big bulletin board and vinyl lettering that said, "Be Great!" or "Go Forth and Prosper" or something silly like that to send us Team Farmers out into the world on the right foot.
Okay, what pieces would you put together for your dream mudroom?
Share this post
You might like...
Category: Home Tours, Storage
6 Comments »
on January 6, 2012 9:24 am

The 2nd one would be perfect for us! My kids *need* the separate locker space – their stuff just manages to "wander" everywhere! While all of the doors and hidden space are nice, I truly think I would 1) forget it was there or 2) forget to look there for stuff. Out of sight, out of mind – but not necessarily in a good way! Also wouldn't mind pairing mudroom and laundry room – yeah! – or a craft room/homework space.

---

on January 6, 2012 11:28 am

Our laundry room and mud room are one in the same, right off the garage. We have hooks, shoe storage, a counter, cabinets and a utility sink- I love it!

---

Heidi Farmer

on January 6, 2012 12:10 pm

Oh that's a dream Sarah!!

---

Julie R.

on January 6, 2012 1:59 pm

I NEED a mud room. Our door just opens right into the dining area – no transition NOTHING. Wet boots on the floor in the winter – ugg. Got a price for a mud room, nothing fancy, way over budget – no way we can afford that!!!!!!
For now I will just sit and look and drool.
Here is a post that I have on pinterest that I look at too…

http://designingyourdreamhome.blogspot.com/2009/05/mud-rooms.html

---

Heidi Farmer

on January 6, 2012 3:59 pm

Julie! I loved that article – so much great info! Love all the photos to illustrate as well. Thanks for sharing!

---

Jane

on January 6, 2012 11:31 pm

These are all great! I feel the need to get organized in the new year. Our garage opens into the kitchen with little-to-no room. Finally got a big bin inside for shoes which helped, but it's overflowing for 4 of us. I'd love to see some creative mudrooms in garages (if there is such a thing). The jackets on hooks out there can get chilly–and I worry about spiders.

---
Leave Us Some Comment-Love