November 30, 2016
Written by Marykate O'Malley, mother of three wonderful children, Gladwyne PA
I was eastbound on Lancaster Avenue, he was headed west. As I  drove past I caught his smile, hands on the steering wheel at 9 and 3 o'clock, gaze focused ahead. Norman Rockwell-ish Santa Clause-ish man, without the beard, a mass of silver groomed hair, a clean shave and blue colored shirt. Driving his blue Taskeycake truck. The smile told me what I suspected – he knew the happiness delivered from his blue mobile world of deliciousness. It confirmed that others like me saw his truck and thought – it's the Tasteycake man! I imagined children leaving Wawa on their mother's hips, or beside her with their hands clasped tightly looking at him and pointing, "the Tasteycake man!" Because nobody bakes a cake as Tastey as a Tasteycake.  It's soft pretzels or Takeycakes in Philadelphia. The best this world has to offer.
And we have hoagies, not heros, because we all know hero's come with capes and superpowers and you certainly don't want to eat them. Nor subs because we know they belong submerged in the water not wrapped in paper, binded with masking tape, and handed to customers. Hoagies are to be consumed. My son steps to the Wawa kiosk and it is as if his whole like he was waiting to select mayo or oil, ham or Italian, American or provolone. His number is called and he carries out his happiness wrapped in swaddling paper and folded into a plush and lush Amorosa roll. Because in Philadelphia Wawa is king, Amorosa is queen.
Cheesesteaks are religion, and allegiance to the best ones is as visceral as the election. Pats, Genos, tourist traps the locals will say, you want to go to _____ filled in with their local favorite. Water is wuder, and family is faaamily. Once I stood on the edge of a playground in CT talking to another mother and when I said, faaamily, she looked at me and said, are you from Philadelphia? Of course I was. And then my best friend from college is from there! Of course I knew her. Because we all know each other. That isn't a saying, we actually do all know each other. From high school.
In Philadelphia, when someone asks where did you go to school, they mean high school. For real. Or they just come out and say it – where did you go to high school? And anyone not from Philadelphia doesn't get it. "Everyone asks me where I went to high school," they lament. It's not that people don't leave. They do. It's just that most come back. I mean with Wawa and hoagies, and all these people from high school why wouldn't you.
You want debutate balls, a world of social graces, old society, and cotillions? We have it. You want working class, and grit, family, and loyalty? We have that too.
You want sports fans? We have it. We may be intense. We are the ones who threw snowballs at Santa Clause. Santa Clause. But the way I heard it, he had it coming. I wasn't there, and  I certainly don't condone throwing snowballs at anyone, especially not Santa Clause. I mean you don't want to be on his bad side. The naughty list.
I drive past sites where George Washington stopped to rally his troops on the way to Valley Forge, or where soldiers stopped for water at a local well. Everywhere is history. And my family history. Some came from County Mayo and settled on Cricket Avenue, a mere 7 minute drive from me. Others from Tyrone, or Galway. The Kelleys settled by the Ben Franklin Bridge, had a store called Pop Kellys and sent the children to Old St Augustines. The O'Malley's settled in Old City and Society Hill, sent the children to Old St Josephs. From Ireland to Philadelphia.
My uncle told me a story of meeting a man from Mayo. Whose grandfather was from  Ballina as his grandmother, my great grandmother was. His grandfather was an Irish soldier during the troubles, and would hide in a barn from the British soldiers. The woman there would leave food for him. My uncle heard the same story but from the other side. His grandmother would hide rebel soldiers in her barn. They would leave a pitchfork in a bale of hay so she knew they were there. And despite threats on her life and her family, she would leave food. In the morning the pitch fork would be removed, the food consumed. They never met face to face and 2 generations later, the grandsons meet across the ocean in Philadelphia.
Courage is a history. Courage is a story. This is my history, my Philadelphia story.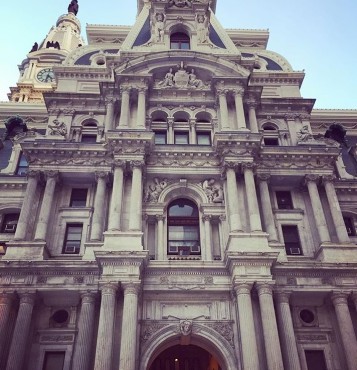 Philadelphia City Hall
Share this post
You might like...
Category: Brilliant, Brilliant Authors, Family Trippin', For Moms, For The Home, Holidays, Momzone, Outdoor, Outdoor Space, Random and Fun, Travel
No Comments »
No comments yet.
Leave Us Some Comment-Love