June 21, 2010
Happy, happy Giveaway Monday to you!
And a very Happy Summer Solstice Day to you.  If you can't get your adorables to bed tonight, it's not your fault.
I hope you had an incredible Father's Day yesterday.  We spent the entire day at our dear friend's pool and had so much fun that even though they invited us for lunch, we stayed for dinner too.  I'll tell you all about it tomorrow…
But today, we're talking knights!
These are my elder adorable's favorite thing in the whole world right now.
They might be my younger adorable's favorite too, if only he were allowed to touch them.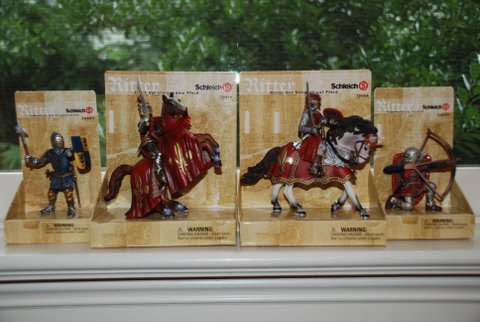 These are the 4 Schleich knights you can win!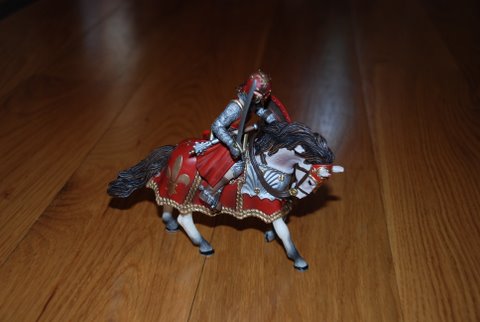 The detail of these knights will astound you – they are handpainted and they are gorgeous.
Here's my elder adorable making some final adjustments before I can take my photo: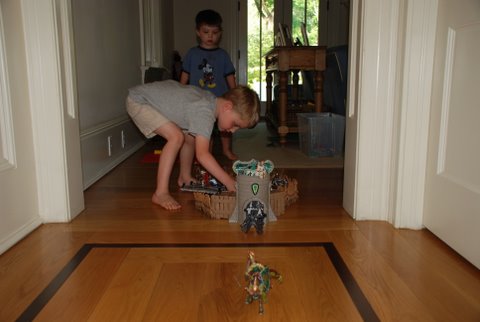 Notice how the younger adorable is keeping his distance.  Unfortunately he knows the wrath that would ensue should he knock anything down.
It is also unfortunate that he just can't quite help himself sometimes…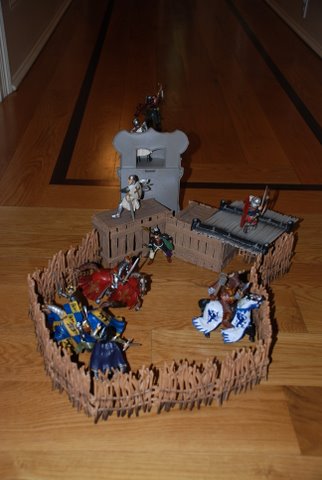 But today, the fortress is prepared with all the knights inside.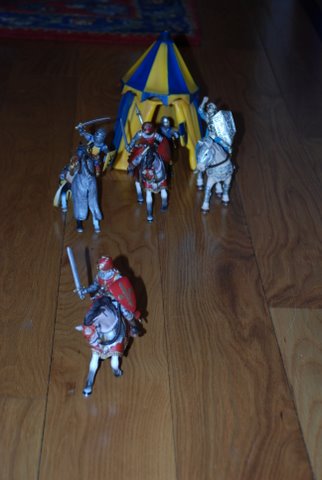 The opposing force has set up at the other end of the hallway and is ready to attack.
Here's what is in it for you: hours and hours of quiet (except of course when the battle erupts and things go flying everywhere), creative play.
So without further adieu…
Giveaway
You can win a the four Schleich knights just by leaving a comment by Friday, June 25th and I'll choose the winner using Random.org on Saturday, the 26th.  You can even pick your color: slate, blue or amber.
Here's how to gain extra entries:
Do you subscribe by email or RSS to The Good Stuff Guide? I love my subscribers, so you get an extra entry. Wahoo!
Email 5 of your friends about The Good Stuff Guide and tell them what a rockin' website this is.  We'd love to have them join us!
Become a Facebook fan of The Good Stuff Guide and receive the latest news and your chance at additional giveaways.
(Feel free to do them all – that's a total of 4 entries!)
Good luck!
Many thanks to Schleich for this incredible giveaway!  I'm also most grateful for the samples I received.

Share this post
You might like...
Category: Random and Fun
Tags: Knights, Monday giveaway, Schleich |
31 Comments »
Sunny Dreemz

on June 21, 2010 5:30 am

My nephew would absolutely love this. Thanks for the giveaway!

---

Sunny Dreemz

on June 21, 2010 5:30 am

I subscribed via reader!

---

Sunny Dreemz

on June 21, 2010 5:31 am

I'm a like/fan on facebook (Sunny Dreemz)!

---

Laurie

on June 21, 2010 10:58 am

Oh these look awesome. I know a boy who would love to try them out!

---

Melinda

on June 21, 2010 10:59 am

Owen would love this!

---

on June 21, 2010 11:19 am

Count us in!

---

Valerie C.

on June 21, 2010 1:24 pm

My son would love these! Thanks.

---

Shannon Spath

on June 21, 2010 2:11 pm

What a neat addition to our toys.

---

Shannon Spath

on June 21, 2010 2:11 pm

I'm a FB fan.

---

Shannon Spath

on June 21, 2010 2:12 pm

I'm an email subscriber.

---

Shannon Spath

on June 21, 2010 2:12 pm

I've emailed five friends.

---

Lauren

on June 21, 2010 2:19 pm

These look incredible! Thanks for the chance to win.

---

rachel crisman

on June 21, 2010 4:13 pm

I know my little dude would love this! Please count me in to win! Thank you

---

Rebecca Graham

on June 21, 2010 4:39 pm

I love these! I know two kids that will have a blast with these!

---

Ferdinand A.

on June 21, 2010 7:52 pm

I feel like a little boy again. I love those toys! I tweeted about his contest. Here's the link: https://twitter.com/ferdinand_dti/status/16730558962

---

Linda Kotin

on June 22, 2010 7:18 am

My new grandson would love these (in a few years!)

---

Rachel C

on June 22, 2010 8:21 am

I think my son would enjoy these as well.

---

Rachel C

on June 22, 2010 8:21 am

I'm an email subscriber.

---

Jenny

on June 22, 2010 8:40 am

I think my husband would love these! LOL!

---

Jenny

on June 22, 2010 8:46 am

I subscribe via email.

---

Jenny

on June 22, 2010 8:46 am

I'm a facebook fan!

---

Julie

on June 22, 2010 9:28 am

We would like to add these to our collection. Imagine play is the best.

---

Julie

on June 22, 2010 9:29 am

email subscriber

---

Julie

on June 22, 2010 9:29 am

facebook fan

---

Laura

on June 22, 2010 10:22 am

Brian would love these! I'm a subscriber and FB Fan!

---

MIchelle

on June 22, 2010 12:15 pm

Here's to more swords!

---

on June 23, 2010 10:19 am

We love Schleich at our house! You're right about the detail and they seem to hold up pretty well too.

---

on June 23, 2010 10:42 am

These are awesome! Count me in!

---

on June 23, 2010 11:23 pm

Whoa! This is really cool! Thanks for hosting this.
roseinthemorning [at] gmail [dot] com

---

on June 23, 2010 11:25 pm

I'm subscribed to your RSS Feed via Google Reader.
roseinthemorning [at] gmail [dot] com

---

Minna

on June 25, 2010 5:02 pm

Awh. I know some tiny knights in training that would love these.

---
Leave Us Some Comment-Love