February 10, 2011
Written by Sarah Farthing, Contributing Writer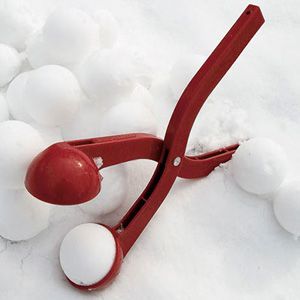 A friend sent us Sno-Ballers from the Land of Nod for Christmas and we have loved using them with all the snow that has fallen this winter.  I thought it was such a unique gift; the only thing we had specifically for snow days before this was our sled.  We don't have to look for a hill to use these, we can walk right out our door!  They are as sturdy in person as they look in the images, with strong, colorful plastic and handles that are sized easily to be gripped with gloved hands.  My boys wear waterproof mittens and have no trouble grasping or opening and closing their Sno-Ballers.
Here is an image I took with my phone of the stash of perfect snowballs we made during the last big snow in our area: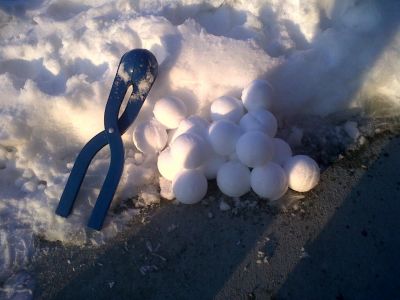 It is true that snowballs come together quickly enough the old-fashioned way, with your own two hands, but I am here to tell you that using a Sno-Baller to make a perfect snowball every time is so much FUN!  My kids love using our kitchen tools and garage tools so having their very own tools for snow play has been a big hit this winter.
Here's the best part: Land of Nod has Sno-Ballers on sale for $3.95 each right now.   At that price it's worth buying now and stashing for use as a gift or stocking stuffer in 10 months!!  Heck, that's cheap enough for a "Happy Snow Day!!" gift to your kids or grandkids this month!

Share this post
You might like...
Category: Activities, Toys and Gift Ideas
Tags: Land of Nod, Sno-baller, snow activities, snowball maker |
4 Comments »
Yaya Kelley

on February 10, 2011 11:14 am

It might be fun to make up a big bag of them, store in the freezer and break them out sometime in July

---

Heidi Farmer

on February 10, 2011 1:24 pm

This is a fabulous idea!

---

on February 10, 2011 2:15 pm

I love it Yaya, that's perfect!

---

Lisa Greenstreet

on February 10, 2011 2:25 pm

Seriously…. I'm buying one right now. Maybe 2….. maybe 3.

---
Leave Us Some Comment-Love