June 1, 2011
Friends, I have a hit(!) for you today!
Meet the Step2 Extreme Coaster
: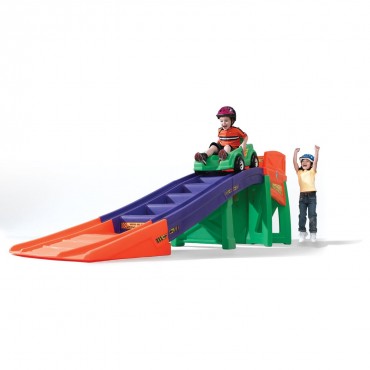 We were lucky, lucky to be sent one of these to test, and it was love at first sight.
Here's ours in action…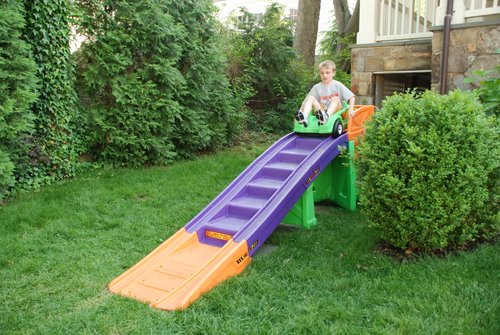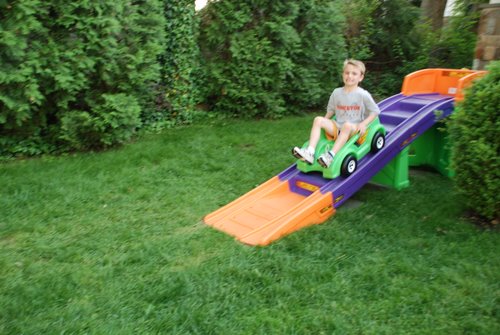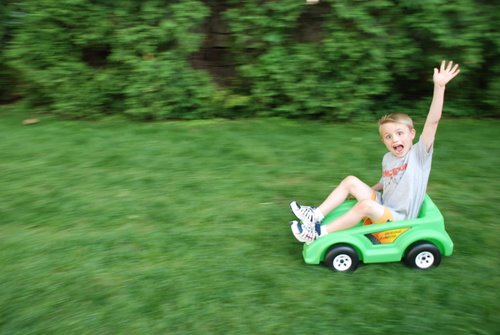 And there you have it.
The adorables LOVE this coaster…
and the adorables who live next door…
and the adorables who live several houses down…
and the friends who have visited…
and if only I could fit on that little car, I would love it too.
(Of course I've tried.)
You can find the Step2 Extreme Coaster
at Amazon.
Many thanks to Step2 – we were thrilled to test this!
And while I had my camera out in the yard, I had to show you this: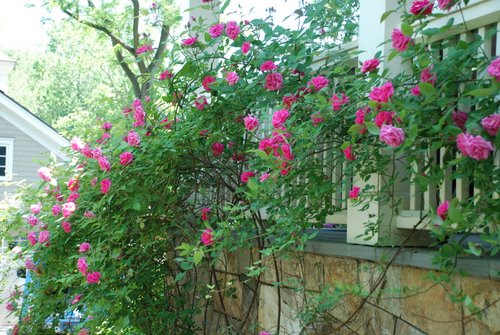 All the roses went POP! POP! this weekend.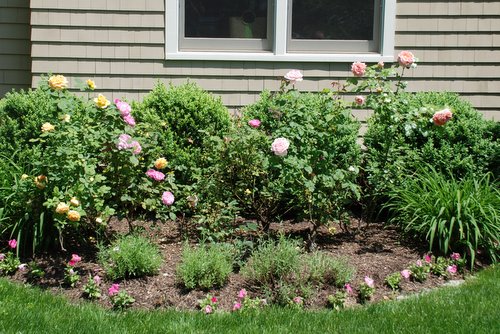 Pop! POP!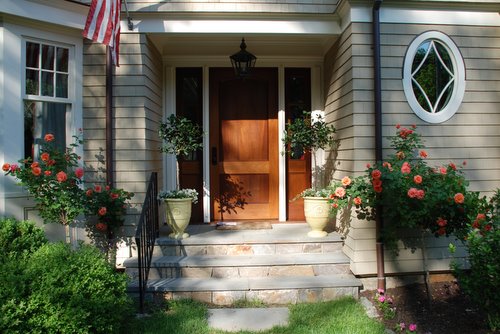 POP! Pop! Pop!
What's new in your garden?  And what do you think of that Step2 Coaster??
Can you believe its June????
Share this post
You might like...
Category: Activities, Garden, Toys and Gift Ideas
Tags: Outdoor Toys, Step2 Extreme Coaster |
10 Comments »
Kim B.

on June 1, 2011 9:52 am

That looks fun. We've played on the smaller version at friends houses, but this looks like it will keep it's appeal for a lot longer.

---

cecilia styles

on June 1, 2011 10:02 am

that looks like so much fun ,have to see about one of those is it hard to put togather . thanks for showing it

---

Heidi Farmer

on June 1, 2011 10:05 am

I should have added this to my post: "construction" took about 30-40 minutes, was fairly easy, and a power drill is necessary.

---

on June 1, 2011 10:36 am

Wow. Looks like a lot of fun! And the roses look beautiful too!

---

Jules Greenaway

on June 1, 2011 11:10 am

Heidi, your roses look beautiful!! And the "roller coaster" looks like sooooo much fun!!!!

---

Mama Nolte

on June 1, 2011 12:16 pm

I just may have to get this roller coaster for my Grands!
Your roses are beautiful! My Columbines look fabulous and the Peonies are full of blooms.

---

Jenny Hout

on June 1, 2011 7:46 pm

Oh that would be soo much fun!!

---

Lesli C

on June 7, 2011 9:32 pm

This coaster looks like a lot of fun! I was worried it would be too fast for my four year old-but it looks ideal!

---

Fatima

on June 8, 2011 8:06 am

It looks like a lot of fun, I like it and your beautiful roses

---

Sarah

on July 31, 2011 11:47 pm

OHMYGOSH that is really cool! My kids would flip over that lol…and I wish I had your green thumb

---
Leave Us Some Comment-Love