April 15, 2010
Leave it to HGTV & DIY Network's Jeff Wilson to turn a Sears kit home in Ohio from this: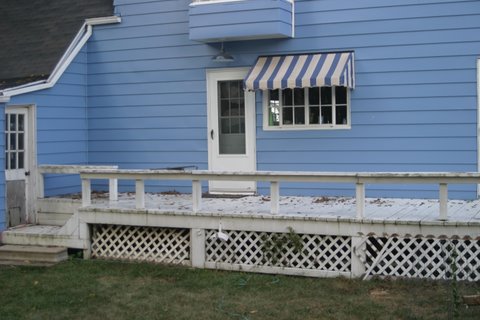 to this!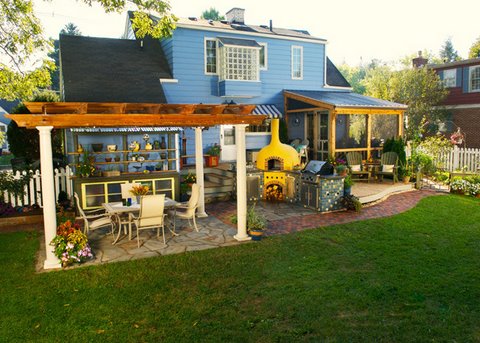 Holy Moly!  That is one heck of an outdoor tranformation!
Let's dig in…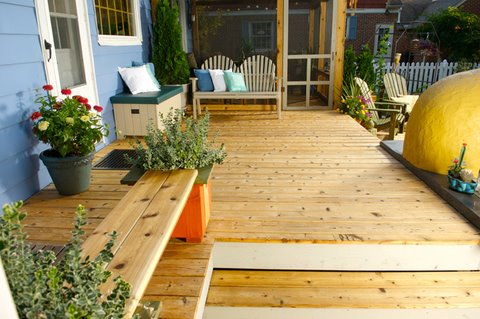 Look at all this deck.  This wood was treated with Thompson's Water Seal, and thus will be maintenance free for years to come.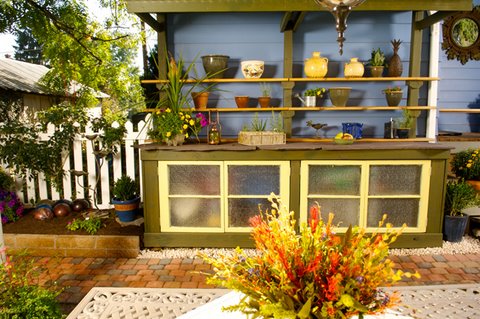 Favorite!  A gorgeous potting area – oh I could use this!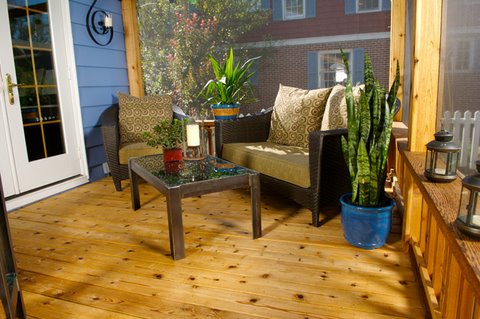 Inside the screened-in porch, a very comfortable spot to relax and enjoy the bug-free outdoors.  The Midwest has its fair share of mosquitoes… but also fireflies!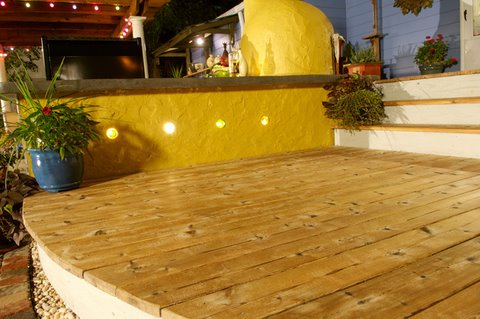 These "lights" set into the counter are made from wine punts.  Jeff's wife Sherri has a business making furniture and glassware out of recycled wine bottles – check her work out at: www.bluemoonbottles.com.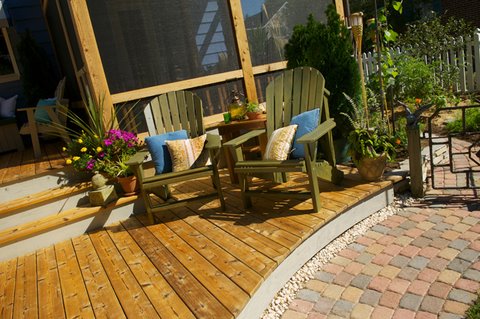 I love all the interesting features of this outdoor deck: the different levels, materials, and especially the different areas that create separate "rooms" in the great outdoors.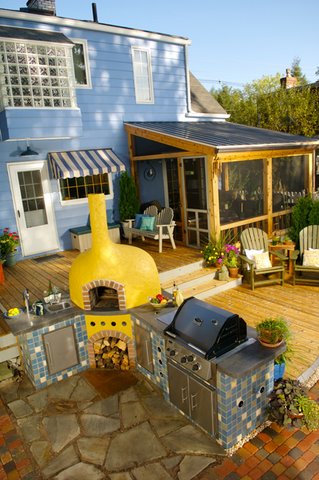 Could it be more amazing?  This kitchen with it's bright yellow pizza oven and built-in grill is just incredible.  Invitation please?
Many thanks to Jeff Wilson of HGTV & DIY Network for sharing his amazing outdoor space!

Share this post
You might like...
Category: Garden
Tags: Outdoor room, Outooor redo |
9 Comments »
on April 15, 2010 9:14 am

Wow awesome! I'd LOVE to have that out back…

---

on April 15, 2010 9:18 am

I like the individual areas, but collectively, to me, they lack continuity.

---

on April 15, 2010 10:04 am

HEY! That's my deck you're talking about!

Living with this space, I assure you it works the way we intended . . . the areas allow individual conversations or open up to include everyone. The potting table serves as a buffet when we entertain, and the kitchen works like a "bar" or an island in an indoor kitchen, allowing people to talk with the cook while I work. I designed the oven to have two openings — one is for cooking and the other works as an outdoor fireplace.

The best part? It lets us entertain several families at once, something our small house isn't well suited for.

In design, I always tell people to really get serious about how they'll use the space, and then make sure the space has the flexibility to serve multiple purposes. In the case of the screened porch, it serves as great couples therapy — my wife and I often sit out there with our coffee in the morning, or a beer in the evening, and talk. Priceless!

---

on April 15, 2010 11:42 am

Don't worry, Jeff, I love it! I love all the color, the tiles, the pizza oven. I can perfectly picture families hanging around and enjoying being outdoors while dinner is prepped and served.

---

Melissa

on April 15, 2010 12:37 pm

WOW! I love the bright yellow pizza oven!! The space looked so limited in the before photo, talk about working with space. It looks larger and seems to have all the right things going for a couple with or without little ones. With the way we use our grill (three seasons worth) who would not love this back yard! I love it ! : )

---

on April 15, 2010 1:24 pm

Seeing that screened in porch makes me want to go out back and hose mine down (pollen – ugh!) so I can sit out there later this afternoon!

---

on April 15, 2010 1:31 pm

This is awesome! My husband would LOVE a pizza oven in the backyard—he has plans to build one, in fact, and I hope he gets to one day. I think these colors together are just fabulous. I'm with Heidi, invitation please!

---

on April 16, 2010 4:35 am

Anyone with an interest in Sears kit homes would enjoy CNBC's Sears & Roebuck special. It features a community of 125 +/- of kit homes in one town – amazing how many of them are in fabulous condition.

---

Julie

on April 16, 2010 6:36 am

Sorry, I have agree with Bill. Not sure if it is the colors and/or materials and/or scale. in the first after picture. Just doesn't look right. However the pics of each individual space look great.

---
Leave Us Some Comment-Love