September 7, 2012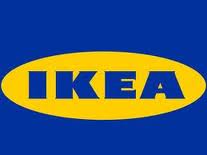 Written by Marykate Wurster, mother of three wonderful children, Gladwyne, PA
You know when you go to the supermarket and as soon as you enter through the automatic doors you notice one of your favorite songs is playing and then in aisle 7 you run into your best friend from the fifth grade, and she is still super, and you are laughing like you are young girls again… Well, this wasn't one of those shopping experiences.

The situation
My sister and her beautiful family came to visit from New York. We had a crucial decision to make regarding naps for her almost 2 year old twins and the various places to visit (Valley Forge, Liberty Bell) and then my sister learned that Ikea was a mere 9 minutes from me and so a decision was made. The babies would be strolled through the store and sleep in the double stroller while we got to more important business, shopping. I convinced my children they could pick out whatever they wanted for their bedrooms and told them what a wonderful and magical place Ikea was to visit – the displays, the children's section and of course there was an ice cream in it for everyone. So after my keen salesmanship, they were sold and we were off.
the adorable twins
The bathroom / getting lost incident
The twins were snuggled in their stroller, and half of them seemed on their way to the land of nod. My crew was enjoying the samplings of Swedish meatballs and enthusiastically trying out the display beds and sample kitchens – they were lying on brightly colored duvets and waking for the day, setting the table and making pancakes, as we made our way through the store. We were almost done and about to make our way towards the main attraction – the children's section when an emergency bathroom trip was in order for my youngest. My sister and I divided the troops. I was to take my youngest two on a mad dash to the restrooms while my sister remained behind with the twins and my oldest daughter. I asked as salesperson for directions, "oh you have to go alllll the way to the front of the store where you came in for the bathrooms." We depart, quickly.
Mission accomplished, we headed back, alllll the way through the store to rejoin our party. And then my son saw a red blanket he liked. The decision of whether to get it was weighing heavily on him. I suggested he hold onto it and  delay the decision until he knew if there was anything else he wanted. He agreed and we continued on when suddenly the unexpected happened – he stops, turns and sprints away from me towards the blanket bin, red velor blanket in hand. I am stunned since this behavior hasn't been displayed since 2, okay maybe 3. I call after him still expecting him to turn around. He doesn't. By the time I summon his sister to pursue him, he is gone. I search frantically and try with everything to ward off those awful thoughts we all have when our child is missing. After less then a minute, which felt like an hour, I decide to get security – the store is simply too big and he was clearly missing. And then suddenly, he appears. This was followed by the inevitable sweet reunion, the deep relief, the teachable moment about staying with mom and revisiting what to do when we are lost – and after all of that – we make our way back to my waiting sister and crew.
We arrived back at bedding, where we left them, and no sister, no twins, no daughter. No cell phone service. We do another loop through the entire store again, and this time, we arrive back at bedding and they are all there waiting for us. Patiently waiting as lovely and wonderful sisters do. We explain the "lost in the store story" and the "we didn't see you story" and then at last, are ready to hit the children section – the reason for our visit.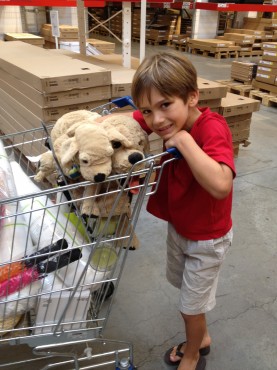 The children's section
My sister asks a salesperson for directions. "You want to take a shortcut through textiles and then…." Only we don't end up at the children's section. We ask another associate, "Oh, they told you the wrong way. You need to go alllll the way…." At lap 6 or 7 give or take, my sister is getting irritated, my kids are getting tired, the twins are hungry (and awake) and I am starting to laugh, a desperate laugh, the way someone who is without all hope laughs because that is the ultimate choice. And then like a mirage, a sign to the children's section appears. We make our way – 2 adults, 5 children, 3 on foot, 2 in a double stroller, and 2 overflowing carts, like an Ikea caravan making our way towards the promised land. And it is heavenly. It is everything we dreamed it to be. My sister gets play rugs and train tracks, my kids pick out even more stuffed animals, I find placemats and an easel and a long beautiful roll of art paper for their craft table. It is the land of milk and honey. And we are happy and ready to go home.
We step into the elevator, excited about our purchases and ready to pay. We get off at the next floor and then realize the registers were actually upstairs, on the floor we just left. Back onto the elevator, still giddy, the doors and open and a sea of faces is staring at us. A kind lady in the front points out that we didn't go anywhere – this was the same floor. Oh, okay, thank you. Back into the elevator, this time we push the button and make our way through the store, again, to pay.
Exhaustion
And then we got stuck in self service. We wanted to pay but couldnt seem to move ourselves to the check out line. We could see the registers and all the happy helpful Ikea employees. Like a mirage on the horizon beckoning to us and somehow we had nothing left to take those 20 steps. We just stood in self service. I picked out a toy bin. My youngest found a red polka dot bed and collapsed into it. My son found a spinning chair, and naturally, spinned. The twins ate corn muffins and did cute 2 year old twin things. My oldest joined her sister in the bed. And my sister and I just stood there. And watched them and looked at the registers and talked about what we selected. And how great Ikea is, and how we had to pay, and look at my youngest she is about to fall asleep, and then looked at the registers, and should I go back for those curtains. We did this for what felt like a very long time. And finally by some force, we were able to move the kids and our overflowing carts towards the registers and the promised ice cream, at this point, just before dinner.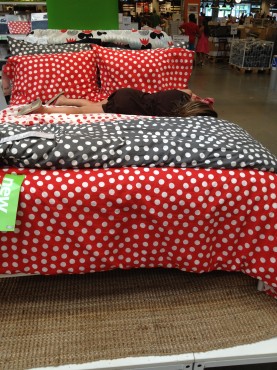 my youngest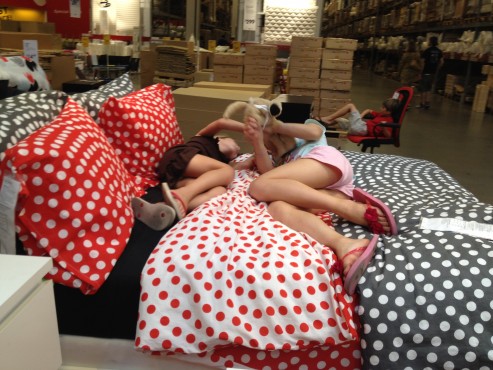 with her sister, and more stuffed animals, brother spinning behind on the right
The thing I find funniest about this ridiculous shopping trip was the aftermath. A few weeks after the Ikea – I don't even know what to call it – experience, I was in New York this time visiting my sister and she says "Oh! I never told you, when it was time to check out I was so distracted with the twins and so exhausted that I left an entire cart there and didn't get the train tracks and playmats and"…. And being the kind person I am, I offered to pick them up for her. After all, it is only 9 minutes from my house…
Share this post
You might like...
Category: Family Trippin', For Moms, For The Home, Gear, Girl Time, Momzone, Playrooms, Random and Fun, Storage, Wondermom Resources
6 Comments »
Bethany

on September 7, 2012 7:11 am

MK,
Great article! Sounds like every trip to Ikea I've ever made with kids!

---

Marykate Wurster

on September 7, 2012 10:11 pm

This is more like my Ikea trips than not. And I have to chuckle when I walk past the child care they provide knowing that I am consciously choosing not to use it!

---

Heidi Farmer

on September 12, 2012 9:13 am

Oh, this was so funny!! Don't you love when you spin in circles instead of moving forward? But another trip is fun!

---

Marykate Wurster

on September 12, 2012 10:18 pm

I have to say Heidi – I am Ikea obessed and itching to get back there!

---

Anne Schenendorf

on September 15, 2012 10:28 pm

Lol, MaryKate, so am I!!!! Despite the chaos and the fact that the babies were on different pages, I do think back to the great stuff and not the impossibilty to get to the check out line. I'm pretty sure the babies are throwing out some of our forks- we are missing so many. I found myself thinking- you know who has really cute silverware? Ikea- and replacement train tracks… I find myself remembering the event and your phenominal accurate retelling of it and just start dying laughing. Ah, Ikea. Did I mention those big baskets of yummy chocolate toffee after you check out? Brilliant marketing(the babies ate those too right before dinner)- I've been thinking about those too… Eesh. xo

---

Marykate Wurster

on September 16, 2012 7:21 am

Anne you are still and will always be my favorite shopping buddy. That is the Ikea pull – you leave and are still thinking about it – I am still thinking about toy storage. Will be back there next week I am sure!

---
Leave Us Some Comment-Love