December 13, 2010
Just in case you seriously missed the 12 Days of Giveaways, we're back with Giveaway Monday!!
Meet the Mega Bloks Thomas Adventure on Misty Island
: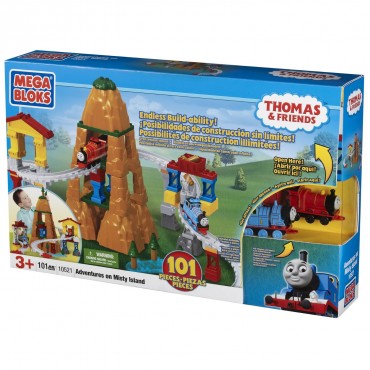 Look at all the fun: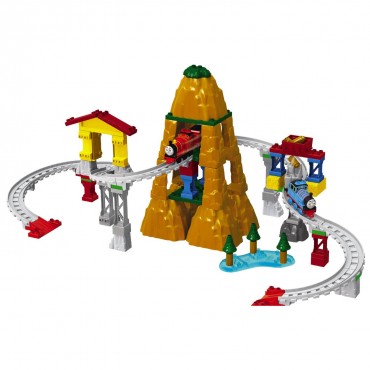 The set includes Thomas and James train characters (and they are buildable) with pull-along carts that you can push up or roll down the tracks.  It also includes accessories like tunnels, break-through barricades and race through the canyon while watching for falling rocks.  Cute, cute, cute!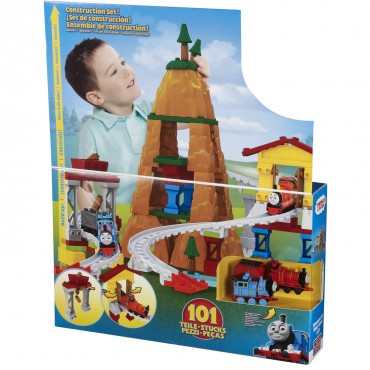 This set can be plenty of fun on its own, or it can be expanded to include other Thomas and Friends train sets by MEGA Bloks
.
Giveaway
One lucky, lucky winner can 1 Mega Bloks Thomas Adventure on Misty Island
simply by leaving a comment by Friday, December 17th. I'll choose the winners using Random.org on Saturday.
Because I just LOVE comments, here's how to gain extra entries (please leave them as separate entries):
1. Do you subscribe by email or RSS to The Good Stuff Guide? I love my subscribers, so you get an extra entry. Wahoo!
2. Email 5 of your friends about The Good Stuff Guide and tell them what a rockin' website this is. We'd love to have them join us!
3. "Like" The Good Stuff Guide on Facebook and receive the latest news and your chance at additional giveaways. (I LIKE you too!)
4. Tweet this: "12 DAYS of GIVEAWAYS going on now at http://su.pr/2TJPO2  – Playmobil, LEGO, Leapfrog, Fisher-Price and more!"
Good luck!
Many thanks to MEGA for sponsoring this awesome giveaway!
You can find the Mega Bloks Thomas Adventure on Misty Island
($20) at Amazon.

Share this post
You might like...
Category: Toys and Gift Ideas
Tags: Mega Bloks, Monday giveaway, Thomas Adventure on Misty Island |
71 Comments »
katie

on December 13, 2010 7:15 am

please, we LOVE thomas!

---

D.

on December 13, 2010 7:46 am

my son would go crazy for this!

---

Jamie N.

on December 13, 2010 9:30 am

Ohhh, my son loves Thomas, he would love this!

---

Jamie N.

on December 13, 2010 9:31 am

Im emailing five friends!!!

---

Jamie N.

on December 13, 2010 9:31 am

Im your friend on facebook!

---

Jamie N.

on December 13, 2010 9:32 am

Im an email subscriber!

---

on December 13, 2010 12:02 pm

Ooh I was just eyeing this in the store!!!

---

on December 13, 2010 12:02 pm

Fan on FB

---

nan

on December 13, 2010 2:02 pm

my son would love this
nannypanpan at sbcglobal.net

---

nan

on December 13, 2010 2:03 pm

e-mail subscriber
nannypanpan at sbcglobal.net

---

on December 13, 2010 2:28 pm

Oh man! Thomas is HUGE around this house!

---

on December 13, 2010 2:29 pm

Subscriber!

---

Lesli C

on December 13, 2010 2:51 pm

Oh this is adorable!!

---

Lesli C

on December 13, 2010 2:52 pm

I'm a subscriber! Yay!

---

Lesli C

on December 13, 2010 2:54 pm

I emailed 5 friends! I know they'll love these!

---

Lesli C

on December 13, 2010 2:54 pm

I like you on FB!

---

Lesli C

on December 13, 2010 2:55 pm

tweeted! (@seemommyknit)

---

Jules Greenaway

on December 13, 2010 5:58 pm

Are you kidding me? My son not only loves Thomas, but is a HUGE fan of Mega Blocks!!!! Please pick me…

---

Jules Greenaway

on December 13, 2010 5:58 pm

I'm a FB fan!!

---

Jules Greenaway

on December 13, 2010 5:58 pm

And a subscriber… pick me, pick me!!!!

---

Jules Greenaway

on December 13, 2010 5:59 pm

And all my mommy friends have heard about you!!!!

---

Rebecca S.

on December 13, 2010 7:48 pm

Thanks for a baker's dozen of contests.

---

Rebecca S.

on December 13, 2010 7:50 pm

I'm a FB liker.

---

Rebecca S.

on December 13, 2010 7:51 pm

I subscribe via RSS.

---

Erica Jarvis

on December 14, 2010 5:29 am

Subscribed via rss

---

Erica Jarvis

on December 14, 2010 5:32 am

Subscribed via email

---

Erica Jarvis

on December 14, 2010 5:47 am

Liked on facebook.

---

monkygm

on December 14, 2010 7:18 am

My son is getting a train table for Christmas but with only a few trains so this would be SUPER to win!!! He loves Thomas and Mega Bloks!!!

---

monkygm

on December 14, 2010 7:18 am

Friends emailed!

---

monkygm

on December 14, 2010 7:21 am

Facebook fan!

---

Cathy

on December 14, 2010 7:24 am

my nephew loves Thomas right now and his birthday is just after christmas! he'd love this!

---

Cathy

on December 14, 2010 7:24 am

facebook fan

---

Sandi

on December 14, 2010 7:29 am

We would love this!

---

monkygm

on December 14, 2010 7:51 am

Email subscriber too!!!

---

Linda

on December 14, 2010 10:03 am

I know just the little boy to give this to. We'd love to win!

---

Linda

on December 14, 2010 10:04 am

I'm an email subscriber

---

Linda

on December 14, 2010 10:04 am

I'm a follower on fb

---

Judy

on December 14, 2010 10:59 am

Looks like a lot of fun.

---

Valerie S

on December 14, 2010 1:38 pm

Love this toy!

---

Valerie S

on December 14, 2010 1:38 pm

I subscribe in RSS

---

Mimi

on December 14, 2010 4:02 pm

Everybody loves Thomas

---

Mimi

on December 14, 2010 4:03 pm

Could keep little guys interested a long time.

---

gillian s

on December 14, 2010 4:22 pm

super cool.

---

gillian s

on December 14, 2010 4:22 pm

fb fan

---

gillian s

on December 14, 2010 4:22 pm

subscriber

---

isabel

on December 14, 2010 10:43 pm

Lovely! Perfect for my sweet boy.

---

Erica Jarvis

on December 15, 2010 5:22 am

Emailed 13 friends

---

Erica Jarvis

on December 15, 2010 5:27 am

Sorry, Im a bit Tw~ignorant, but would still love as many chances possible!

---

Erica Jarvis

on December 15, 2010 5:32 am

PSA: Please help my son learn the 'R' in 'Percy' by helping me fill his life with Thomas Toys!!!

---

Kim Derrick

on December 15, 2010 6:57 am

I am a fb fan

---

Kim Derrick

on December 15, 2010 7:02 am

i get emails

---

Kim Derrick

on December 15, 2010 7:04 am

cool

---

Beth

on December 15, 2010 1:53 pm

My daughter loves Mega Bloks and Thomas.

---

Erica Jarvis

on December 16, 2010 4:51 am

Dear Random.org,
Pick this number! ;~}
<—

---

Maria Malaveci

on December 16, 2010 12:22 pm

My son & daughter adore Thomas & his Friends, and would love to have this!

There two, there four, there six, there eight…
Shunting trucks are hauling freight.
Red and green and brown and blue, there the really useful crew….

---

Maria Malaveci

on December 16, 2010 12:24 pm

Subscribed by Email to The Good Stuff Guide!

---

Maria Malaveci

on December 16, 2010 12:25 pm

Liked The Good Stuff Guide on Facebook!

---

Maria Malaveci

on December 16, 2010 12:27 pm

Tweet!

---

on December 16, 2010 1:29 pm

My son would love this!! He loves Thomas!

---

on December 16, 2010 1:29 pm

I love getting your emails! and I LOVE Home Tour Fridays!

---

on December 16, 2010 1:30 pm

I subscribed to your feed by google reader

---

on December 16, 2010 1:30 pm

I like your facebook page

---

on December 16, 2010 1:30 pm

I tweeted
http://twitter.com/#!/lovekatydid/status/15473130315194368

---

Jackie J.

on December 17, 2010 9:40 am

Thanks for the information and giveaways. I'd love to win this for either my grandkids or my classroom.

---

Jackie J.

on December 17, 2010 9:41 am

I receive your emails.

---

Carole Spring

on December 18, 2010 12:01 am

My grandson would love this! Thank you for the chance.

---

Jessica Crump

on December 19, 2010 8:49 am

I subscribe to email.

---

Jessica Crump

on December 19, 2010 8:49 am

I emailed 5 friends

---

Jessica Crump

on December 19, 2010 8:49 am

I like on facebook.

---

Erica Jarvis

on December 21, 2010 7:17 am

Has this winner been announced yet? Im thinking you'll need to ship soon if my boy is gonna get this for xmas! ;~}

---

on December 22, 2010 5:10 pm

I subscribe to email.

---
Leave Us Some Comment-Love