May 31, 2011
Written by Contributing Writer, Sarah Farthing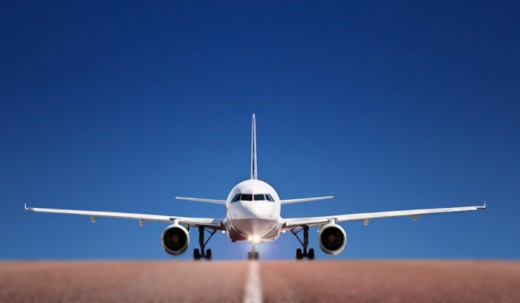 My twin boys had their first airplane ride when they were just 14 weeks old.  They have averaged a plane trip every few months ever since and they're 4 now.  We like to travel and we love to fly!  We've all heard the advice to give your children something to suck or chew on at take-off and landing but there's much more to a successful flight with kids than that!  If you're flying with young children this summer, here are some tips that have served me well on many flights:
Escort Pass- Ask your airline about getting an Escort Pass at the ticket counter so that an adult without a ticket can accompany you through security and wait with you until you board and/or meet you right at the gate at your destination airport.  This was a huge help when my boys were very little. 
Wipes– Whether or not your kids are still in diapers, bring wipes!  You'll need them for hands, seats, trays, messes you discover, messes you create, mystery stickiness …
Snacks- Forget the crackers and chocolate.  I like to minimize our mess and I tend to only offer on a plane what I think will be more mild if it happens to come back up.  Pretzels are better than crackers, raisins, Fig Newtons, mixed cereal and sandwiches are all good.  If your children are old enough, suckers are great for a treat.  They are light on the stomach, take a long time to consume and make everybody happy.
Entertainment– I like to visit the dollar section at Target before a trip and build a cheap grab bag of distracters and entertainment.  Pens and paper or magna-doodle type drawing boards go a long way- you can practice shapes, letters, colors, draw a racetrack to drive matchbox cars around, endless possibilities!   Of course a dvd player, if it suits your family, can be priceless!
Car seats- The safest way for your child to fly is in a car seat.  Some airlines will let you bring your car seat to the gate and use it in an empty seat (without buying a ticket for the child) if your flight is not full.   (If it turns out to be full you can check the seat right there at the gate.)  If your flight will be a long one or you're sure your child will be sleepy en route, paying for them to have their own seat where they can strap in and feel just like they do in your car can be well worth it.
Flexibility- Plan to bend the rules a little.  You might allow a coveted blanket or stuffed friend normally reserved for bed time to be held close on the plane (they might get sleepy anyway and that's not something you want to check and risk spending a night without!).  You might disregard set times for meals, snacks and treats and go for what the moment calls for (this is especially hard to do with babies when you have a great schedule going, but it's usually necessary).  This leniency makes travel more comfortable and fun for kids.  It also teaches them by example how to be flexible and adapt, two skills that will serve them well all their lives.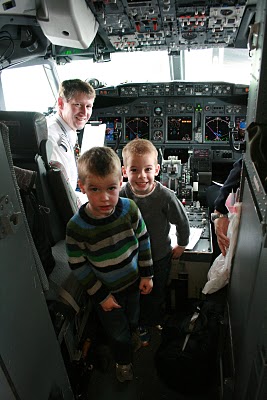 My boys in the cockpit before one of our flights last year.  We love Southwest Airlines!
Share this post
You might like...
Category: Activities, Family Trippin'
4 Comments »
Beth

on May 31, 2011 9:41 am

These are great tips for children, but having traveled with Sarah – some of these are also wonderful for adults!

---

on May 31, 2011 3:34 pm

Great tips! So true about that dollar isle at Target. It's like a gold mine for activities!

---

Heidi Farmer

on May 31, 2011 5:04 pm

I love these ideas! My best tip is to make sure I get a good night sleep the night before. When I'm rested and relaxed I'm able to take things as they come, and we've had some good ones!! But mostly, things go very smoothly.

---

on June 1, 2011 11:30 am

Awesome advice. I so wish I would have seen this last week. We just took a trip with our one year old and it was a little rocky! I looked for tips and couldn't find any great ones. I'll be sure to follow these tips next time we take flight!

---
Leave Us Some Comment-Love