November 26, 2013
Written by Marykate O'Malley, mother of three wonderful children, Gladwyne, Pa
Heidi's turkey recipe from yesterday sounds amazing! Who knew with a bird there would be so many choices and techniques?! Some deep fry in their driveway and garages, a few dine out, others stuff and brine. Me? I am a traditional girl. Give me a cheese cloth, some white wine and butter, and that is my kind of turkey. The first turkey I ever made, over 10 years ago, I followed this recipe from Marth Stewart and have returned to it year after year. When you find perfection, why look any further.
I have a tattered copy of this filed away with my grandmother's Irish soda bread recipe that I pull out every November. For you, dear readers, a link to Martha Stewart's –  Cheesecloth Turkey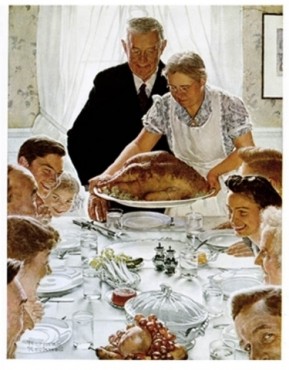 Norman Rockwell – iconic, I adore. If you ever get the chance visit the Norman Rockwell Museum!
And along with the pies and cakes, my little ones love to make these. I forgot about them and my youngest asked me the other day if we would be making hand turkey cookies for Thanksgiving again. My reply? Of course! Recipe here.
***********************************
This Thanksgiving, I wish you a day filled with family and joy, love and gratitude. And I leave you with one of my favorite quotes, "if the only prayer you ever say in your life is thank you, it will be enough." Thank you for following us at the Good Stuff Guide, and coming along for this funny, crazy, wonderful ride called life. Happy Thanksgiving!
Share this post
You might like...
Category: Brilliant, Cookin', For Moms, Holidays, Kitchen, Kitchen Gadgets, Kitchen Pantry, Random and Fun, Wondermom Resources
5 Comments »
Heidi farmer

on November 26, 2013 10:58 pm

Love the turkey cookies! And the Martha Stewart turkey recipe. I just live this time if year. And boy could I use a family the size of yours. What joy!

---

Marykate

on November 27, 2013 6:51 am

Heidi – have an amazing Thanksgiving!!I am thankful for you sweet friend!!

---

on November 27, 2013 6:55 am

We really are kindred spirits. That's one of my favorite quotes, been thinking of putting it on my dinning room wall! "Thank you"…it would be enough! Happy thanksgiving!

---

Marykate

on November 27, 2013 7:23 am

Cathy – we are!!! Have a wonderful wonderful Thanksgiving sweet kindred friend!!! XXOO

---

Heidi Farmer

on November 27, 2013 10:14 am

Cathy – I love this idea!

---
Leave Us Some Comment-Love