November 26, 2014
Written by Marykate O'Malley, mother of three wonderful children, Gladwyne PA
At the Good Stuff Guide we are all about turkeys today! Champagne turkey, Martha Stewart cheesecloth turkey (which I will be making), turkey cookies, and of course, turkey jokes!
For your first course, Thanksgiving jokes:
What's the key to a great Thanksgiving dinner? The turKEY
What did baby corn say to mama corn? Where's popcorn?
What kind of music did the Pilgrims like? Plymouth Rock
If April showers bring May flowers, what do May flowers bring? Pilgrims!
What happened when the turkey got into a fight? He got the stuffing knocked out of him!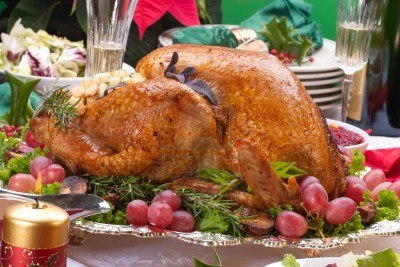 And for the main course:
Cheesecloth Turkey 
Some deep fry in their driveway and garages, a few dine out, others stuff and brine. Me? I am a traditional girl. Give me a cheesecloth, some white wine and butter, and that is my kind of turkey. The first turkey I ever made, over 10 years ago, I followed this recipe from Martha Stewart and have returned to it year after year. When you find perfection, why look any further.
I have a tattered copy of this filed away with my grandmother's Irish soda bread and other keepers. For you, dear readers, a link to Martha Stewart's cheesecloth turkey.

And Heidi's go to! They are kind of similar – wine vs champagne!
 Champagne Turkey
I have made this in years past and I'm making it again for Thursday.  It is really and truly the moistest, most tender turkey I've ever had.  (Sorry to my mom and Aunt Bette, 2 of the world's best cooks.)
It's also relatively easy, and that always makes me happy.
I originally was emailed the recipe, but also found it on AllRecipes.comm where it is adeptly named, "The World's Best Turkey Recipe"
Ingredients:
* 1 (14 pound) whole turkey, neck and giblets removed  (My bird is 18 pounds this year, so I'll just add a dab more of everything.)
* 1/2 cup butter, cubed
* 2 apples, cored and halved; 1 orange is optional
* 3 crushed garlic cloves
* 1/2 flour
* salt and pepper to taste
* 2/3 (750 milliliter) bottle champagne or sparkling apple juice
Directions:
1. Preheat oven to 350 degrees F (175 degrees C).
2. Rinse turkey, and pat dry. Gently loosen turkey breast skin, insert pieces of butter between the skin and breast – the most unpleasant part. Place apples and oranges inside the turkey's cavity. Sprinkle with salt, and pepper. Place turkey, crushed garlic cloves and flour in a roasting bag, and pour champagne over the inside and outside of the bird. Close bag, and place turkey in a roasting pan.
3. Bake turkey 2 to 2-1/2 hours in the preheated oven, remove turkey from bag then return to oven to brown skin (approximately 45 minutes) occasionally basting and until the internal temperature is 180 degrees F (85 degrees C) when measured in the meatiest part of the thigh. Remove turkey from oven and let stand for at least 20 minutes before carving.
That's it!
For dessert:
We made these years ago and these have become a tradition. And always remind me of a sweet friend in CT we started the tradition with: Turkey cookies . My kids aren't big on pies so this is something to make the wee ones happy diners. And they are proud of their contribution as well.
Withing you, your family and friends, a most gracious, and loving Thanksgiving, remembering all we are blessed with, and all less fortunate. For those on the East Coast bracing for the first snow storm of the season – safe travels! Happy Thanksgiving!!! 
Share this post
You might like...
Category: Random and Fun
Tags: 12 days of giveaways, family fun, Father's Day Week of Giveaways, Food Storage, Home tour Friday, National Read Across America Day, Road trip, Roadtrip, Thanksgiving dinner, tomatoes |
1 Comment »
Anne Schenendorf

on November 30, 2014 9:12 am

I had to wait to respond to this till after I tried it. I'm glad I did. I am going to steal your recipe. All good teachers know to borrow fantastic ideas. I promise you, this is THAT good. My mouth is watering thinking about it. 😉 Best. Turkey. Ever.

---
Leave Us Some Comment-Love