January 4, 2012
These brilliant ideas brought to you by Cathy Baker, of Missouri, mom of 2 beautiful girls!
So, if you are like me, I never want to just throw away all those beautiful Christmas cards that some thoughtful people in my life took the time to send me…but there's always the dilemma…what to do with all those cards?!?! Well never fear, here are 10 ideas to 'upcycle' your Christmas cards! Psst – these ideas would also work for birthday cards!
1.  For years I have made gift tags out of the cards. I simply cut out square/rectangle tags, then tuck them away with my Christmas stuff for the following year. You can also make them a bit more 'fancy' by adding a ribbon to the tag, like these below. This idea inspired by my husband's amazing (almost) 94 year old Gram!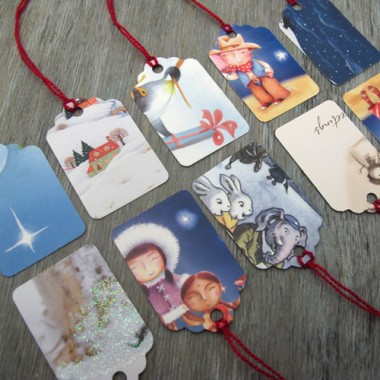 2. Make placemats. (similar to these Thanksgiving ones).  Super simple to make! 1. Tape two pieces of paper together. 2. Lay out your cards (don't forget to do both sides) and tack them down with a bit of glue.  3. Cover with clear contact paper. Viola, Placemats! I made these with my daughter's 1st, 2nd and 3rd year birthday cards. I pull out the placemats from time to time and even though they are now 8 and 10 and still enjoy reading all the messages on their cards. This idea inspired by my childhood friend Linda's mom…who had these on her table when I would visit.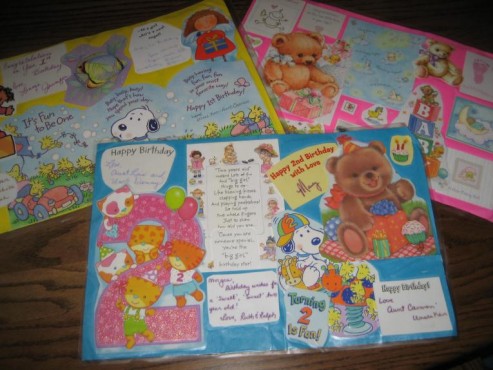 3. Make a wreath. I think this would look cute hanging on a bedroom/bathroom door. Inspired by Better Homes & Garden.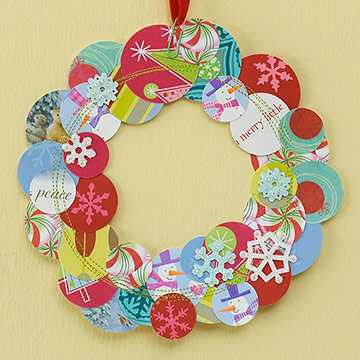 4. Make garland for your Christmas tree, or some Christmas ornaments. Simple circles attached to string. My tree has needed garland for years, and I am so going to make this garland with my girls one afternoon this winter! This idea inspired by none other than Martha Stewart.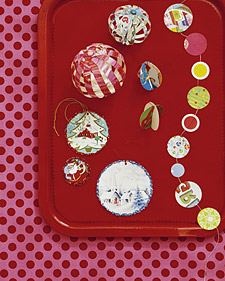 5. For several years, I had made a photo collage on my refrigerator so I could see all those smiling faces from my photo Christmas cards year round.  Simple to do with the purchase various sized clear acrylic magnetic frames, like these.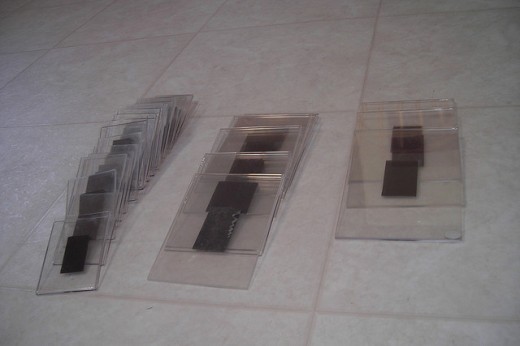 6. Turn them into notepads.This idea inspired by Home Studios blog.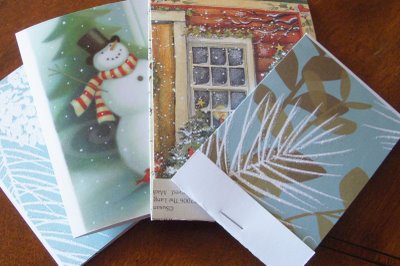 7. Make a book. Punch holes in the side of the cards or photos, and clip them together with a simple metal ring. I can so see my girls enjoying flipping through these books…and me too as I pull them out each year with my Christmas stuff!  Here's one example I found at Close to my Heart Art Blog.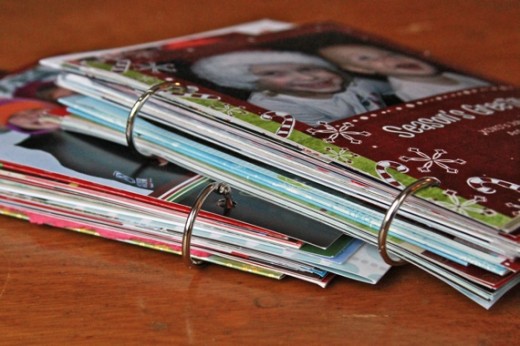 8. How about these cute blocks? Simple wooden cubes, cut out squares, buy pre-cut letter stickers (or use a cricut machine to cut out letters) and a little decopauge – and look at these cute blocks you have to display!  Inspired by Better Homes & Garden.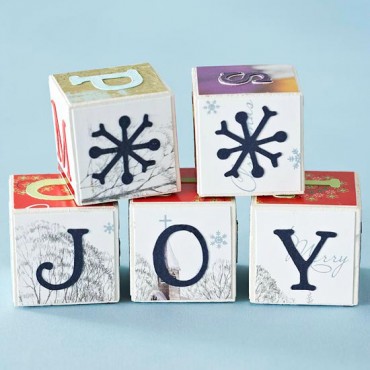 9. I made so many of these cute lil' gift boxes when I was a kid, I still remember how to make them now 25 years laters! I was glad to find this tutorial to share with you. They really are quite simple to make. I think I might need to introduce my girls to this craft! Tutorial found on Atomic Shrimp blog.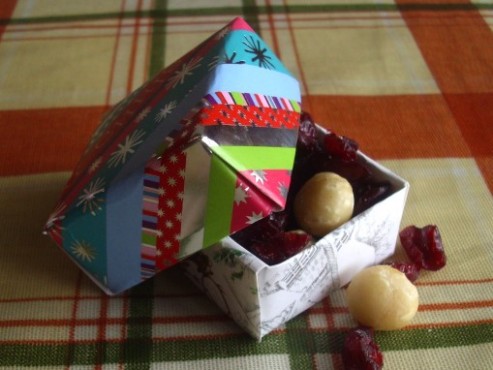 10. And lastly, in case you are feeling really creative, how about these lovely branches? Isn't this simply a beautiful way to upcycle your Christmas cards? Idea inspired by Everyday Mom Idea's Blog.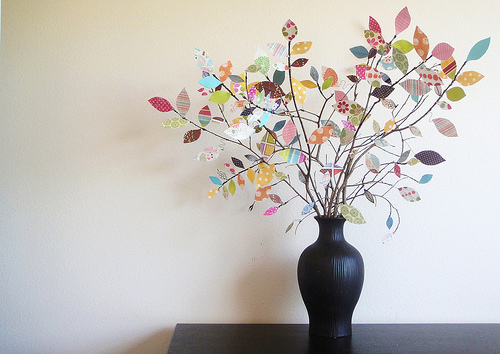 Love these ideas!  Thanks Cathy!
Share this post
You might like...
Category: Activities, Brilliant, Holidays
Tags: christmas cards crafts, recycling christmas cards |
8 Comments »
Heidi Farmer

on January 4, 2012 8:51 am

I just love all these ideas! In my childhood, one of my friend's dads made a huge photo collage of all the Christmas card photos of families. He grouped several years worth of each family together so you could see how they had grown. It was hung over the pool table, so I could sit and study it for hours while friends played pool.

---

Heidi Farmer

on January 4, 2012 8:52 am

Oops forgot to mention that I add the photos from friend's cards to the back of my year-long photo albums. Then I have them for when I decide to something special with them.

---

on January 4, 2012 9:19 am

These are all fantastic ideas! Love it!

---

Mary C.

on January 4, 2012 9:22 am

These are all lovely- my favorite is the wreath, and I might try it for Christmas 2012! Another option is to donate your greeting cards. I collect many of my coworkers' cards and send them to St. Jude's Ranch for Children. There is information about their program here: http://www.stjudesranch.org/shop/recycled-card-program/

---

on January 4, 2012 9:47 pm

Love the wreath – pinning this post now!

---

Emily

on August 26, 2012 8:52 am

Love the idea of the gift tags!! But also, thank you to Mary C- I have years worth of cards that I can send to St Jude's!!!

---

~ Karyn K.

on December 17, 2013 12:42 am

Where might one find the paper punch the gift tags?

---

on December 27, 2013 11:13 am

Love these ideas, especially the placemat one, and wish I had the time to implement them. They're on my to-do list for when my tot grows out of wanting to play with holiday cards. In the meantime, I'm doing this:
http://hintmama.com/2013/12/27/todays-hint-how-to-turn-holiday-cards-into-a-game/

---
Leave Us Some Comment-Love