October 27, 2011
This brilliant idea brought to you by Megan Pangborn
Here's some good stuff that is easy to forget about:  VINEGAR!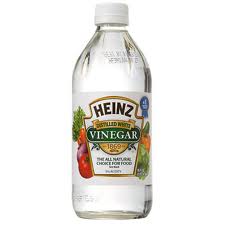 I always forget that there are so many useful tips out there for using vinegar.  My girlfriend has the most sparkling windows and mirrors I have ever seen.  When I asked her what her secret was she said vinegar (and a small drop of dish soap)!  That's when I decided it was time to do some quick research and remind myself what all the fuss is about.
Here's a list of great uses for that big bottle of vinegar sitting in your pantry.
I found these from the Vinegar Institute (yes I was surprised there was a whole institute out there as well!) at www.versatilevinegar.org.   Check it out for even more useful tips.
Here were some of my favs:
Streakless windows: Wash with a mixture of equal parts of white distilled vinegar and warm water. Dry with a soft cloth.
Getting Rid of Fruit Flies/Gnats in Your Kitchen: Place a bowl filled with ½ quart water, 2 Tbsp. sugar, 2 Tbsp. apple cider vinegar and a couple of drops of dish soap to attract the fruit flies.  (when I tried this I omitted the sugar and put some Saran wrap with fork holes punched in it…fruit flies climbed in the holes but couldn't get out.)
Fruit and vegetable wash: Add 2 tablespoons white distilled vinegar to 1 pint water and use to wash fresh fruits and vegetables, then rinse thoroughly.
Soft Feet: Combine 1 cup white distilled vinegar to 2 gallons warm water.  Soak feet for 45 minutes then use a pumice stone or file to remove dead skin from heels and callused areas of feet.
Get rid of cooking smells: 
Let simmer a small pot of vinegar and water solution.
Freshen baby clothes: 
The addition of 1 cup of white distilled vinegar to each load of baby clothes during the rinse cycle will naturally break down uric acid and soapy residue leaving the clothes soft and fresh.
And the list goes on and on. . . .
What little miracles do you create with vinegar??

Share this post
You might like...
Category: Brilliant
Tags: home remedies, Uses for Vinegar |
3 Comments »
on October 27, 2011 11:00 pm

I use a vinegar rinse for clothes/towels that might have been left in the washer for too long and start to sour. I rewash the load, adding the vinegar to the fabric softener dispenser, and usually set the washer for an extra rinse. The clothes smell a bit vinegar-y when they come out, but just like when you use it to clean windows, the smell is gone when things are dry!

---

on October 28, 2011 10:28 am

What a great article with great tips. Thanks for posting. I've already tried the fruit flies thing and it works well. Now, on to the feet. They need a miracle.

---

Heidi Farmer

on October 28, 2011 12:55 pm

I also use vinegar to cut the smell when my boys have had "accidents" on carpet, mattresses, etc. It really is a wonder!

---
Leave Us Some Comment-Love