June 5, 2015
Written by Marykate O'Malley, mother of three wonderful children, Gladwyne PA 
I haven't been here much, with Wax Museums, and field days, shoe box book reports, class trips, piano recitals, and art galleries. And then lacrosse playoffs, and baseball playoffs, and everything is crammed into the last three weeks of school. Next week is sheep heart dissection (eek, not a science person!) and school spirit week, every day, all week.
It's the home stretch Moms, we can see the finish line. With summer, and no homework, no projects and a slower pace. And with that in mind I had to share this post my wonderful friend Deana sent me. Enjoy! And it's Friday!! We made it this far!! Worst End of School Mom Ever.

And this was floating around Facebook last year, another gem: Parents at the Beginning of the Year vs. the End
Enjoy your weekend! Pretend it is summer. It is staying lighter later and soon the lightening bugs will return. Popsicles,watermelon, and sandy toes. We are almost there.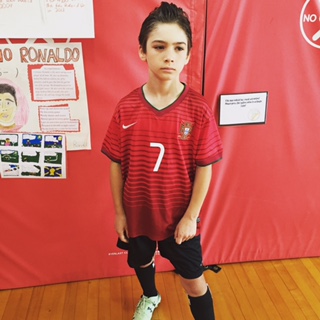 My Wax Museum Ronaldo, it helped that  1. he was his hero (to get the work done) 2. wore his favorite shirt and a uniform which 3. doubled (or tripled) as a Halloween costume. 
Share this post
You might like...
Category: Random and Fun
Tags: end of year, humor, mommy blog, parenting, school, wax museum |
No Comments »
No comments yet.
Leave Us Some Comment-Love