April 30, 2012
Alert: Teacher Appreciation Day is Tuesday, May 8th.  You have 2 weeks and 1 day to get ready…
Here is a list of ideas for showing your teacher how much you and your adorables love them. Please add your ideas at the end too!
1.  Take Flight Boutique: Keep Calm and Teach On Tote ($26) – perfect for carrying planners and papers to grade!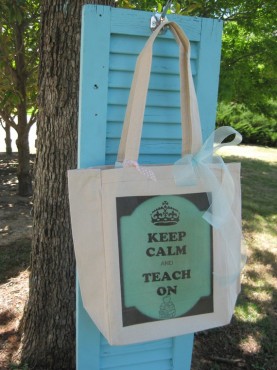 2.  A gift of class books.  Use the Scholastic book catalogs to stretch your purchase.
3. Flowers  – perhaps the whole class brings in a few stems to create a class bouquet.
4. Aprons – with class photo iron transferred on or painted.  Pick one with pockets…  I ordered two of these ($12.77)  from Apron Warehouse and I already have received them.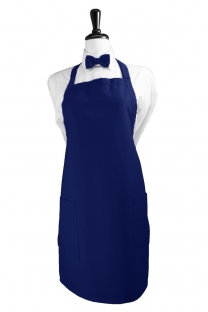 (I really wish they would have straightened this apron before the photo'ed it.)
5. Create a class book with 1 page for each class member to decorate.  Ask classmates to include photos, drawing and why they love their teacher.
6. A basket that includes a full meal: casserole, salad, sandwiches, dessert, wine (?), all prepped and ready to enjoy!
7. Gift certificates for restaurants, bookstores, etc.
8. "Thanks a Latte" – the perfect presentation for a coffee shop giftcard!  Click here for instructions to make it: Printable Thanks a Latte Gift Card Holder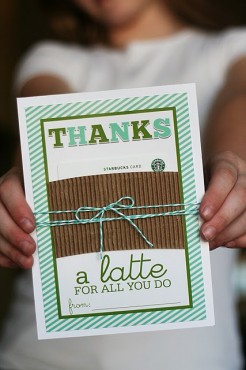 Some people are just so creative – and luckily they SHARE!!
And while I'm idea surfing…
9. Printable Gift Bag Topper – just print and place on a gift bag with some string or ribbon and voila!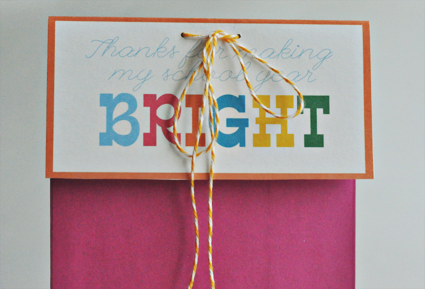 10. Homemade cookies, brownies, chocolate, candy!  I mean, who doesn't love this??? (and if they don't, just send theirs to me!)
So what are your ideas?  What are you planning?  Does your class or school do something special?  Share them!!  And please provide links if you've found some great printables!
Share this post
You might like...
Category: Holidays
Tags: Teacher Appreciation Day, Thanking teachers |
7 Comments »
on April 20, 2011 6:53 pm

For Tea loving teachers – fine loose tea from Europe – http://www.dreamteaboutique.com
Tea accessories like Tea duck infuser – fun and useful tea infuser with mesh basket for loose tea.
If anyone needs a tea break, it's the teacher.

---

Kim

on April 20, 2011 9:11 pm

OPI Nail polish tied together with cute nail files were a big hit one year and also the cute patterned reusable lunch totes.

---

on April 20, 2011 11:22 pm

as a former teacher, I would also add that gift cards are always appreciated.

---

Heidi Farmer

on April 20, 2011 11:40 pm

Yes! Yes! I should probably should have put gift cards as #1!

---

Julie R.

on April 21, 2011 9:42 am

A friend of mine has a small independent coffee store and I would love to make up a few of the "thanks a latte" cards for her to use in her store. However 5×7 prints are so much more expensive than 4×6. Does anyone know how to change the 5×7 to a 4×6 size?

---

Heidi Farmer

on April 21, 2011 10:38 am

@ Julie, I'm not in front of my computer right now, but I'd use Picassa (free photo program I love from Google). Save the photo and you resize very easily. When I'm back, I'll try it and send it to you. I'll also try to post it here.

---

Marykate Wurster

on April 30, 2012 10:16 pm

all great ideas! love the flowers – very sweet and homemade.

---
Leave Us Some Comment-Love