October 17, 2013
written by Cathy Baker, mom of two sweet tweens, enjoying autumn in the Missouri Ozarks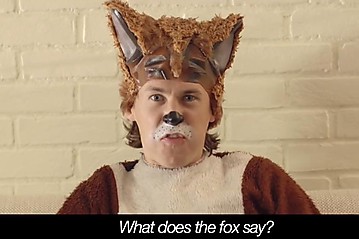 So 'What Does the Fox Say?" – this song is so big around here…it's kinda crazy.
Tweens and middle school students are crazy over this song!!  My girls at first thought it was strange, but they have been sucked in by the crowd and listen to it often.  This song is played at school assemblies and school dances.
Apparently I am getting 'old' because I just think this is the most bizarre song for middle-schoolers to like.  It seems to me like it should be popular with the preschool crowd, with it starting with lyrics like, "The dog goes woof, the cat goes meow…" but apparently it has appeal for much older kids as well!
And really, I can't complain, it's pretty clean and isn't all about 'love' and relationships, and a whole bunch of other things I'd rather them not be thinking about quite yet!
What do you think? Have the walls of your home been filled with the catching lyrics to this song too?
Oh and hey, can you please tell me, what does a fox say? 😉

Share this post
You might like...
Category: For Kids, Random and Fun
Tags: songs |
2 Comments »
on October 17, 2013 5:15 pm

Yes! It seems harmless, but I would be lying if I didn't admit I watched the video a few times to make sure there weren't any weird coded messages in there. LOL. Just call me paranoid mommy!

---

on October 19, 2013 10:21 am

From one paranoid mom to another, I did the same.

---
Leave Us Some Comment-Love