January 8, 2017
 Written by Marykate O'Malley, mother of three wonderful children, Gladwyne PA
I have heard it said that when we pass all the things we don't understand, can't understand – why do hard things happen, really hard things – we will understand. The large light illuminating of all of life's strife and suffering with one enormous eureka – I know now!
And despite how profound that is, what I really want to know, because I believe it's all good, and every little thing gonna be alright….
Why are there 549 pairs of shoes by my front door? That no one notices. Or the coats. The 23 coats everyone walks around, or over. But they can see the microscopic flecks of rosemary with lazer like vision in the roasted chicken. And protest because they don't like it.
I want to know what really does happen to all those socks? Like alllll of those missing socks. They have to go somewhere.
Any why aren't children ever cold? I see kids in shorts. Shorts. In the dead of winter.
And why do I say things like, you will be in big trouble. What does that even mean?? And why do I say serious consequences? They are 12 and under. There are no serious consequences. Maybe time to think in your room, a al time out. Or taking away an electronic to help you remember next time. I need some umpf and that comes out. I really don't know…
Any how is it that no one can find pencils? I have hundreds of pencils. Like hundreds. Yet.they.cannot.find.pencils. Mom, where is a pencil? I can't find any. But there are hundreds…. hundreds….
Or find their favorite shirt, or the fill in the blank. I am the only one who can find things.
Or when my children call through the house, Mom??  Mom?? and I say yes, and they say where are you? Why don't they just know… I can always be found at 2 places: the kitchen sink or laundry room. These are my stations. But they will call to me – Mom??? Mom?? Where is my navy shirt? I probably just folded it for you. And placed in the laundry basket. Come see me. My shift is done at noon. I will find it for you.
Or what happens to the brass buttons on my son's navy blazers? Every blazer. There are buttons, and then no buttons. I ask – where are the buttons? The hands go up – I don't know! They always fall off. And then I sew on new ones. Ask my dear mother to purchase the brass buttons because who has time for such things. And then the blazer emerges. With no buttons. I ask – where are the buttons?? Hands go up – I don't know! They fall off… But that doesn't make any sense. I know! And more hands…
And why do people think guilt is such a bad thing?  I think it is an appropriate feeling at times. We should feel bad when we hurt someone. It shows we are human. That we are not sociopaths. Or why is fear a bad thing? Maybe sometimes it isn't. Like if you are standing close to the ledge of a soaring cliff with the pounding surf and rocks below. We have all been there. Are you with me. Or staring down a  double black diamond. Maybe we should feel a little scared. Maybe fear keeps us alive.
Or why when I pointed out to my youngest that her room is overflowing with stuffed animals, and American girl dolls, along with their wardrobes, and more and better shoes than I. And beauty product because we hit the bath and body works stage. And books, and books, and more books. She will say, "I read a book once and the person said they like to keep everything out in their room so they don't have to look for it. They can look around and see where everything is." In some metaphysical way that sliced through my OCD neatness need and resonated at some deep inner level, shifted my entire perception of the overflowing mountains of stuff. And later when I settled in to read to her and she reflected, "Mom if I write a book one day, I am going to dedicate it to my messy room". And that made me really proud. Of the messy room. And her. Because it takes an outstanding, outside the box person to dedicate a book to their messy room.
And as one who believes blue birds are signs of happiness, cardinals a message from a loved one who passed, and rainbows signs of God's promises… I shudder when my children hand me broken Christmas ornaments. Wings break off angels – what does that mean?? I ponder. Or the wise man gift breaks. The shepherd lost his staff. Or I am handed St. Joseph. And then his head. It chills me to the bone to hold a china St. Joseph in one hand. His head in the other.
But what I really know, like really really know, is that this journey of being a mother, and the gift of these amazing little beings is the ultimate journey. What I really know, is life is a gift, and children the best presents of all.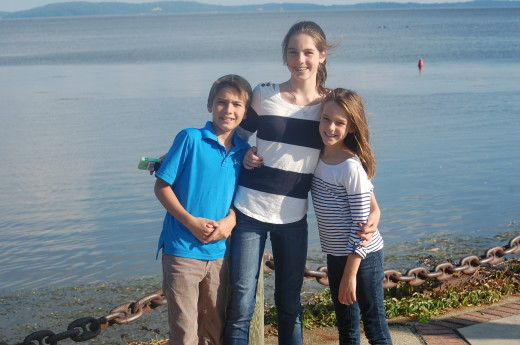 How could I ask for more.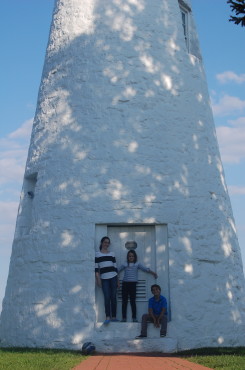 Because I love lighthouses.
Because we all do.
Share this post
You might like...
Category: Random and Fun
Tags: family, family fun, funny, hapiness, humor, mommy blog, mommy life, parenting, the why |
2 Comments »
Nina

on January 9, 2017 11:05 am

I love your site. You remind me of my family. I look forward to your posts. Thanks

---

Marykate

on January 9, 2017 9:40 pm

Thank you Nina! So kind to say! And I feel like it is the universal mom story. We are all living parallel lives. ? So happy you enjoy!

---
Leave Us Some Comment-Love