August 9, 2012
We pack up in 2 days and drive back to Connecticut after a fabulous 4 weeks in Michigan (and 2 in Colorado).
Here's the list of what I'll miss (in no particular order):
1) Capt'n Frosty's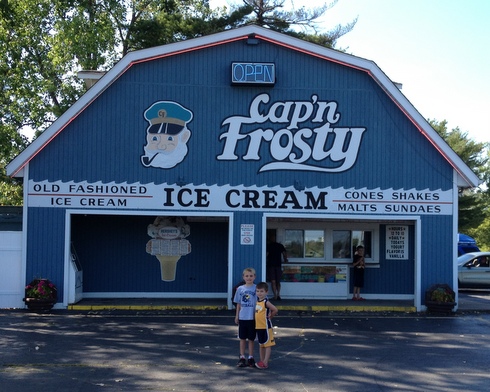 A mere 2 miles from the cottage sits this ode-to-days-gone-by.  We're here 5-6 times a week (so much so, that ordering really isn't necessary).
At the beginning of the summer I was able to take the boys and only indulge once a week, but lately, I discovered Chocolate Moose Tracks, my efforts at self-control are, well, gone.
Think a scoop every other day.  Seriously it's totally worth it.
2) Country Music on the Radio
Now I know most of you can just spin a dial and hear Miranda, Lady A, Kenny, and Brad any old time you feel like it, but we deprived souls in the New York City metro area have not a SINGLE country station (seriously I check on the internet for new country stations all the time – I've researched this!)  You all don't know how good you have it.
3) Summer Produce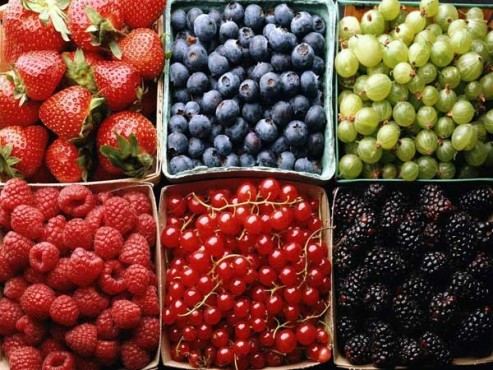 Sweet corn, strawberries, cherries, tomatoes (and none can beat the farmer's market), blueberries, sugar snap peas.  Our lunches and dinners have just been a riot smorgasbord of colorful produce.  And then a trip to Cap'n Frosty's of course.
4) The Lake

The cottage is on Base Line Lake, 30 minutes outside of Ann Arbor.  This lake is connected by the Huron River to 7 other lakes, hence why it gets its name, The Chain of Lakes.
Lazy trips down this gorgeous river are a huge favorite.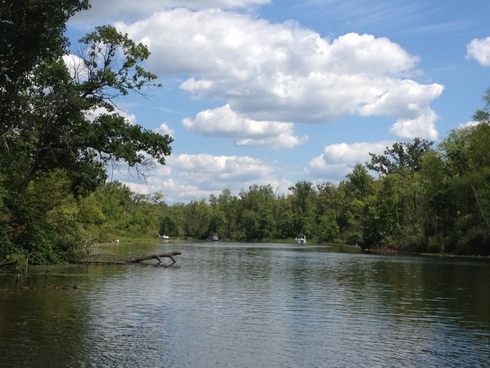 At the end of the chain (on Zukey Lake) is the – wait-for-it – Zukey Lake Tavern, perhaps one of my favorite restaurants in all the world.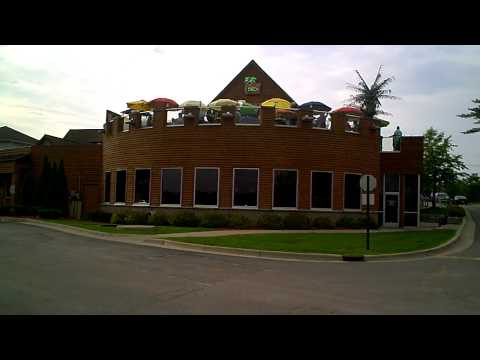 We pull up at the dock (when we can find a spot), hop out of the boat, glad we remembered shoes and a shirt to cover our bathing suits, and head in for a great meal.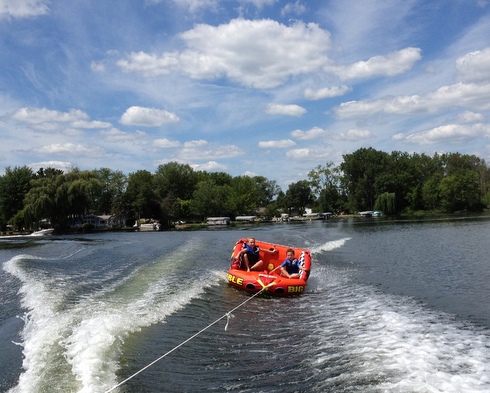 Then we let the boys ride Big Mable down the river on the way home.
5)  The Boat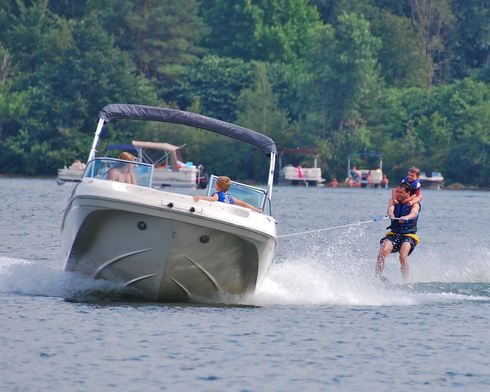 Thanks to our fabulous neighbor, Heidi Henderson, for taking this photo from her dock!
I will never tire of the smiles on all three of my boys faces when they are on the water skiing, tubing, swimming, etc, etc.
It has been a fabulous summer!  In three days we head back to unpack our house and get ready for the school year.  Where did summer go???

Share this post
You might like...
Category: Family Trippin'
4 Comments »
Cheryl

on August 9, 2012 12:03 pm

What a fabulous summer! Fun and safe travels back to CT! xoxo

---

Marykate Wurster

on August 9, 2012 11:13 pm

I can see why you will miss it!! How sad that summer is reaching the end? Wayyyy too fast. Love the pictures!!

---

on August 10, 2012 8:29 am

Such a "Norman Rockwell" summer!!

---

on August 14, 2012 4:01 pm

There's just something about Michigan, isn't there?! Glad you had a wonderful time there this summer!! I'm kinda of a country music fan too. I couldn't imagine living somewhere without a country station!

---
Leave Us Some Comment-Love