July 31, 2013


Written by Marykate O'Malley, mother of three wonderful children, Gladwyne PA
This summer is all about the Cups song. My oldest, lover of all hand clap games, has been doing this one for quite some time and this summer it has reached a fever pitch.
As I child I played these same games in backyards, and playground, lining up after recess and during the hot summer months which felt endless and long. Today the summer seems to go at such a dizzying clip and these moments feel like trying to catch water poured into my hands. All I am left with is a few sacred drops.
"When I'm gone, when I'm gone. You're gonna miss me when I'm gone" she sings, her brown hair pulled back into a tight pony tail, her long colt like legs crossed. I want to remember her like this, at 9, still very much a girl who plays with dolls and sleeps with stuffed animals. I want to remember this summer – her toothy grin and soulful blue eyes. I want to remember her now – making friendship bracelets, running through sprinkler and playing hand clap games.
Teaching my brother Cups
How sweet is my brother
"You're gonna miss me by my hair, gonna miss me everywhere. Oh, you're gonna miss me when I am gone". We are on the precarious balance beam between childhood and tween. It hit me on her ninth birthday, she is half way to voting and college. The sacred drops impressed to memory. Followed by moments of clarity when I look at her and feel a pang, not knowing what I ever did to receive such a gift.
Barnegat Light, NJ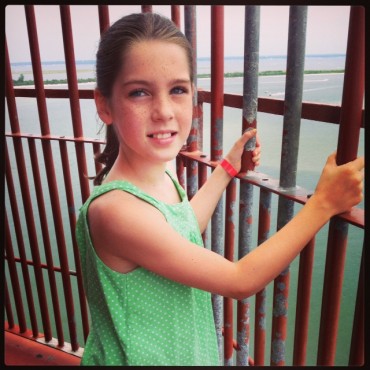 "It's got mountains, it's got rivers, it's got sights to give you shivers, but it sure would look prettier with you".
I am gonna miss you when you are gone.
Share this post
You might like...
Category: Activities, Art, Brilliant, Family Trippin', For Kids, For Moms, Girl Time, Outdoor, Photography, Random and Fun, Travel
1 Comment »
on July 31, 2013 8:16 am

I'll never listen to that song the same again! Beautiful. Touched my momma heart this morning!

---
Leave Us Some Comment-Love