September 9, 2010
I was digging through old posts last night and found this.  The adorables are a year older, but the story is the same… ENJOY!
Every week I plan to show you my harvest from the tomato plants. I envision these beautiful photos of plump, sun-ripened little nuggets of the summer. The kind of tomato photos that draw me to magazine covers (and to buy them) like my exuberance over the Christmas toys at Costco.
But here's why that can't happen…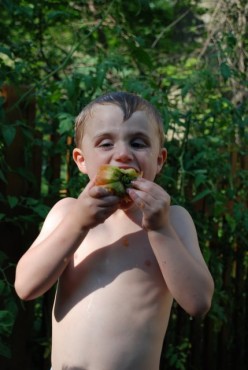 The elder adorable picks them as soon as they have a hint of red, but are still mostly green.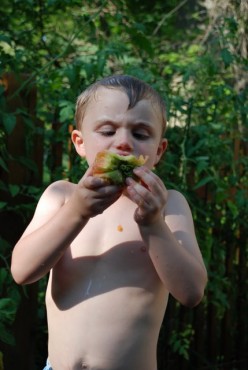 And then he reduces them to rubble.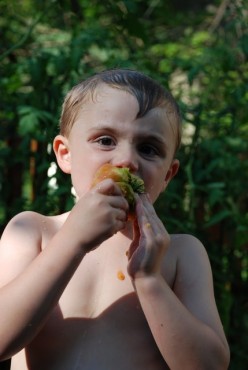 This was the fruit of the heirloom "Mortgage Lifter".   I haven't had the opportunity to try one yet, but they look pretty delicious.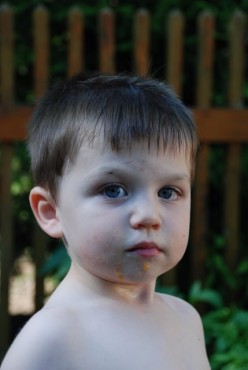 Accessory to the crime.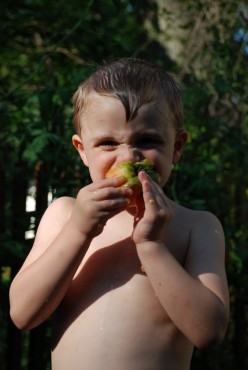 We spray off with the hose after this, because these delicious (so I'm told) tomatoes are wicked juicy.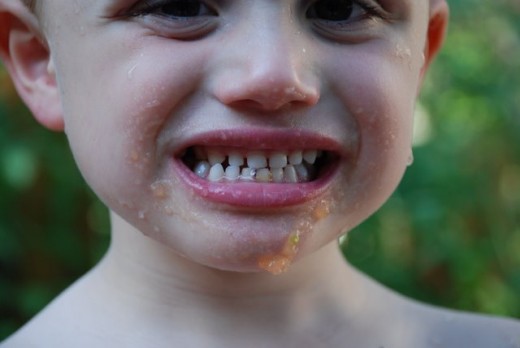 And then he hands me this…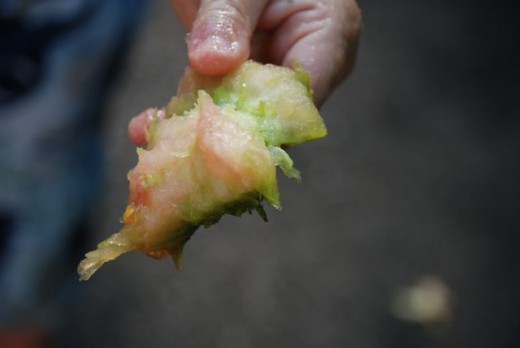 Somehow in their pillaging, they missed these…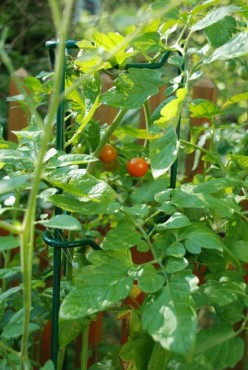 I'm going to pick them in the middle of the night.
Share this post
You might like...
Category: Garden
Tags: homegrown tomatos, kids eating |
7 Comments »
on August 18, 2009 12:13 pm

I am dying. That is unbelievable! I love the accessory to the crime. Great photo!

---

on August 18, 2009 1:22 pm

After being a bit shy I've workied up my courage to comment. You see, i'm a guy & a dad, but there is some good stuff here and more dads should read it. Thanks for the fun and good thoughts

---

on August 19, 2009 1:44 pm

This is awesome! We have a small tomato plant that is struggling to stay alive in the dry Colorado climate…and it's my 6 year old's responsibility to water it!

---

Heidi Farmer

on August 19, 2009 2:31 pm

Thank you so much! I learned so much last night – really appreciate your insights and wisdom!

---

Erica Spoor

on August 19, 2009 2:52 pm

Too cute! Our tomato yield has been slow b/c of all the early rain we had in Colorado but now my kids are finally picking cherry and yellow pear tomatoes off the vine for late-summer snacking too. It was great to meet you last night at the LWL LINC Up!

---

on September 9, 2010 10:51 am

My boys won't touch a tomato, let alone eat it! The squirrels are eating more tomatoes than they are. Love the photos!

---

Sherry Knight

on September 10, 2010 7:26 am

The tomato blog is one of my favorite ever, Heidi! Love the photos and the way you presented the story. Thanks for sharing!

---
Leave Us Some Comment-Love