February 19, 2014
written by Cathy Baker, mom of two sweet tweens
Several years ago, I discovered a fun little activity to do with these puffy paints:
Make your own window clings.  If you or your child can trace, then you can do this project!

It's super easy.  I took it to a crisis maternity home this past week and let the moms create window clings to decorate the windows and mirrors in their rooms.  They loved it!
1. Need:
Puffy Paint (or fabric puffy paint)
ziploc bags or clear cellophane (avoid wax paper as I find it sticks a bit more to wax paper)
simple pictures you can trace (flowers, snowflakes, letters, etc)
scotch tape (optional)
2. Put your picture under the cellophane or ziploc bag.  With kids, you might want to tape both of these down, so they don't slide
3. Pick your colors and just trace the design with paint. And look at all beautiful fun you get…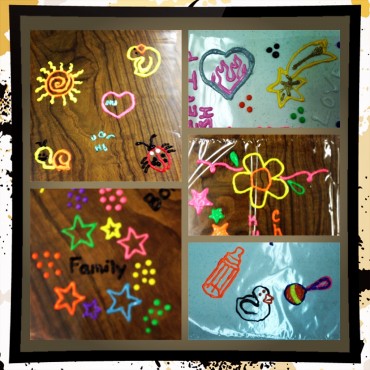 4. Let them dry overnight. Then peel them off in the morning and stick them to windows, mirrors, your microwave or refrigerator. Wherever you can find a smooth surface they will stick too!  Don't worry, they come off easy-peasy when you are done with them!
Here's a couple more visuals I found on pinterest of the process:
This might be just the activity to help you get through these long winter days as we wait to welcome spring!  Besides, it will be something pretty to look at on your windows if you are tired of looking out on white snow and gray skies. I'd personally make some flowers to bloom on your windows! 
Share this post
You might like...
Category: Activities, For Kids, Random and Fun
Tags: crafts, window |
No Comments »
No comments yet.
Leave Us Some Comment-Love