October 21, 2011
Home Tour Friday is upon us!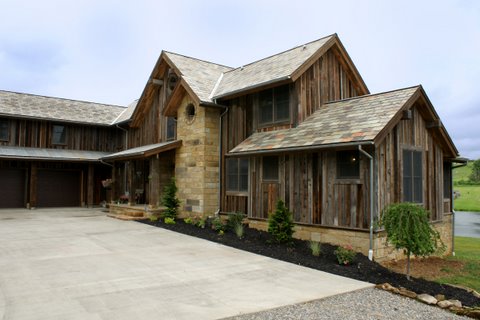 Today we're traveling to Malvern, Ohio to see a gorgeous home created from reclaimed barnstone and hardwood from area antique barns and old-growth forests.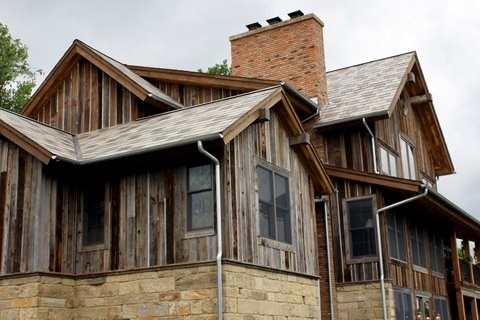 Isn't this detail in the wood gorgeous?  The roof is made from reclaimed slate tiles from 5 area barns, each weighing 9 pounds.  The entire roof weighs in at 80,000 pounds!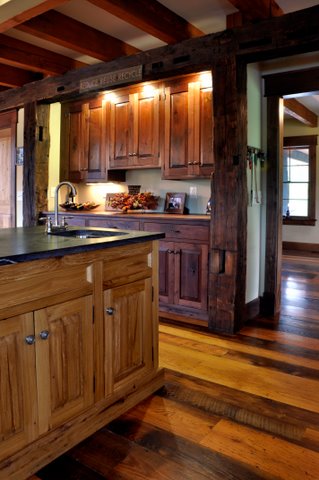 Make sure you get a good look at the sign affixed to the cross-beam: REDUCE*REUSE*RECYCLE.  This entire house exemplifies this charge.  The cabinets are resawn from old beams of Antique Hickory.  Counters are soapstone quarried in the Carolinas.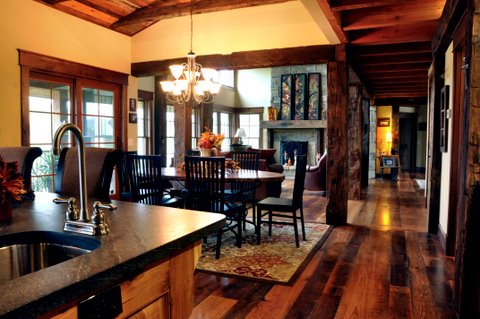 The rich detail in the reclaimed wood creates a cozy and warm feel.  Gorgeous flow for entertaining too.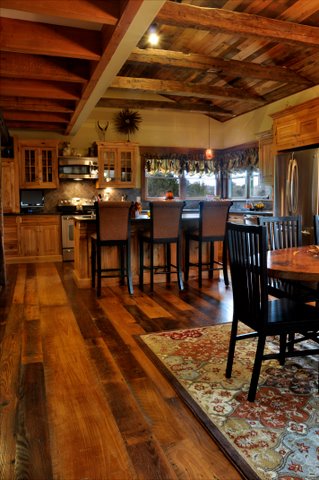 I love the ceiling beams and those wide planks!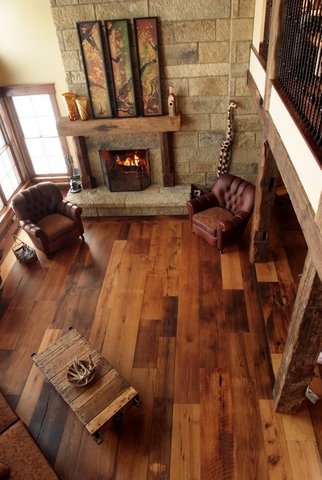 Hello Great Room!  Soaring ceilings, roaring fires, beautiful view.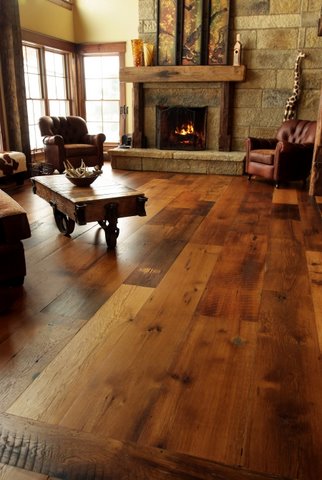 Another look.  Love the classic simplicity of this room.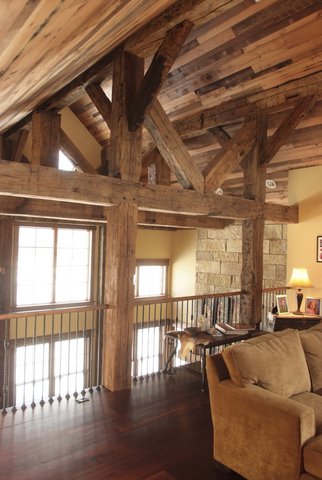 Check out these hand-hewn beams.  This room overlooks the Great Room.  I envision curling up on this comfy sofa with a good book.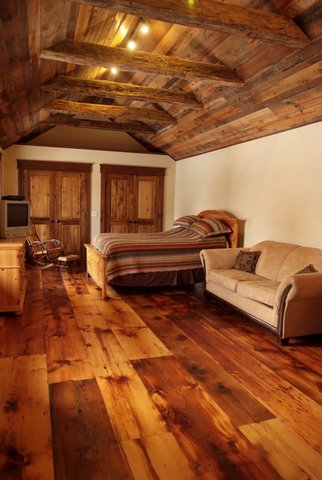 Love the open beams in this bedroom.  I know I keep harping on this, but these floors are just gorgeous.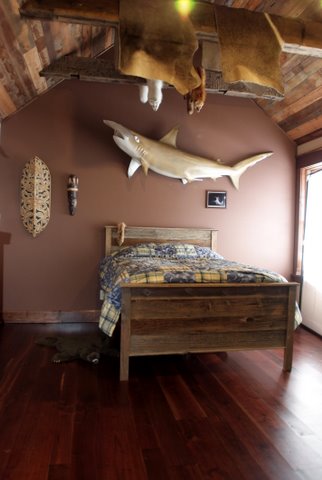 This is the bedroom of the 12-year old (sorry, he's too old to be called an adorable.  I need a new moniker for the elder kiddo crowd).  The shark is pretty killer.  We have a hunter here with the pelts hanging from the rafters.  I think this is an awesome room.
This beautiful home is the work of Tommy Sancic, founder and owner of Olde Wood Limited, skilled maker of reclaimed and hand-crafted wood plank flooring.  I'm thinking he's a master.
Thank you for the tour!

Share this post
You might like...
Category: Home Tours
Tags: Home tour Friday, Home Tours |
7 Comments »
on October 16, 2009 10:58 am

I'm in love with this house! It is so beautiful and rustic at the same time!

---

Ann Lindeman

on October 16, 2009 2:58 pm

Wow! As an interior designer (and mother of 3) I always love to see the use of reclaimed materials in new construction. Simply stunning! This house seems to perfectly exemplify the current movement of building "green." I'd love to see more of my clients using these gorgeous materials! Thanks for the tour!

---

marla

on October 16, 2009 5:06 pm

Pretty amazing!!

---

Sharon Lenderink

on October 16, 2009 6:00 pm

Warm and beautiful!!

---

Michael Shaeffer

on October 16, 2009 11:31 pm

I have been in this house, the photos are beautiful, but to see all the detail first hand is amazing! This house is a hand made piece of art! The Sancics are wonderful people also!

---

Sarah Davis-Martin

on October 17, 2009 11:51 am

BEAUTIFUL!

---

kelsie scott

on June 5, 2010 4:43 pm

yes,this housee is so awsome….
and tommy is not to old to be called adorable beacause he is…
and i hope u guys love ur house it is so beautiful!!!!!!!!!

---
Leave Us Some Comment-Love