April 8, 2013

Written by Marykate O'Malley, mother of three wonderful children, Gladwyne PA
My youngest loves my phone. As in she really, really, realllllyyyy loves it as my kids would say. And she is a prolific photographer who likes to take detailed visual accounts of our life and outings.
As you know, we were so lucky to have Team Famer visit a few weekends ago (big smile as I type that). And of course we took them into beautiful Philadelphia to view our nations birthplace (sorry, but… we win). Here are some of photographs she took:
Pretty shot of Philadelphia – don't you want to visit?
See her in the reflection? Very artsy like her Mum.
Her sister and I – Liberty Bell (winning)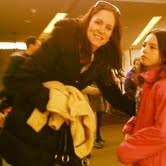 I counted 23 pictures of the Liberty Bell – she is really into history.
Always need a good picture of the boot scrapers.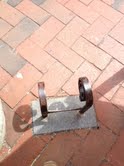 City Tavern (we opted for cheesesteaks)
Horses
More horses
Pictures of the Farmers
More Farmers – I like this one – artsy gene
She has also figured out Instagram and likes to put her BFF on as my screensaver. I take BFF down, replace it with my three children, BFF goes back up, I take her down, 3 kids, BFF, 3 kids. It is a good thing I am good at sharing –  not.my.own.
Share this post
You might like...
Category: Activities, Art, Brilliant, Family Trippin', For Kids, For Moms, Girl Time, Momzone, Outdoor, Photography, Random and Fun
3 Comments »
on April 9, 2013 2:21 pm

Great Photos for a kid. My 7 year old has taken good photos with my phone.

---

Marykate

on April 9, 2013 9:28 pm

Thanks – they are! Maybe she will be a photographer when she grows up! It amazes me how tech savy these kids are – she teaches ME things. And I still am like — wait, how do you do that?…

---

on May 11, 2013 10:58 pm

Great photos for a child my son still covers the lens and takes great pictures of his finger.

---
Leave Us Some Comment-Love