November 7, 2011
Written by Contributing Writer, Sarah Farthing
This bread is easy to make and so sweet and delicious I bet you won't have one family member that can resist it!  I love that the recipe here makes two loves.  This is perfect for your day to supply snack at school.  I often keep one loaf for us and give another to friends.  Sometimes I put the second loaf in the freezer to pull out the next week.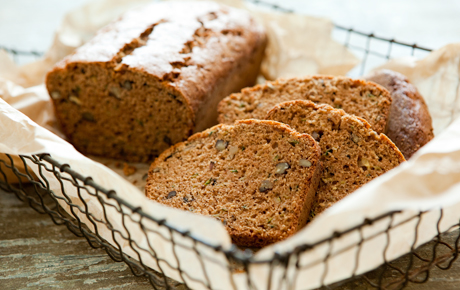 Zucchini Bread
*From allrecipes.com
3 cups all-purpose flour
1 teaspoon salt
1 teaspoon baking soda
1 teaspoon baking powder
3 teaspoons ground cinnamon
3 eggs
1 cup vegetable oil
2 1/4 cups white sugar*
3 teaspoons vanilla extract
2 cups grated zucchini
1 cup chopped walnuts (if desired)
DIRECTIONS:  Grease and flour two 8 x 4 inch pans.  Preheat oven to 325 degrees F (165 degrees C).   Sift flour, salt, baking powder, soda, and cinnamon together in a bowl.  Beat eggs, oil, vanilla, and sugar together in a large bowl.  Add sifted ingredients to the creamed mixture,and beat well. Stir in zucchini and nuts until well combined. Pour batter into prepared pans.  Bake for 40 to 60 minutes, or until tester inserted in the center comes.
*Granted, this is for 2 loaves of bread, but I never add more than 2 cups of sugar and frequently I do even less than that without noticing a significant difference in taste.  (I also use 1/2 cup applesauce + 1/2 cup vegetable oil instead of the full cup and it turns out great every time!)
Do you have a sure-fire recipe to share with us?!  E-mail sarah@thegoodstuffguide.com
Share this post
You might like...
Category: Cookin'
No Comments »
No comments yet.
Leave Us Some Comment-Love